Now that the United States' top terrorist target Osama bin Laden has been eliminated, the debate in Washington is focusing on how he was able to remain at large for so long.
U.S. intelligence discovered him living in a large, modern house, not a cave. This dwelling was not located in some lawless tribal area but in a city just 60 kilometers away from the Pakistani capital, Islamabad. Bin Laden's compound turned out to be just a kilometer away from the country's leading military academy.
"I don't want to speculate if [the Pakistan government] did or did not [know bin Laden was in the compound.] We're going to ask those questions," the chairman of the House Permanent Select Committee on Intelligence, Representative Mike Rogers (Republican-Michigan), told a press conference in Washington, D.C., on May 2.
"I think Americans have the right to know that. I would like to know what they knew."
Suspicions Unlikely To Be Assuaged
President Barack Obama's chief counterterrorism adviser, John Brennan, expressed comparable suspicions to NPR on May 3 when he said the U.S. administration would "not accuse anyone at this point" but that it would have "get to the bottom of this issue."
His remarks came as Pakistan President Asif Ali Zardari insisted that his government had not provided assistance to bin Laden. But skeptics are unlikely to be assuaged.
Even though the government of Pakistan has sometimes assisted in their capture, the fact remains that many prominent Al-Qaeda figures -- including Abu Zubayda, Ramzi bin al-Shibh, Khalid Sheikh Mohammed, and Abu Faraj al-Libi -- turned out to be hiding in Pakistan.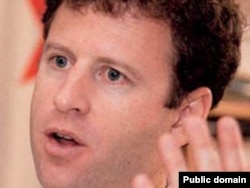 Washington-based security and defense expert Michael O'Hanlon
"We hope that there is no complicity or any real negligence here on behalf of Pakistan," says Michael O'Hanlon, a defense expert at the Brookings Institution in Washington. "But Americans are getting a little suspicious about this issue and it is a serious problem."
O'Hanlon adds that he could perhaps have been able to understand why the government of Pakistan might be ambivalent toward the insurgent Haqqani network and the Quetta Shura Taliban, but he sees no reason for ambivalence towards Osama bin Laden.
"That's like us allowing the assassin of Benazir Bhutto to go free, practically. And so we could not even begin to understand that," he said.
WATCH: Neighbors of Osama bin Laden's compound in Pakistan say they can't believe that the terrorist leader was living there.Many Potential Implications
Any official Pakistani connection with bin Laden's hiding place has yet to be proved. But if Washington's investigations turn up evidence that points in that direction, it could have major repercussions for the relationship between the two countries.
"There are lots of potential implications," O'Hanlon says. "There are potential threats to the aid package that we give to Pakistan. There are potential implications that Pakistan may not let us ship supplies into Afghanistan the way it did before. We may have to reduce the number of drone strikes."
O'Hanlon adds that the situation might place even more "practical limits on intelligence-sharing" between Pakistan's Inter-Services Intelligence (ISI) directorate and the CIA. "There are lots of implications," he says. "I am not going to say that any of them are guaranteed to happen, but all of them are possible."
According to AP, Congress will consider cutting almost $1.3 billion in aid that the United States gives to Pakistan annually if it turns out that Islamabad knew where Osama bin Laden was hiding.
Killing Could Even Improve Relations
While policymakers debate the issue, Marc Grossman, President Obama's special representative on Afghanistan and Pakistan, has already arrived in Islamabad, and there is no doubt that this issue will be at the top of the agenda of his discussions with the Pakistani authorities.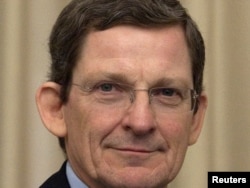 U.S. special envoy for Pakistan Marc Grossman could have many awkward questions for the Pakistani authorities during scheduled talks in Islamabad.
Though the situation remains tense, some policy thinkers suggest that the killing of bin Laden might actually help to improve U.S.-Pakistani relations.
"I think it's [the killing of bin Laden] positive stuff," says Thomas Simons, a retired diplomat with over 35 years of experience in foreign policy and a former U.S. ambassador to Pakistan. "I mean, certainly for the war on terrorism, and I think also for U.S.-Pakistani relations, because it clears up that element of uncertainty. In my own view it's not going to bring fundamental changes to a very difficult relationship."
Together with Simons, some analysts say that, regardless of the current tense atmosphere, it is hard to imagine these countries letting their relationship collapse, simply because their level of mutual dependency is so high.
"The United States needs Pakistani help to stabilize Afghanistan before its planned departure scheduled to begin this July," says Shuja Nawaz, director of South Asia Studies Center at the Atlantic Council, in a commentary published on the Washington-based organization's
website
.
Nawaz adds that the United States needs Pakistani help "to dismantle the Taliban's safe havens" in the tribal regions."
Pakistan also needs the United States -- mostly for financial reasons. According to "The Washington Post" newspaper, the U.S. government has provided over $18 billion in civilian and military aid to Pakistan since September 11, 2001. That flow of funds means that Pakistan will find it hard to turn away from the United States at a time of profound economic uncertainty.
How long the period of tension and uncertainty lasts will depend in part on how quickly the Pakistanis can prove that they are serious partners in the fight against terror. The litmus test there, say analysts, will be how far Pakistan will be willing to go in attacking Taliban sanctuaries as well as the remaining leaders of Al-Qaeda and the Taliban believed to be in the country.