BAKU -- The Azerbaijani Defense Ministry has said it is investigating corruption allegations made in a recent YouTube appeal by three army officers to President Ilham Aliyev.
In
the video
, Captain Ramin Qasimov, Lieutenant Asgar Asgarov, and warrant officer Sahlar Rzayev say they were forced to use their own money to buy construction materials for repairs to their barracks in the south-central district of Beylagan that were damaged by strong winds.
Defense Ministry official Eldar Sabiroglu told RFE/RL on July 14 the allegations were being investigated and a statement would be released when the probe was completed.
However, analyst Cesur Sumerinli, head of the Doktrina military think tank in Baku, doubts the complaints will be taken seriously and warns that the officers in the video could face serious pressure.
At a July 15 press conference in Baku, Defense Ministry spokesman Vaqif Mammadov turned the focus of attention to one of the whistle-blowers, Qasimov. Mammadov claimed that an investigation into claims that Qasimov physically abused two soldiers in his command had been launched earlier this month.
Mammadov said that after the case was opened against Qasimov on July 4, he "told fellow officers in the unit that he would take revenge if this criminal case was not closed."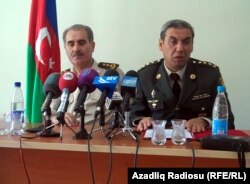 Vaqif Mammadov of the Defense Ministry accused the leading whistle-blower of seeking "revenge."
Mammadov also alleged that Qasimov had compelled the other officers to appear in the video. "Lieutenant Asgar Asgarov and warrant officer Shahlar Rzayev were obeying their commander," he said. "They did not understand what was going on."
Local media in Azerbaijan reported that the families of the three officers had been pressured, but ministry spokesman Sabiroglu rejected those reports.
No Checks And Balances
The incident once again casts a spotlight on corruption and malfeasance in the Defense Ministry. The ministry's annual budget of $3.3 billion represents about 20 percent of the government's entire annual spending. However, there is little oversight or control over how the money is spent, according to Sumerinli, the defense analyst.
"Military expenses are increased from year to year, but they are not socially directed," Sumerinli said. "According to international standards, soldiers' clothing, food, and salaries should not be less than 30 percent of military spending. In socially directed militaries, this accounts for 40 to 50 percent. But in the Azerbaijani Army, it is about 10 percent."
He said a front-line officer received 450 manats ($572) a month.
At the beginning of the year, President Aliyev announced a high-profile initiative against graft. As a result, almost all state agencies held meetings and developed anticorruption initiatives. The Defense Ministry did not.
There are no government checks and balances on military spending, Sumerinli said. He said the video's allegations that officers must use their own resources for army needs were part of a larger problem.
"For instance, the army is very bad at supplying automobiles. Officers are obliged to get spare parts for their automobiles themselves," he said. "But if we analyze the military budget, we see there are enough resources allocated for things like construction, for spare car parts, and so on."
Sumerinli told RFE/RL that officers who have made corruption allegations in the past have faced serious consequences, from discharge from the military to imprisonment on charges of revealing state secrets to neighboring Armenia.
In 2010, the global anticorruption NGO Transparency International ranked Azerbaijan 134th of the 178 countries it assessed.
RFE/RL correspondent Robert Coalson contributed to this report