NEW YORK -- The secessionist tendencies of the leadership of Republika Srpska, one of Bosnia-Herzegovina's two entities, are destabilizing the overall situation in the country and paralyzing the functioning of its state institutions.
That's according to the international community's high representative for Bosnia, Austrian diplomat Valentin Inzko, who's due to present his fifth report to the UN Security Council on May 9.
The recent decision by the president of Republika Srpska, Milorad Dodik, to call a referendum on the competencies of Bosnia's judicial institutions has been criticized by the European Union and prompted Inzko to demand the referendum be scrapped. He spoke with RFE/RL correspondent Nikola Krastev.
RFE/RL: UN Secretary-General Ban Ki-moon met on May 8 with the president of the European Commission, Jose Manuel Barroso, to discuss Bosnia-Herzegovina. What is your assessment of the current situation there?

Valentin Inzko:
They discussed the current crisis in Bosnia-Herzegovina, one [element of the crisis] is the fact that we haven't had a government at the state level now for seven months, and the other crisis is a looming referendum in Republika Srpska, which is a part of Bosnia, but the referendum would be about state competencies.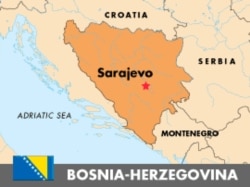 The international community is of the opinion that part of the country cannot have a referendum about the whole country, about the state competencies, like the state court, like the state prosecutor's office, and this is why the international community voiced its opinion that it would never support such a referendum.
RFE/RL: What will be the substance of your report to the UN Security Council on May 9?

Inzko:
I will deliver my six-month report, it's my fifth report to the Security Council and the report about Bosnia-Herzegovina is in a way like a seismological report: if there are small tremors -- I will report about small tremors, if there are bigger tremors -- I will report about bigger tremors. It's a reflection of the actual situation.
RFE/RL: Any expectation on the Russia position toward your report?

Inzko:
I think they will criticize my report, I expect this, but we will see what they will criticize concretely. But in any case I expect a critical statement by the Russians. I expect support from all 14 [Security Council] members except for Russia. This is a tradition because we are speaking also about sovereignty and territorial integrity and there's always unanimity [in Russia] on such questions.
So [on May 9], I think, they will be again broad support including the states which you mentioned, European states except Russia.
Dealing With Dodik

RFE/RL: Milorad Dodik, the president of the Republika Srpska entity, claims that his intention to conduct a referendum on the competencies of the state judicial institutions has been misinterpreted. Is that so?

Inzko:
I think if you put together a puzzle and if you are putting together evidence of what Banja Luka is doing -- then the direction is very clear. If you take for example the question of state property on the territory of Republika Srpska, if you take the question of the interentity boundary line, and also if you take into question the state courts and the state prosecutor's office, where Republika Srpska is questioning it -- then you see that there is a policy behind it.
RFE/RL: If Dodik does not abide by your seven-day deadline to suspend the referendum, are you willing to suspend him?

Inzko:
The international community has had many discussions on this issue and the conclusions were always the same -- that we have to suspend and repeal these conclusions. Not Mr. Dodik, but the conclusions about the referendum on the court of Bosnia and Herzegovina and on the office of the state prosecutor.
Dissolving Bosnia 'Not Realistic'

RFE/RL: Do you think at this point there is the possibility of an armed conflict in Bosnia?

Inzko:
No, I don't think so, but of course some people are speaking about a peaceful dissolution of Bosnia and Herzegovina. This, I think, is wishful thinking.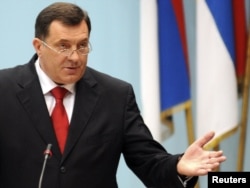 Republika Srpska leader Milorad Dodik (file photo)
Dissolution, first of all, will not take place. Secondly, if it did take place -- it wouldn't be so peaceful, but thirdly, most important -- if a peaceful dissolution was possible -- they could have done it in 1991-92 or in Dayton in 1995. But the international community and also the neighboring countries, Serbia and Croatia, were of the opinion that Bosnia must exist in its traditional borders, which have not changed for the last 200 years.
RFE/RL: Is there a way at this point to line up the political leaders in Bosnia so that they find a mutually acceptable solution to form state institutions?

Inzko:
This would be the best and even when I spoke earlier that I would use my Bonn powers to suspend the conclusions of Republika Srpska -- it is not my first choice, it's only my second choice. The first choice would be if the government of Republika Srpska and the parliament of Republika Srpska would do it on their own, not for me to do it for them.
As far as the government is concerned, we have the same philosophy: we would prefer if the local actors, the three constituent peoples, would form a government on their own without international interference.
RFE/RL: Is it realistic to expect this to happen?

Inzko:
I don't think it's very realistic at the moment. On the other side we have also some economic pressure, the negotiations are upcoming with the International Monetary Fund, then the European Union is also supporting the budget of Bosnia and Herzegovina with some 130-140 million [euros] and I'm sure that all [in Bosnia] will be interested to have these negotiations being taken up again, with the IMF, with the European Union, and you can do it only at the state level, you cannot do it at an entity level.
Bosnia For Bosnians

RFE/RL: Has Belgrade been impartial to Dodik's aspirations?

Inzko:
Belgrade has always been very fair and evenhanded, they've always supported the integrity of Bosnia and Herzegovina, the territorial sovereignty of Bosnia and Herzegovina -- of course keeping in mind their own territorial integrity, there is a logic behind it.
And this time I have got messages from Serb politicians, Serb citizens from Banja Luka that Republika Srpska's national assembly went too far with this issue, with this referendum on state issues. But of course nobody is questioning the right of Republika Srpska to have referenda like in Switzerland, they have it almost every month. But it must be about their own competencies.
RFE/RL: During your two-year tenure as a UN high representative to Bosnia-Herzegovina have you been threatened or intimidated?

Inzko:
Well, politically yes, but otherwise not yet. There are quite a few people who don't wish this Office of the High Representative to be in existence. And I am also in favor of medium-term and long-term closure of the office.
But of course the country must function more or less, not at 20 percent, the country must function first. And my ideal is that Bosnian politicians and Bosnia can solve all their problems in future in an institutionalized way on their own without foreign interference, this would be the best.