Supreme Leader Kicks Off Rohani Presidency With Endorsement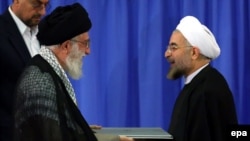 Iranian Supreme Leader Ayatollah Ali Khamenei has confirmed the presidency of relative moderate cleric Hassan Rohani at a ceremony in Tehran, signaling the start of an administration that many observers in Iran and abroad hope is less rocky than its predecessor.
Khamenei bestowed a kiss on Rohani's cheek and the new president kissed the leader on his lapel at the event, where Rohani spoke briefly to give his thanks and welcome the opportunity to serve the country.
The incoming president pledged to "take fundamental steps in elevating Iran's position based on national interest and lifting of the oppressive sanctions," according to AFP.
Rohani created a stir just 24 hours ahead of the confirmation ceremony with a swipe at Israel, with
misquotes by Iranian news agencies
further complicating the situation.
Beyond the international isolation that eight years under hard-line President Mahmud Ahmadinejad have brought, Rohani is expected to face serious economic and social challenges at home, including high inflation and runaway joblessness.
The endorsement ceremony will be followed by a public inauguration in the parliament on August 4.
But under Iran's constitution, Rohani's four-year term of office begins when he receives the supreme leader's endorsement.
Khamenei holds ultimate power in the political and religious areas under Iran's theocratic system.
Four years after the brutally divisive reelection of Ahmadinejad, after which massive street protests broke out and the opposition claimed fraud, the supreme leader in a brief statement tried to stress the role of the ballot box in the June election that picked Rohani.
Iranian state broadcaster Press TV quoted Khamenei as saying the turnout and selection sent "the message of unwavering loyalty to the [Islamic] Revolution, the message of trust and hope in the Islamic Republic, and trust in brave and pioneering clergy."
He followed up in English via his Twitter account, calling Islam "the focal point" but saying the choice of a president was up to Iranians:
Ahmadinejad -- who remained defiant to the end of his administration, predicting in an August 2 speech that "a ferocious storm is coming and it will uproot the Zionist entity," according to Reuters -- was in attendance at Rohani's confirmation but did not speak.
Rohani is scheduled to take his public oath of office in front of Iranian lawmakers and foreign dignitaries from 52 countries at the inauguration on August 4.
Iran and the United States and its Western allies remain deadlocked over objections to Tehran's nuclear program, for which Iran has been criticized by the UN nuclear watchdog.
But many analysts argue that it is Rohani's handling of Iran's troubled economy that will be his biggest initial challenge.
"Even if the nuclear issue is resolved, say tomorrow -- which is impossible -- the impact of the sanctions on Iran's economy will not go away quickly," Mehrzad Boroujerdi, a political science professor at Syracuse University,
told RFE/RL
.
Rohani has also vowed to curb some of the limits on Iranians' freedoms, including heavy censorship and the continuing existence of political prisoners, as well as to tackle discrimination.
His English-language Twitter account after the confirmation ceremony quoted the supreme leader as urging "all branches" of the Iranian government to cooperate, and praising Rohani and "his background of service to #Iran":


With reporting by Reuters, AP, RFE/RL, Al-Jazeera, and AFP