Iran's Islamic Revolutionary Guards Corps (IRGC) says it has seized a foreign oil tanker in the Persian Gulf that it says was smuggling fuel to "some Arab countries."

An August 4 IRGC statement released by Iranian state media said that the tanker was carrying 700,000 liters of fuel.
Later reports said the captured ship was Iraqi. There were no details on the nationality of the crew.

Iran's official IRNA news agency quoted the IRGC as saying the tanker was seized after coordination and the issuing of an order by judiciary officials.
Tensions have soared in the Persian Gulf in past weeks amid Washington's campaign of maximum pressure on Tehran that includes the U.S. withdrawal from the 2015 nuclear deal and the reimposition of crippling sanctions.
IRGC boats had been patrolling the gulf to control traffic and detect illicit trade when they seized the oil tanker near Iran's Farsi Island, which is located north of the Strait of Hormuz, the force said in its statement.
It said the oil tanker was transferred to Bushehr Province, and its cargo was delivered to the department of the National Iranian Oil Product Distribution Company in the same province.
The hard-line, semiofficial Fars news agency said seven crew members were detained when the ship was seized late on July 31.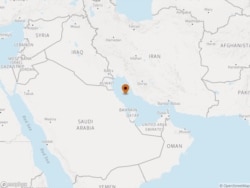 IRNA later quoted the IRGC as saying the tanker was Iraqi.
Iraq's Oil Ministry said in a statement that it had no connection with the vessel, adding that it "does not export diesel to the international market," according to the Iraqi News Agency.
The U.S. Fifth Fleet, based in Bahrain, said it did not have information to confirm the reported incident, which comes after Iran detained a Panamanian-flagged tanker last month for allegedly smuggling oil in the gulf.
Also in July, Iran seized a British-flagged tanker in the Strait of Hormuz, a key shipping line that connects the Persian Gulf and the Arabian Sea, for allegedly violating maritime laws, following the impounding of an Iranian tanker off Gibraltar.
London said the Iranian vessel was suspected of breaching EU sanctions against Syria. Iran denied it was headed to that country.
Amid rising tensions with Tehran, London has sent two warships to the Persian Gulf to shadow British oil tankers in the area.
The United States has boosted its military presence in the region after two separate attacks using explosives that damaged oil tankers in the Gulf of Oman in May and June.
Washington has blamed Tehran for the attacks. Iran denied any involvement.
With reporting by IRNA, PressTV, and Reuters