A senior commander of Iran's Islamic Revolutionary Guards Corps has reportedly told the semiofficial Fars news agency that Iranian forces shot down two Western "spy planes" in the Persian Gulf.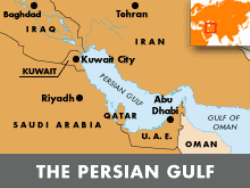 General Amir Ali Hajizadeh, who commands the IRGC's air force, provided no dates or details, except to describe them as "Western drone reconnaissance" aircraft, according to Reuters.
He added that this is "the first time we are announcing it."
"Many spy planes and advanced planes of our enemies have been shot down [by Iranian forces]," he is quoted as saying. "We have also shot down two spy planes in the Persian Gulf."
Iran is under UN and Western pressure over a host of issues, including failures to disclose projects related to its disputed nuclear program, human and women's rights issues, inflammatory statements about Israel, and past allegations that it aids militants in neighboring Iraq and Afghanistan.
It currently holds
German
and
U.S. nationals
accused in separate cases of security and espionage activities against the Iranian state.
compiled from agency reports