Iran is challenging FIFA's decision to ban its women footballers from playing an Olympic qualifier match because of their Islamic dress.
Iranian football authorities have threatened to sue the FIFA official who barred Iran's national women's football team from playing against Jordan on June 3 due to the Iranian players' full-body outfits, which include hijabs.
The Iranian team was automatically penalized with a 3-0 loss.
Iran says the decision, which fell just moments before the match was due to start in Amman, crushes the team's hopes of competing in the London 2012 Olympics.
"It's very difficult to predict what will come out of this, but I think it's unlikely [we will get redress] because the preliminary games will not be replayed," Farideh Shojai, the head of women's affairs at Iran's football federation, told Reuters. "The countries that spent money and time to play in the second round will not be willing to repeat these games, especially if it becomes clear this week which team will enter the final round."
Shojai said Iranian football officials had not been informed of any new rules ahead of the Olympic qualifying tournament.
She said Iran had made changes to its women's kit after FIFA amended its dress code last year. The new outfit, she claimed, was approved by the federation's president, Sepp Blatter, and used in subsequent matches.
"We sent [FIFA] an e-mail and asked for an explanation. They merely pointed to the fact that they had made an announcement earlier. But we received no letter ahead of these games," Shojai said. "Perhaps they are referring to last year, after which we made the required corrections and played a match afterwards. We were not prevented from playing the next round, they didn't find anything wrong. That meant there were no obstacles for our participation in the Olympics."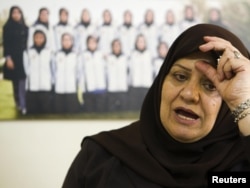 Farideh Shojai, vice president of the Islamic Republic of Iran Football Federation (IRIFF) for Women's Affairs
The world federation, however, insists that both Iranian and Jordanian football officials were "informed thoroughly" of the need to comply with its rules on head-covering, which ban so-called "snoods" -- close-fitting headscarves that covers the hair, ears, and neck.
"FIFA's decision in March 2010 which permitted that players be allowed to wear a cap that covers their head to the hairline, but which does not extend below the ears to cover the neck, was still applicable for this qualifying tournament," FIFA said in a statement.
"Despite initial assurances that the Iranian delegation understood this, the players came out wearing the hijab, and the head and neck totally covered, which was an infringement of the Laws of the Game," the statement said.
This is not the first controversy over FIFA's dress rules for women.
Blatter himself came under fire in 2004 after suggesting that female football players don a "more feminine garb" that would include "tighter shorts."
based on RFE/RL and agency reports