The place: a dusty crag overlooking Tehran. The time: late afternoon. The sound: a bullet whistling through the air. The target: a swerving police car. The shooter: Rafi Pitts.
That's from "The Hunter," a political thriller set in modern-day Tehran whose main character is powerfully portrayed by internationally acclaimed Iranian filmmaker Rafi Pitts, who also wrote and directed the film.
Speaking on the sidelines of Prague's March 24-April 1 International Film Festival, Pitts says the thriller genre is a perfect fit for the tense situation in Iran today.
Iran was rocked by a wave of street protests following President Mahmud Ahmadinejad's disputed reelection in June 2009 and has seen sporadic antigovernment uprisings in recent months.
Pitts argues that the best way for the country to deal with its problems is to start asking some basic questions. "I would love to see, you know, a million people in the streets of Tehran just with a question mark," he says, "no slogans."
'A People About To Explode'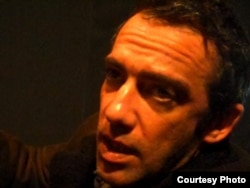 Pitts grew up downstairs from a postproduction film studio in Tehran and spent his childhood on film sets.
His latest film raises its own questions. Featuring an ex-convict who kills two policemen after his wife and daughter are killed in a street shoot-out between security forces and protesters, the film delves into the complex interplay between authority, economy, and justice in modern-day Iranian society. It was shot in Tehran right before the 2009 election protests broke out.
Pitts says the main character -- a brooding, overworked man whose suffering seems to have no outlet -- represents some of the potentially explosive elements at work in Iran today. Politics aside, he says, "not being able to have a normal life has got the capacity to bring about anger and violence" in many Iranians.
When he wrote the film script, Pitts was inspired by ordinary people living in Tehran. These were "real people," he says, "who weren't political" but "seemed like they're about to explode."
Pitts sees "something wrong" in Iran today. "We are a society that's on the verge of an explosion," he says, because people "no longer want to see each other, or talk to each other, and are very angry at Ahmadinejad's government for looking down on the majority of his country."
Asking Ahmadinejad
Pitts, who is not a member of any political party in Iran, wrote an
open letter to Ahmadinejad
in December in which he asked a series of questions on everything from the 2009 election violence -- dozens of people were reported killed in clashes -- to the more open-ended, "Why did we have a revolution [in 1979]?"
Pitts says he addressed his letter to Ahmadinejad instead of the religious authorities brought to power by the Islamic Revolution 30 years ago because Ahmadinejad is the one "governing the country" and is "capable of making a legitimate movement, being the Green Movement, illegal overnight."
Moreover, Pitts says Ahmadinejad "should be the one to resign, if he cares about the constitution" and "if he cares about the [1979] revolution."
It is Ahmadinejad who "can define why we had a revolution," he says. "I think it's time the authorities told the majority who wasn't born at the time of the revolution what that revolution signified."
'Why Did We Have The Revolution?'
Seventy percent of Iranians are under the age of 30, and much of the young generation is reportedly frustrated with the government's restrictive policies and a lack of employment opportunities.
The absurdity is that today, Pitts says, "because you made a choice, you've become a criminal."
Young people have also played a key role in the recent unrest, which the authorities responded to by arresting thousands of people and clamping down on freedom of expression. Most recently, after human rights workers raised
allegations of torture and sexual abuse
of detainees in Iran and other rights concerns, the United Nation's Human Rights Council last week
established a special representative
to monitor human rights violations in the country.
"Did we have a revolution [in 1979] for people not to be allowed to ask questions?" Pitts asks. "If that's the case, why did they offer four candidates for the presidency [in 2009]?"
Pitts says that "it's not a question of being for or against the [1979] revolution, it's a question of defining what this revolution was about," adding, "if there are people who are within the Revolutionary Guards who feel the Iranian revolution was confiscated in June 2009, then they should say it."
One of the presidential candidates, former Prime Minister and reformist presidential candidate Mir Hossein Musavi -- now an opposition leader under house arrest -- "wasn't exactly somebody who came from out of the blue," Pitts notes. "He came from within the regime, so he was offered by [Supreme Leader Ayatollah Ali] Khamenei, the supreme guide, to the people of Iran, to the country."
For Pitts, what sets Iran apart from the Arab states seeing a rise in dissent was the political choices given Iranians in the last presidential election. The absurdity is that today, he says, "because you made a choice, you've become a criminal."
Thousands of people were arrested in Iran after the election unrest, including many artists. Prominent filmmakers Jafar Panahi, Mohammad Rassoulof, and Mohammad Nourizad have all been imprisoned because they "shed a light on some pain that might exist in society," Pitts says. "I don't see the crime in that."
A Life In Film
The son of an Iranian mother and a British father, Pitts was born in 1969 and grew up in a flat underneath a postproduction film studio in Tehran, spending his childhood on film sets.
When the 1979 Islamic Revolution took place in Iran, he remembers being on the set as a 12-year-old and following the cinematographers as they ran after the protests with their 16-millimeter cameras. Much of that footage is now considered prized historical film. In those days "I'd jump over the wall," he says, "and go and see what's going on with the riots."
In 1981, during the Iran-Iraq War, he moved to Britain to enter film school. He returned to Iran in 1996 to shoot his first feature film, "Season Five." His films have been nominated twice for Berlinale's Golden Bear award, while his 2000 film "Sanam" won the Grand Prix at the Paris Film Festival.
Pitts is considered part of the new wave of Iranian cinema, which is tied to the neorealist movement that first emerged in post-World War II Italian film in opposition to the heavily packaged, flashier films popular at the time. Iran's new wave, inspired by neorealism's attention to ordinary human life, uses poetic storytelling techniques and is known for producing highly innovative films that often carry social and philosophical undertones.
For his part, Pitts was spellbound by cinema at a young age. Remembering a particularly moving day on the set of Farmanara's "
Shazdeh Ehtejab
" (Prince Ehtejab), Pitts recalls being in a scene "where all the horsemen are coming down this snowy road," he says, lost in memory for a moment. "At that time, I was six or seven."
The filmmaker is at a loss as to how to explain further, but concludes with a smile, saying, "I remember that as an incredible day."