Zohreh Eftekhari hopes her husband, prisoner Saeed Malekpour, will not become yet another victim of what has been described by human rights activists as "Iran's execution binge."
Malekpour, a 35-year-old dual Iranian-Canadian citizen, was arrested in 2008 after returning to Iran to visit his ailing father. He was sentenced to death in December 2010.
Malekpour is a web developer who has been accused on a number of charges, including "designing and moderating adult-content websites," "agitation against the regime," and "insulting the sanctities."
Eftekhari rejects the charges against her husband, who she believes was tortured in jail to make a false confession on state television. She complains of a lack of evidence and irregularities in the case.
"The charges are sensitive in Iran's conservative society, and also they've used [the case] for political purposes," Eftekhari says. "Those who know Saeed know that the charges against him are [false]. Those who saw him on television say it was clear from the way he was speaking and lips trembling that he was forced to confess to the crimes."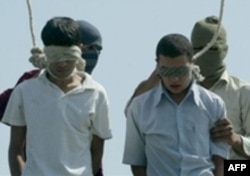 Iran has also been criticized for executing prisoners under the age of 18.
On February 1, Tehran's chief prosecutor, Abbas Jafari Dolatabadi, was quoted by Iranian news agencies as saying two pornography verdicts were sent to the high court for confirmation. He did not identify the two men sentenced to death, but one of them is believed to be Malekpour.
Security Services Nervous
Two independent UN experts warned last week that there has been a "dramatic surge" in death sentences in Iran, which already has one of the highest execution rates in the world.
According to the International Campaign for Human Rights in Iran, in January alone 83 people were executed in the country. In 2010, 179 executions were reported in the Islamic republic.
Executions increased following the 2009 unrest that broke out following the reelection of Iranian President Mahmud Ahmadinejad. Over a period of three months -- from election day, June 12, to Ahmadinejad's inauguration in August -- more than 100 executions were recorded by Amnesty International.
Hadi Ghaemi, director of the New York-based International Campaign for Human Rights in Iran, believes the recent surge in the number of death sentences could be a reaction to the uprisings in Tunisia and Egypt.
"It's very difficult to say why the number of executions has increased, but it seems that the political developments in the region have had an impact," Ghaemi says. "Iran's security forces are very much afraid of uprisings like those in Egypt and Tunisia in Iran."
Iranian opposition leaders Mir Hossein Musavi and Mehdi Karrubi have accused Iranian authorities of using death penalties to spread fear and to intimidate citizens.
Officials say most of those executed are drug traffickers. In recent months, however, at least three individuals arrested in the 2009 postelection crackdown have been hanged.
Questionable Trials
Human Rights Watch has warned that, at the current rate, more than 1,000 prisoners "easily" could be executed in Iran before the end of the year.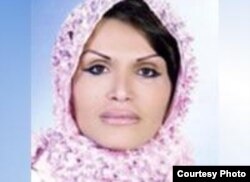 Zahra Bahrami was arrested in opposition protests, then accused of drug trafficking.
Executions are reportedly taking place after unfair trials and without due process. Prisoners are being convicted based on what are being described as "coerced confessions." Those on death row often have no access to their lawyers and little contact with the outside world, including with their families.
The daughter of Iranian-Dutch woman Zahra Bahrami, who was executed last month after being charged with drug possession, tells RFE/RL's Radio Farda that she found out about her mother's death through Persian-language media based outside Iran.
Banafsheh Nayebpour says an inmate told her about her mother's last hours. "She said they came for her" a day before she was executed and "told her to take her belongings."
Nayebpour says her mother "spent the night in the prayer room. They didn't tell her she was going to be executed. They woke her up at four in the morning, took her to the gallows, and told her to write her last will. She wrote it, and then they hanged her."
Bahrami was originally arrested for participating in the 2009 antigovernment protests. The drug charges were brought against her after 400 grams of cocaine and opium were allegedly found at her house. She was also accused of being part of an international drug-trafficking ring. Her family has rejected the charges.
'Republic Of Executions'
Ghaemi says issuing and carrying out death sentences is now a state policy in Iran, prompting some bloggers to refer to the country as the "Republic of Executions." He says the authorities employ "extreme violence" to strengthen their rule and to instill fear.
Iran's chief prosecutor, Mohseni Ejei, "has a very prominent role" in the surge in executions, Ghaemi believes. "He played an important role in the mass executions that were carried out in the 1980s. He has once again turned that policy into the policy of the establishment. The executions are being carried out with his approval."
An observer in the Iranian capital says many citizens appear to support capital punishment. "Most people believe the state claims that whoever is being executed is either a murderer or drug trafficker," says the observer, who spoke on condition of anonymity. "They support that and you always see many showing up for public executions."
Yet many young Iranians are expressing concern over the executions in blogs and on online platforms. Several Facebook pages against the death penalty in Iran have been launched in recent months, including one that calls on Iranians to state in their wills that even if they're murdered their murderer should not be executed.
One 26-year-old student in Tehran says he supports the death penalty for drug traffickers and also for those behind bombings that leads to the killing of civilians. "I am, however, very much opposed to the carrying out of political executions and [the execution] of juvenile offenders," he adds.