Iraqi Forces Advance In Tikrit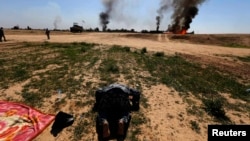 Iraqi security officials say government forces have retaken parts of Tikrit as they battle the Islamic State (IS) extremist group for control of the city.
The office of Salahuddin Province's Governor Raed al-Jubouri announced on March 11 "the purging of half of Qadisiya district," a neighborhood stretching north of the city center.
A major general was quoted as saying troops and mainly Shi'ite militia were "now doing combat missions to cleanse" the neighborhood.
"We are not facing fighters on the ground, we are facing booby-trapped terrain and sniper fire, the officer told AFP news agency. "Our movement is slow."
Allied forces also entered Tikrit from the south, where Salahuddin police Brigadier Kheyon Rasheed told the state-run Iraqiyya television that IS militants were "seizing the cars of civilians trying to leave the city and they are trying to make a getaway."
Clashes were also reported west of Tikrit.
A spokesman for the Tribal Council of Salahuddin Province, Marwan Jebbara, told RFE/RL's Radio Free Iraq that 60 percent of Tikrit was now under the control of Iraqi security forces.
The developments come after Iraqi forces captured Al-Alam, a town on the northern edge of Tikrit, on March 10.
The IS militants seized the hometown of late dictator Saddam Hussein in June 2014, after the Iraqi army collapsed in the face of a lightning advance by the group across northern and western Iraq.
The military launched an offensive 10 days ago aimed at driving the IS group from Tikrit, some 130 kilometers north of Baghdad, with Iran helping to coordinate the 30,000 soldiers and militia fighters involved.
The force is not being supported by U.S.-led coalition air strikes.
U.S. Army General Martin Dempsey, chairman of the Joint Chiefs of Staff, said at a Senate hearing on March 11 that Iran's support in the fight against the IS group is "a positive thing in military terms" against the militants.
But he also said the United States remains concerned about what happens "after the drums stop beating" and the IS group is defeated.
In northern Iraq, IS militants came under attack this week from Kurdish forces around the city of Kirkuk, which has been controlled by Peshmerga fighters since August.
The Kirkuk province's security council said on March 10 that Kurdish forces gained control of a strategic junction linking Kirkuk to Mosul, the largest Iraqi city under IS control.
A Kurdish commander, Major General Omar Hassan, said his forces would press on with their offensive in coming days.
In the western province of Anbar, police said the IS group launched on March 11 a coordinated attack on positions held by security forces in the provincial capital, Ramadi, located 100 kilometers west of Baghdad.
At least five people were killed and 19 wounded in the attack, which involved at least 17 car bombs.
According to Anbar Governor Sohaib al-Rawi, Iraqi security forces were "ready and had excellent intelligence about the operation."
"What happened in Ramadi today is a clear victory for Anbar," he said on social media.
Most of Anbar is under IS control.
A series of attacks also took place in and around Baghdad.
The deadliest single attack was a car bombing in the mainly Shi'ite district of Hurriyah, in which at least six people were killed.
With reporting by Reuters and AFP