A group of leading Israelis, including former military chiefs and a former head of the intelligence agency Mossad, are to put forward a new comprehensive peace plan that would mean ceding most of the West Bank and Gaza and much of east Jerusalem to a Palestinian state.
Authors of the Israeli Peace Initiative, a two-page document signed by 40 leading Israeli figures, say it has been inspired partly by the recent wave of Arab uprisings that has toppled presidents in Egypt and Tunisia, triggered bitter fighting in Libya, and seen the outbreak of protests in countries like Syria.
It is also designed as a response to a peace initiative twice proposed by the Arab League, first in 2002 and again five years later.
Yossi Mekelberg, an associate fellow of the Middle East and North Africa Program at the Chatham House think tank in London, says the plan may also have been born out of a sense that the currently moribund state of the peace process could lead to increasing violence.
"There was in the last two weeks a bomb in Jerusalem, exchange of fire between the Palestinians and the Israelis in Gaza, and the Palestinians themselves are accumulating more and more weapons, longer-range rockets," Mekelberg says.
"In a sense, I think this kind of initiative is out of maybe desperation but also a sense of urgency, that keeping it for longer would go against the interests of the Israelis and the Palestinians themselves."
The plan, scheduled to be officially launched in Tel Aviv on April 6, presents a picture of Israeli concessions in an effort to reach a lasting accommodation with the Palestinians and Israel's Arab neighbors. It also reaffirms Israel's commitment to a two-state solution.
"The key principle of all regional peace agreements shall be Israeli withdrawals, guaranteed security, normal relations, and an end to all conflicts…" the initiative states. "Furthermore, the Israeli-Palestinian conflict shall be resolved on the principle of two states for two nations: Palestine as a nation state for the Palestinians and Israel as a nation state for the Jews (in which the Arab minority will have equal and full civil rights as articulated in Israel's Declaration of Independence)."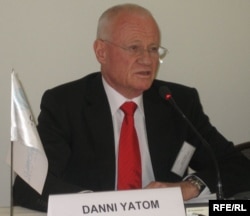 Danny Yatom: "A new horizon and light at the end of the tunnel."
Accordingly, the plan calls for the agreement to be based on pre-1967 borders, with agreed modifications based on land swaps that would not exceed 7 per cent of the West Bank, where Israel has established an extensive network of Jewish settlements.
Jerusalem would be the capital of both states, with its Jewish neighborhoods going to Israel and Arab neighborhoods coming under Palestinian sovereignty. The old city, site of Jerusalem's holiest religious shrines, would be subject to special arrangements. While the Western Wall and Jewish Quarter would come under Israel's ambit, the area known to Jews as the Temple Mount but also sacred to Muslims as the Haram al-Sharif (or Noble Sanctuary) would be subject to a no-sovereignty arrangement.
Palestinian refugees living in neighboring Arab states would be offered compensation packages but would have the right of return only to the new Palestinian state, with only "mutually agreed-upon symbolic exceptions…allowed to return to Israel."
Israel would also hand back the Golan Heights -- seized during the 1967 Six-Day War and formally annexed in 1981 -- to Syria "with agreed minor modifications and land swaps" over a maximum five-year period.
The plan's architects include former heads of Mossad, Israel's renowned foreign espionage organization, and its domestic counterpart, Shin Bet. Most of its signatories, who include the son and daughter of the late Israeli premier, Yitzhak Rabin, murdered by a right-wing extremist in 1995, are to the left of the current right-wing coalition government, led by Prime Minister Benjamin Netanyahu.
Danny Yatom, a former head of Mossad and erstwhile Labor parliamentarian, said the initiative had been prompted by upheaval in the Arab world.
"We looked around at what was happening in neighboring countries and we said to ourselves, 'It is about time that the Israeli public raised its voice as well,'" he told "The New York Times." "We want to signal to moderate Palestinians and Syrians that there is a new horizon and light at the end of the tunnel."
However, Mekelberg fears that the initiative has little prospect of success.
"I have my doubts whether it will lead anywhere. I think there is also the split among the Palestinians, between Hamas and Fatah," he says, "and the physical one between Gaza and the West Bank. And [there is] little will in the Israeli government right now to do anything before it sees the full extent of what's happening around it.
"I am afraid that this kind of initiative won't yield the fruits that many of us would have liked to see."

written by Robert Tait, with agency reports