WATCH: The Israel Chamber Orchestra played a work by Richard Wagner during the annual Wagner opera festival in Bayreuth,Germany. (video: Reuters)
Members of the Israel Chamber Orchestra challenged a seven-decade taboo when they played a work in Germany by Adolf Hitler's favorite composer, Richard Wagner.
The orchestra played Wagner's "Siegfried Idyll," an orchestral piece, in Bayreuth, Germany -- a town famous for its annual Wagner opera festival in July and August.
Israeli ensembles rarely play Wagner's music because of the association of the 19th-century composer with anti-Semitism and the appropriation of his music by the Nazis. Many Israelis consider the performance of Wager's compositions to be insensitive to Holocaust survivors.
But Roberto Paternostro, the conductor of the Israel Chamber Orchestra, said it was time to separate Wagner's worldview from his music. He said that despite Wagner's ideology, he was a great composer.
"I have the greatest respect -- and I would like to make that very clear -- for people who experienced that terrible time, who went through that hell, and who say that they do not want anything to do with this," Paternostro, who is Jewish, told Reuters.
"I understand that, and that is also the reason why we did not want to play [Wagner] in Israel and we will not even try that in Israel."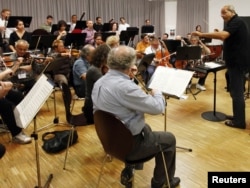 Roberto Paternostro (right) conducts the Israel Chamber Orchestra during a rehearsal in Bayreuth on July 24.
Paternostro's mother and other relatives were Holocaust survivors. He said when he first had the idea for the performance, it was met by the orchestra's board of directors and by the musicians "with great interest and curiosity."
"Personally, I would like a very calm and responsible and musical course of the concert," Paternostro said. "We are musicians. All people who are here are musicians. They want to give their best playing their instruments."
Attempts over the years by some musicians in Israel to perform Wagner's music have caused audience members to walk out in protest and have triggered heated public debate.
Wagner is also taboo on state-owned media in Israel that largely keep his work off the air.
In fact, the unofficial ban on Wagner's music predates Israel's creation in 1948. The Israel Philharmonic under its former name, the Palestine Orchestra, imposed it in 1938 after Nazi attacks on Jews in Germany.
Dan Erdmann, a clarinetist in the Israel Chamber Orchestra, told Reuters that his fellow musicians understood the history that is linked to Wagner's music.
"I am very excited about this. We've been talking about this for a long time. It's been in the news, [we've been] talking about it with friends, with family," Erdmann said
"You know, many people are against it in Israel. It's a big thing. But I think all of the people who are here are supportive of it. And they want to play Wagner. And I think it's a good step, you know, to be here and to start the process of maybe playing it in Israel one day."
Even though Wagner died half a century before Hitler rose to power, the Nazi dictator was a fervent admirer and drew on the composer's writings in his own theories about Germanic racial purity.
Aside from anti-Semitic overtones in some of his operas, Wagner also penned a number of polemics raging against what he called the corruption of music and of the "German spirit" by Jews.
written by Ron Synovitz based on agency reports