Rome, the Eternal City, will be razed to the ground on May 11 as a devastating earthquake reduces its centuries-old buildings to a pile of rubble.
That, at least, is according to Internet rumors that are causing panic among some local residents.
The forecast was allegedly made by Raffaele Bendandi, a self-taught seismologist and astronomer who died in 1979 and is credited with correctly predicting several major earthquakes.
Despite the authorities' best efforts to debunk his supposed prophecy, thousands of people have fled the Italian capital. A small tremor registered on May 10 some 100 kilometers south of the city has further fueled anxieties.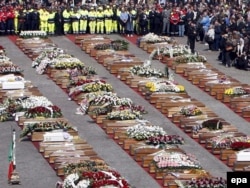 A funeral ceremony for some of the victims of the April 2009 earthquake in L'Aquila, Italy.
Police say they are being flooded with calls and 20 percent more public servants have asked for a day off today compared to May 11, 2010.
Many shops are closed for the day, particularly in Rome's usually bustling Chinatown, where 90 percent of shops have shut down.

'Really Superstitious'
Italian shop owner Leonardo Mazzi prefers to ignore the rumors of impending doom.
"They have gone away because of the earthquake; they are afraid," Mazzi says. "The Chinese have all gone. They are really superstitious."
Svetlana Pekarskaya, a Russian pianist who lives in Rome with her two children, has also decided to take her chances and stay in the city -- but only after much hesitation.
"At first I thought about evacuating the children, because we've already been through this once," she says. "But they have to go to school, to the music conservatory, so we ended up staying."
Pekarskaya lived in the central Italian city of L'Aquila when a 6.3-magnitude earthquake hit the city two years ago, flattening thousands of buildings and killing more than 300 people. She and her two children escaped unscathed but their home was destroyed, forcing them to start a new life in the capital.
Despite regarding Bendandi's prophecy as bogus, Pekarskaya says the prospect of another deadly earthquake makes her uncomfortable.
"Although I don't think earthquakes can be predicted, it's still a very unpleasant feeling," she says. "I'm not really nervous, but thinking about earthquakes is unpleasant because we've already survived one."

Toll-Free Panic Line
To allay fears, Rome has opened a toll-free telephone number where officials field questions about earthquakes.
Italy's civil protection agency has posted a
special section on its website
stressing that quakes cannot be predicted and that Rome is not prone to tremors.
The National Geophysical and Volcanology Institute, meanwhile, has opened its doors to the public in a bid to educate the population about seismology.
Scientists and scholars stress that there's no evidence Bendandi ever made a prediction about today.
Paola Lagorio, the president of an association dedicated to Bendandi and which preserves all his manuscripts, says the documents make no explicit reference to any earthquake around Rome this year.
Bendandi believed earthquakes could be predicted on the basis of planetary alignments.
In 1923, he forecast a quake would hit the central Adriatic region of the Marches on January 2, 1924. The earthquake did take place, but only two days later.
His prediction nonetheless drew attention to his work and he was awarded a knighthood by Fascist dictator Benito Mussolini in 1927.
Bendandi is also said to have predicted the earthquake that struck the northeastern Italian region of Friuli in 1976, claiming almost 1,000 lives.
with Reuters