Japanese authorities were continuing desperate efforts to avert a widespread disaster at the Fukushima nuclear power plant, which was damaged as a result of last week's earthquake and tsunami.
Chief Cabinet Secretary Yukio Edano says military helicopters have been dropping tons of seawater on the reactors in a bid to prevent a meltdown of the fuel rods. Police water cannon also were being used.
"We are currently making our best effort to cool down the reactors right now by dropping water from the sky with [helicopters of] the Japanese Self-Defense Force, and from the ground with high-pressure water cannons -- by the police," he said.
Workers at Fukushima also were trying to restore the power supply to the nuclear plant today in order to reactivate the reactors' water pumps and cooling systems. But reports suggest none of the efforts has been showing signs of success so far.
The operation is also aimed at replenishing water in a storage pond for spent nuclear fuel rods -- a facility that is not protected by the steel and concrete containment vessels that surround Fukushima's six reactors.
As fears of radiation rise, an increasing number of governments have advised their nationals to leave Japan.
The United States has chartered aircraft to help Americans leave Japan and allowed relatives of diplomatic staff to leave, if they want.
Reports said authorities in Taiwan and South Korea had detected radioactive particles on passengers arriving from Japan.
China urged Japan to release "timely and accurate" information as the uncertainty fuelled panic buying of salt by Chinese fearing radiation.
Underplaying Crisis
Gregory Jaczko, who heads the U.S. Nuclear Regulatory Commission, said on March 16 that Japanese officials may be underplaying the scale of the crisis.
"We believe at this point that Unit 4 may have lost a significant inventory, if not lost all of its water." Jaczko said.
Meanwhile, Japan's government also is warning that a major power blackout is possible tonight in Tokyo and surrounding areas.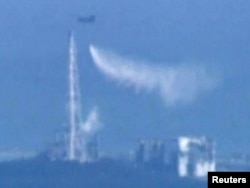 A military helicopter drops water on the reactors at Fukushima today.
Police today said the confirmed number of dead and missing from the 9.0-magnitude earthquake and tsunami on March 11 has topped 14,500. Health specialists say fears about radiation leaks have been diverting attention from the plight of survivors who are facing shortages of food, fresh water, and fuel.
Heavy snowfall in the worst-affected areas -- in northeastern Japan -- is complicating rescue and relief efforts for some 500,000 people made homeless.
'Very Serious'
The combined disasters -- and subsequent explosions and fires at four of Fukushima's six reactors -- have taken a toll on Japan's economy.
Edano is trying to ease the concerns of investors and prevent market panic, saying: "We are aiming to escape the current situation as fast as possible. And even though a large part of Japan has been affected, the unaffected parts are still very productive. Thus, it is imperative that we show the global markets our solidarity in the face of this disaster and our willingness to overcome the current situation."
But as fears of a catastrophic release of radiation rise, an increasing number of governments have been advising their nationals to leave Japan. The U.S. Embassy in Tokyo has authorized staff with families to leave if they want and has told all U.S. nationals to leave areas within 80 kilometers of Fukushima.
The Japanese government has so far ordered the evacuation of people within 20 kilometers of the stricken facility -- about 28,000 people. The number of evacuees is expected to grow.
The head of the International Atomic Energy Agency, Yukiya Amano, said he would go to Japan to assess what he called a "very serious" situation. He also has urged the Japanese government to provide more detailed and up-to-date information to the UN nuclear watchdog.
It was unclear whether Amano plans to visit the Fukushima plant itself.
compiled from agency reports