The sound of sirens were heard along Japan's devastated coastline today to mark the day one week ago that the country was hit by its worst earthquake in history and a subsequent devastating tsunami.
A moment of silence was also observed for the victims of the twin disasters, which have made half a million people homeless, killed at least 7,000, and caused billions of dollars in damage. Most officials believe the final death toll will exceed 10,000, while another 10,000 people are still missing.
Deepening the country's misery are growing fears of a massive radiation leak from the crippled Fukushima Daiichi nuclear power plant, where the tsunami knocked out power to the cooling systems.
This week, four of the plant's six reactor units have ignited in fires, exploded, or experienced partial meltdowns.
More 300 workers cloaked in protective radiation suits are in what the UN's International Atomic Energy Agency chief Yukiya Amano today said was "a race against the clock" to restore power and the cooling systems to the six reactors.
"We see it as an extremely serious accident. The international community is extremely concerned about this issue, and it's important to cooperate in dealing with it," Amano said.
Threat Level Increased
Also today, Japan's Nuclear Safety Agency raised the severity level of the Fukushima nuclear accident from a 4 to a 5 (on a scale to 7), making it equivalent to the Three Mile Island accident in the United States in 1979 and affirming the urgency of Japan's nuclear crisis.
The International Nuclear Event Scale defines a Level 4 incident as having local consequences and a Level 5 as having wider consequences. The 1986 Chornobyl disaster was rated as 7.
Hidehiko Nishiyama, of the country's nuclear safety agency, said the rating was raised when officials realized that at least 3 percent of the fuel in three of the complex's reactors had been severely damaged. He said that suggests that those reactor cores have partially melted down and thrown radioactivity into the environment.

Government 'Too Slow'
Seven days after the twin disasters, the government admitted that its response to the tragedies was too slow, with Chief Cabinet Secretary Yukio Edano admitting that Japan was not prepared.
"The unprecedented scale of the earthquake and tsunami that struck Japan, frankly speaking, were among many things that happened that had not been anticipated under our disaster management contingency plans," he said, adding, "In hindsight, we could have moved a little quicker in assessing the situation and coordinating all that information and provided it faster."
In a nationally televised address, Prime Minister Naoto Kan vowed that the disasters would not defeat Japan. "We will rebuild Japan from scratch," he said, comparing the work ahead with the country's emergence from the wreckage of World War II.
If the fuel from the fuel storage tanks, or containment pools, is exposed to air, it could degrade further and emit dangerous levels of radioactivity.
Workers brought a power cable into the site today to restore the water pumps and cool the plant.
"The power cable is near. We would like to speed up this operation as we can then use it to speed up the rest of what we have to do," chief government spokesman Yukio Edano said.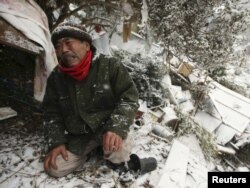 A man cries next to his destroyed house, where his dead mother is still buried in the rubble, in Onagawa town in Miyagi Prefecture on May 17.
Nuclear expert John Price, formerly of the Safety Policy Unit of Britain's National Nuclear Corporation and now a professor at Australia's Monash University, told the French news agency AFP, however, that restoring power could be difficult.
The problem, he said, "is that we don't know whether connecting up those wires is actually going to make a difference. There're other failures in the area as well."
Not Out Of Control, But Not Yet In Control
Price said the situation was not yet out of control, but that officials hadn't gained full control yet.
Many foreign nationals have left, with the governments of Britain, France, Germany, Australia, and New Zealand advising their citizens to leave Tokyo as well as the northeastern region.
Many countries have shifted their embassies from Tokyo, while airports in other Asian capitals are checking people arriving on flights from Japan for radiation contamination.
Testing earlier this week revealed slightly elevated levels of radiation in Tokyo, located 220 kilometers from the plant. But authorities have said that radiation levels from the plant do not pose an immediate health threat outside of the 20-kilometer exclusion zone.
That message was underscored in Beijing by the World Health Organization's (WHO) China representative, Michael O'Leary.
"To date," O'Leary said, "we don't have any information that there is significant spread of radioactive material beyond that zone. Of course, we're all watching this."
The UN's International Atomic Energy Agency is starting to measure radiation levels in Tokyo as early as today, its visiting chief Amano said, according to Jiji Press.
For the first time, driven by winds over the Pacific Ocean, the radioactive plume reached the southern California coast of the United States today.
But AP, quoting a diplomat who has access to radiation tracking by the UN, said readings at California-based measuring station were far below what would be considered a threat to human health.
Sendai Airport, which was flooded by the tsunami, has been reopened to emergency airplanes and helicopters, as have some damaged ports and a major road running through the northeast region of the country.
Shortages of fuel, however, are hindering relief efforts, including the distribution of food. About 380,000 people are still staying in 2,200 shelters set up after the disasters.
compiled from agency reports