If and when the 42-year rule of Muammar Qaddafi ends, the Libyan opposition won't be without a plan for the country's future -- and an ambitious one, at that.
Speaking on May 12 at the Brookings Institution, a Washington think tank, senior opposition leader Mahmud Jibril said a "total collapse" of the Qaddafi regime could "materialize within the next few weeks."
Jibril is the head of the Libyan opposition National Transitional Council's executive bureau.
The council, he said, is not a "political organ," but as an "administrative organ," has drafted a plan for the establishment of a democratic government in authoritarian-dominated North Africa.
"After the fall of the regime, immediately the TNC should call for the convening of what we call the 'National Congress.' The national congress [will be] composed of members of all regions of Libya -- all cities and towns -- taking into consider the relative demographic weight of each town and city," he said. "The function of that national congress is to select the committee which should draft the constitution."
The constitution, Jibril said, should be approved by Libyans through a referendum that is observed by the United Nations. Parliamentary elections would follow, and a presidential election two months after that. Libya, he said, could serve as a model not only for other Arab nations fighting government repression, but for the entire African continent.
Heading To The White House


The U.S.-educated opposition leader is hoping that his plan will be well received on Friday, when he leads a delegation of Transitional National Council members to the White House for meetings with President Barack Obama's national security adviser, Tom Donilon, and members of Congress.
While there are no plans as of yet for Jibril to meet the U.S. leader, he is carrying a message for him: "If I meet President Obama, first of all I would really thank him for the role the United States has played so far, and I would strongly urge him to play a more active role, because there is a lot at stake strategically for the United States if that role is not played properly," Jibril said. "There is a lot to be lost."
The Transitional National Council has so far failed to win recognition from Washington as the legitimate representative of the Libyan people -- a designation that council has won from countries including France, Italy, Qatar, and Kuwait. Jibril said more nations would be added to that list within days.
While U.S. officials say they are still considering the legal aspects of such a move and the precedent it would set, the White House is also making sure to fully understand the members and goals of the council before giving it full U.S. support.
Recognition would also make it easier legally for Washington to help fund the opposition, which Jibril insisted has broken a stalemate in the fighting, but is fast running out of money and weapons. Watchdog groups have also warned of a burgeoning humanitarian crisis in opposition-held areas under siege by pro-Qaddafi forces.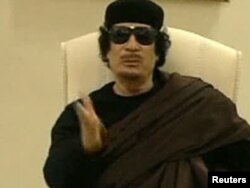 A still from a video released on May 11 by Libyan TV shows Muammar Qaddafi speaking at a Tripoli hotel.
In late April, Obama ordered $25 million in urgent, non-lethal aid to be sent to the opposition, and a first shipment of some 10,000 halal meals, medical supplies, and protective gear arrived this week in the opposition-held eastern city of Benghazi.
But the council has its eye on the on the more than $32 billion worth of U.S. assets belonging to Qaddafi and some of his sons that Obama froze in late February.
In his comments, Jibril said he was trying to convince lawmakers that the assets could at least be used as "collateral," against which the opposition can "have some credit line, just to try to meet the demands of our people." The group's financial need for the next six months amounts to some $3 billion, he said.
Too Little, Too Late?

Hours earlier, at a hearing on the situation in Libya in the Senate Foreign Relations Committee, Chairman John Kerry (Democrat-Massachusetts) announced that committee members met with Jibril on May 11. Kerry said he did an "excellent job" of answering senators' questions on "where [the Transitional National Council is] on the political spectrum."
Jibril said Kerry told him he was working to draft legislation that would release some $180 million to the opposition.
That figure however, might not only be too little, but also too late, according to Jibril.
"Time is the crux of the matter, because solving this problem in a matter of four [or] five weeks might be too late," he said.
Jibril isn't the only representative of the Transitional National Council trying to win greater support from world powers.
Also on May 12, council chairman Mustafa Abdul-Jalil held talks with British Prime Minister David Cameron, Foreign Secretary William Hague, and other senior British officials.
Meanwhile in Libya, the fighting that has ripped the country in two will soon enter its fourth month.
Anti-government protests have sprung up this week in the capital, Tripoli, and early toon May 12, a new round of NATO airstrikes hit Qaddafi's fortified compound in the city.
Italian Foreign Minister Franco Frattini has said that the International Criminal Court could issue an arrest warrant for the Libyan strongman by the end of the month.