Justice Minister Says Ben Ali Faces Murder, Other Charges In Tunisia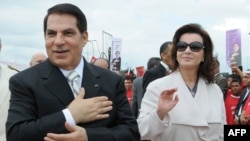 Tunisia's justice minister says prosecutors want to try ousted President Zine el-Abidine ben Ali on a total of 18 different charges, including murder and drug trafficking.
Justice Minister Lazhar Karoui Chebbi detailed the charges, which also include conspiracy against the state, in an interview with national television.
Ben Ali fled to Saudi Arabia after he was forced from office on January 14 by a popular uprising.
He had ruled Tunisia for 23 years.
Chebbi said Tunisia was exploring legal ways to extradite Ben Ali from Saudi Arabia to face trial. He provided no details.
Tunisia has asked Interpol to help arrest ben Ali, his wife and other members of his family who fled the country during the uprising.
compiled from agency reports