A motorcycle suicide bomber killed the deputy governor of Afghanistan's Kandahar province today, a blow to U.S.-led forces trying to bolster governance and fight a robust insurgency in the Taliban's heartland.
Violence in Afghanistan is at its worst since U.S.-backed Afghan forces overthrew the Taliban in late 2001 with casualties on all sides at record levels and militant attacks increasing in number and spreading to almost every part of the country.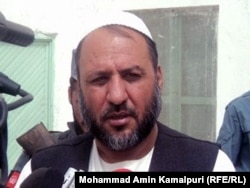 Abdul Latif Ashna
Deputy Governor Abdul Latif Ashna was killed as he left his home to travel to work in Kandahar city, capital of Kandahar Province, the governor's spokesman Zalmay Ayoubi said.
At least five other civilians who were wounded in the blast had been taken to hospital. No further details were immediately available about the attack or about the condition of the wounded.
U.S. Ambassador Karl Eikenberry, who was visiting Kandahar today, condemned the attack but said it would not sap efforts to increase security in the southern province.
"The loss of a great deputy governor like this is a setback. What we've seen is consistently Afghan government leaders emerge and the people continue to rally in an effort to establish security in this province," he told journalists.
Reuters