Kazakh authorities don't mince words when it comes to who will occupy the country's highest office.
Anyone with his or her eyes on the presidency -- to be decided in snap elections on April 3 -- must prove their proficiency in the state language: Kazakh. Potential candidates must pass a three-part test that includes writing an essay, reading a text in Kazakh aloud, and delivering a 15-minute speech. The tests are administered and topics chosen by a specially appointed commission of five members.
"If a person does not meet all the requirements for candidates stipulated by the law, they are automatically ineligible to run for president, and knowledge of the state language is one of those requirements," said Andrei Chebotarev, who heads the Alternativa think tank in Almaty.
The problem is that while moves to promote Kazakh language are popular and a key part of the effort to build national identity, Russian is still the main language of interethnic communication. It's the second official language and spoken by the vast majority of citizens.
Chebotarev said in, effect, the language requirement excludes more than 50 percent of Kazakh citizens, which raises the question whether qualified candidates might be being needlessly left out of the running.
Many have even suggested the language test, introduced in the 1990s, could be merely a tool for longstanding President Nursultan Nazarbaev to keep potential rivals at bay.
Two Men Down
Indeed, two potential candidates have already fallen victim.
One, Ualikhan Qaisarov, a member of the Azat party and an outspoken critic of the government, apparently had problems in spelling. A second potential candidate, Vladimir Kozlov, a prominent ethnic Russian of the unregistered opposition Alga party, simply pulled out ahead of time because he knew he had no chance of passing.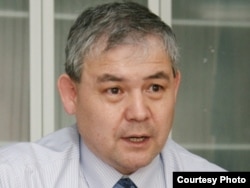 Ualikhan Qaisarov apparently made 28 spelling errors.
Kozlov said last year he would run for the presidency in the planned 2012 elections, but Nazarbaev's recent decision to move up the polls by a year caught him flat-footed. He said he would not have had enough time to get his Kazakh up to snuff.
To be sure, neither candidate probably had much of a chance to unseat the popular Nazarbaev, but their situation mirrors that of many Kazakhs. According to official statistics, of the country's 16 million people, less than half the adult population is fully fluent in Kazakh. More than 5 million don't speak any Kazakh at all, and about 1 million people have only basic knowledge.
Russian Remains Popular
By contrast, official statistics estimate that 94.4 percent of the population speaks Russian and that nearly 85 percent of people older than 15 can speak, read, and write Russian -- cementing its status as the country's lingua franca.
While the language test is not new – it's been around in one form or another since the early '90s – the way it has been applied this time appears to be more restrictive. In previous post-Soviet presidential elections, in 1999 and 2005, the tests were considered more relaxed and did not result in a candidate's disqualification.
This year, election officials said potential candidates should expect "much more serious exams." That and the opaqueness of the exam process has raised lots of questions.
Similar language testing goes on in neighboring Kyrgyzstan, but in a more transparent manner in which the testing is broadcast live on national television. In Kazakhstan, the tests take place behind closed doors. The language commission -- consisting of five university professors -- votes before making a joint decision on whether a candidate can run.
Qaisarov, who apparently made 28 spelling errors, insists the commission's decision to disqualify him was politically motivated. He is planning to take the matter to court.
"The commission was not checking my Kazakh but my knowledge of some certain themes," he told journalists. The commission said the decision to disqualify Qaisarov was final and could not be appealed.
Qaisarov had earlier tried but failed to register as a candidate for the 2005 presidential election, but officials claimed some of the signatures on his candidate petition had been forged.
'Examiners: It's Not About Politics'
The examiners say the test is strictly about language, not politics. But even the first person to pass this year's test -- Musaghali Duambekov, who frequently expresses his "full support" and loyalty to Nazarbaev's government -- said the administers' main concern did not appear to be fluency in Kazakh.
"If we look at the exams in terms of their implementation, [I think that they don't assess] a man's knowledge of Kazakh language itself," he said. "For instance, I had a question on history."
Duambekov, who leads the little-known For a Green Planet movement, passed despite making what examiners admitted were five minor stylistic mistakes. Why this was allowed is unclear. It's worth noting, perhaps, that Duambekov describes himself as an academic and not an opposition candidate.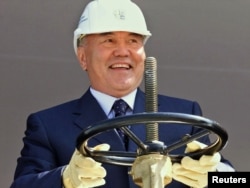 President Nazarbaev speaks excellent Kazakh regardless of what one may think of his policies.
The test has never been an issue for Nazarbaev, who has excellent command of the language. He was the second candidate to pass this year and has already officially been registered for the vote.

'It's A Reasonably Fair Requirement'
To be sure, not everyone feels the language test is unfair. Indeed, most Kazakhs see nothing wrong with expecting individuals with presidential ambitions to speak the state language.
"It's a reasonably fair [requirement] because we are talking Kazakhstan here, and Kazakhs are the dominant ethnic group here," said Rustem Lebekov, the director of the Eurasian Center for Political Studies in Almaty. "Therefore, a person who wants to become the president of Kazakhstan has to know Kazakh."
Kazakh has become increasingly popular -- especially among young people and in part because of steps the government has taken to raise the language's profile. Proficiency in Kazakh is a must for any position in a government agency.
Kazakhs do concede, however, that Russian is more popular in business circles, and that without knowledge of Russian it would be virtually impossible to find a good job in a company with international participation.
Nazarbaev said recently the number of Kazakh-language schools is steadily rising. He said some 25,000 children from non-Kazakh families have enrolled in Kazakh schools.
In his annual address to the nation last month, Nazarbaev said he expects 95 percent of all citizens to have good command of Kazakh by 2020.
He added, though, that he would not force anyone to use Kazakh. He said – no irony intended, apparently – that it would violate the rights of citizens who don't speak the language.
RFE/RL's Kazakh Service contributed to this report