The parents of some 1,200 students in the central Kazakh town of Temirtau have until September to find another school -- that is, if they want to continue their studies in their first language, Russian.
Their former schools -- Temirtau's Russian lyceum No. 9 and the Russian-Kazakh school No. 16 -- are being turned into Kazakh-language schools when the new academic year begins on September 1.
It's all part of what can be called the "Kazakh-ification" of a nation seeking to restore its national identity through the development of the Kazakh language and traditions. In recent years the number of Kazakh schools -- and those willing to study in Kazakh -- has slowly but steadily risen.
Officials in Temirtau say many Russian schools in the town are half-empty due to a shortage of students, while classrooms in Kazakh-language schools are overflowing to the point that some lessons are being conducted in the corridors.
Parents were told in May to look to other schools if they wanted to continue their studies in Russian. Angry parents have since campaigned to reverse the authorities' decision by staging protests, and lodging complaints to parliament and children's rights groups.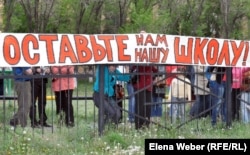 Parents from lyceum No. 9 protest in Temirtau at the end of May: "Leave us our school!"
Last week they wrote letters to the president, prime minister, and prosecutor-general threatening to take legal action. They concede there is little reason for optimism.
"How is it fair that my son has to leave his school so another boy can take his place?" asks Tatyana Tychkova, whose son is a Russian-language pupil in Temirtau. "My son goes to the 10th grade, and I am worried about the psychological impact this situation could have on him."
On July 4, lawyer Nurkhan Zhumabekov told RFE/RL that about 300 people have
filed lawsuits against the two schools
, which he said was unprecedented in Kazakhstan.
Promoting The State Language
Officials link the rising interest in Kazakh-language studies to the growing percentage of native Kazakhs in terms of the country's overall population. According to official statistics, the number of Kazakhs has risen by 26 percent since 1999, while the number of Russians living in Kazakhstan has declined by over 15 percent.
Unlike other Central Asian countries, Kazakhstan did not see a massive exodus of Russian-speakers following the break-up of the Soviet Union.
Russian remains the dominant language in Kazakhstan. A 2009 census indicated that 85 percent of the population was fluent in Russian, as opposed to the 64 percent who had a good command of Kazakh.
In fact, many native Kazakhs are more fluent in Russian than in their nation's mother tongue. But that appears likely to change among future generations.
The government in Astana has an ambitious plan for nearly all citizens to be able to speak Kazakh by 2020. To implement its plan, the authorities are trying to raise the state language's profile.
The state program for the Functioning and Development of Languages for 2011-20 includes the expansion of Kazakh schools throughout the country, as well as the development of Kazakh-language media.
In addition to schools, special classes have been opened in many workplaces for adults willing to learn Kazakh. A good knowledge of Kazakh is now a requirement for all government-agency employees, and is highly recommended for other institutions.
A Kazakh-language test has long been in place for presidential nominees, but it was strictly enforced during this year's election in April, in which Nursultan Nazarbaev was reelected. Nazarbaev, himself fluent in Kazakh, is among advocates of the promotion of his mother tongue.
It remains unclear how many new Kazakh schools have been opened since the program was introduced in 2010, but officials -- without giving exact numbers -- have lauded the steps taken.
Meanwhile, critics have warned that the emphasis on Kazakh-language schools could alienate ethnic Russians and prompt them to leave the country.
Half-Empty Schools
Parents in Temirtau are threatening to go on hunger strike if the authorities ignore their situation.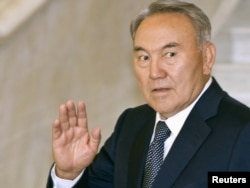 Kazakh President Nursultan Nazarbaev has promoted the Kazakh language.
"We will not give up," says parent Marina Dzhamburbaeva. "We are not going anywhere just yet. We will go stage hunger strikes, protests, whatever it takes. I will not take [my daughter's] documents from the school until the end."
Temirtau authorities, however, are unmoved by the criticism. Deputy Mayor Yury Zhulin says the city has its reasons.
Zhulin tells RFE/RL's Kazakh Service that the mayor's office has received numerous requests to open additional schools providing education in Kazakh, indicating the number of parents willing to send their children to Kazakh schools has increased.
According to the deputy mayor, 50 percent of the city's Russian-language schools are half-empty, and enrollment in the rest of them is only around three-quarters of what it used to be.
Kazakh schools, on the other hand, don't have enough space, and have to conduct lessons in two shifts, Zhulin says. "It has reached the level that sometimes lessons are being conducted in the corridors. And it has been going on for some years."
So far, there are only three Kazakh schools in Temirtau, as opposed to 16 Russian-language schools. The city's 12 remaining schools provide education in both languages.
Temirtau authorities say they will ensure that students whose Russian-language schools are being changed to Kazakh find placement elsewhere. They have also promised to provide employment for teachers who risk losing their jobs in the process.
Their decision to change Russian-language schools into Kazakh ones, however, stands.
RFE/RL's Kazakh Service contributed to this report