ASTANA -- Kazakhs turned out in force for early elections that are virtually certain to hand authoritarian leader Nursultan Nazarbaev a new five-year term.
The official turnout reached 84 percent shortly before the close of polls -- a massive figure that dwarfs the turnout total of 76.8 percent in the last election in 2005.
RFE/RL's Kazakh Service is reporting that some voters received a coupon after they cast their ballot and were told they must show the coupon to their employers to prove they had participated.
Speaking after casting his vote, Nazarbaev appeared confident of reelection.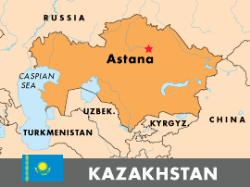 "Today's vote of our citizens will determine our unity and our aspiration to implement everything that I have mapped out in my state-of-the-nation address," he said. "We have turned to the industrial and innovative program. We have turned to social modernization. All of this is designed to work for the benefit of the common person."
The 70-year-old Nazarbaev has left his mark on nearly every facet of life in Kazakhstan, even co-authoring the national anthem. He has led the country for all of its nearly 20 years as an independent state.
Opposition groups complained at the decision some two months ago to hold an early presidential election. But even if the election had been held according to schedule -- at the end of 2012 -- Nazarbaev would likely have won anyway.
The early election was called after a proposed referendum to extend Nazarbaev's term to 2020 was rejected by Kazakhstan's Constitutional Council.
Young people and the elderly were seen turning out in the strongest numbers to vote. One voter, 89-year-old Andrei Lazovsky, said he had cast his ballot for Nazarbaev, calling it a vote for stability.
"[Nazarbaev] is eliminating the corruption that is eating away at our society. I wish him good health," he said. "Let him work as long as he can."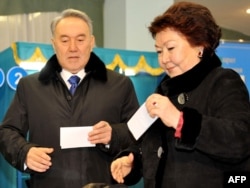 Nazarbaev and his wife, Sara, vote at a polling station in Astana.
Sedaiye Sabirova, 76, cast her ballot early in the day.
"We [are voting] only for Nazarbaev," she said. "We love and respect him."
Nazarbaev's three challengers barely campaigned and none even mentioned the possibility he might defeat the incumbent.
One of the candidates – environmentalist Mels Eleusizov – exited a polling station and told journalists he had cast his own vote for Nazarbaev.
The opposition was unable to register a candidate for the election. It resorted to trying to convince voters to stay home, calling the vote a farce.
Monitors from the Organization for Security and Cooperation in Europe are observing the election and are expected to release a report about the vote on April 4.
Kazakhstan has never held an election that has been evaluated as free or fair by international monitors.
PHOTO GALLERY: A correspondent for RFE/RL's Kazakh Service documented so-called "carousel voting" in Astana:
Irregularities have already been reported.
"The protocol [instructions] should be posted in a clearly visible place at polling stations alongside the ballots," Alimzhan, who declined to give his last name, told RFE/RL's Kazakh Service. "At some stations it is, but at others it is not, and they even refused to show it [to us]. Then we saw one woman. I filmed her, but she didn't want to speak with me. There were two polling stations near to each other. She went into one to vote, then went into the other [to vote]."
An RFE/RL correspondent in Astana also reported following four busloads of people who cast their ballots at one polling station, re-boarded the buses, and then drove to other polling stations to cast ballots again.
Preliminary results will be announced April 4.

written by Bruce Pannier, with RFE/RL's Kazakh Service and agency reports