Members of Kazakhstan's parliament have likened him to Kemal Ataturk, Mahatma Gandhi, and George Washington. Now Kazakh legislators appear to be trying to cement President Nursultan Nazarbaev's place among the world's legendary leaders.
Parliamentarians have voted in favor of holding a national referendum to keep Nazarbaev in office until 2020, circumventing two scheduled presidential elections and opening the path to him serving as president at the age of 80.
The outcome of the January 14 vote was widely predicted and is pursuant to an idea pitched by an initiative group just one month ago. Despite Nazarbaev's much-publicized objections to holding such a referendum, some in Kazakhstan believe that the whole campaign was planned by his office from the very start, although there is no evidence of such extensive official involvement.
The joint session of parliament, occupied entirely by members of the ruling Nur-Otan party and presidentially appointed deputies, voted unanimously to reject Nazarbaev's veto issued last week and to go ahead with the referendum.
According to Kazakhstan's Central Election Commission, the idea is already supported by 5 million voters, more than half the country's electorate.
Oral Mukhamedzhanov, speaker of the lower house of parliament, the Mazhilis, alluded to that purported popularity in announcing the results of its vote on what he called "a historic law."
"This law will be the basis for [holding] the referendum, and through this law that provides for the future we support the will of more than 5 million people," Mukhamedzhanov said.
Hot-Button Topic
Nazarbaev was the leader of the Kazakh Soviet Socialist Republic when the USSR collapsed in late 1991 and he has remained as president ever since. He has been elected president three times already and had his term extended through a referendum once, in 1995.
Many in Kazakhstan credit him with overseeing Kazakhstan's rise on the world stage and improvements at home. But Nazarbaev's critics -- and some supporters -- note that the country's vast oil reserves make an improvement in the standard of living inevitable and put Kazakhstan in better position to succeed than its southern neighbors.
Some detractors might charge that Nazarbaev, his family, and close associates have siphoned off considerable chunks of Kazakhstan's oil wealth and ruthlessly stifled any opposition to the president.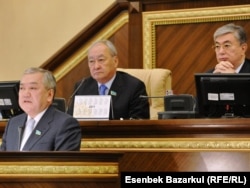 Mazhilis speaker Oral Mukhamedzhanov (middle) and other legislators during the January 14 vote.
Mazhilis speaker Mukhamedzhanov highlighted the broad support for the referendum, but the campaign was also fiercely opposed both inside and outside Kazakhstan.
Earlier this week, opposition activists staged a protest against the proposed referendum outside the offices of the Nur-Otan party in Almaty. Protesters brought small coffins in which they symbolically buried Kazakh democracy. They were all quickly detained and taken away to a police station.
A number of websites invited opponents of the referendum campaign to submit their comments. Some contributors wrote that their workplaces or schools were insisting that employees, students, and parents of students sign the petition or risk losing their jobs or opportunity to attend classes.
Some have also questioned the authenticity of the petition drive's signatures and called for them to be made public. The initiative group needed just 200,000 signatures to call for the referendum.
'El Basy'
Vladimir Kozlov, the leader of unregistered opposition Algha (Forward) party, has expressed doubt and said it would be impossible to collect that many signatures or check their validity in such a short period of time.
In an open letter to Nazarbaev, Kozlov called for all the signatories' names to be made public.
He also said the initiative highlights the need for change.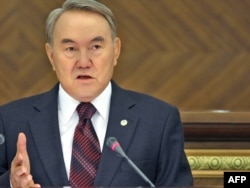 Kazakh President Nursultan Nazarbaev
"I don't know what President Nazarbaev will do, but I know what he should do. He should dissolve the entire parliament and call them boot-lickers instead of people's representatives and call for new parliamentary elections," Kozlov said.
The director of the OSCE's Office for Democratic Institutions and Human Rights (ODIHR), Janez Lenarcic, said in a January 14 statement that "the purpose of the planned referendum is inconsistent with Kazakhstan's international obligations and we hope the competent authorities will take the appropriate steps to stop this initiative.
"Referenda can be a way to involve citizens directly in the decision-making on important issues," Lenarcic said. "But a referendum can never be a substitute for periodic elections. It does not offer a genuine choice between political alternatives and would infringe on the opportunity of citizens to hold their representatives accountable and to effectively exercise their right to vote and be elected."
The U.S. Embassy in Kazakhstan said in a January 4 statement that the United States thinks "a national referendum that would replace the presidential elections guaranteed by Kazakhstan's constitution would be a setback for democracy in Kazakhstan."
Parliament now will send the passed bill to the president to be signed into law. But election-commission chief Kuandyk Turgankulov hinted at one more twist in the campaign when he made a remark to journalists that in most other countries might be written off as a misstatement.
Turgankulov said that "now the president will either sign or a referendum will be held." It was not immediately clear what Turgankulov meant, but the commission declined a request from RFE/RL's Kazakh Service for clarification.
Parliament also approved another minor change to the constitution. A reference to the "first president" in Article 46 now refers also to "El Basy," or leader of the nation, as well as first president. That title was bestowed on Nazarbaev by parliament last year in recognition of his achievements "on behalf of the people."
The timing of any possible referendum remains unclear, but Nazarbaev does not appear to be in any hurry.
RFE/RL's Kazakh Service contributed to this report