Khodorkovsky Appeal Filed As Moscow Rejects International Critics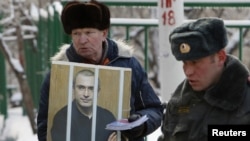 Lawyers for the jailed Russian former tycoon Mikhail Khodorkovsky and his business partner Platon Lebedev have filed preliminary appeals following a second court conviction and a new sentence that will leave both men in jail until 2017.

Khodorkovsky's lawyers filed the appeal on December 31, the final working day before the 10-day New Year's holiday begins in Russia.

Lawyer Karina Moskalenko told RFE/RL's Russian Service said she had been prepared for the likelihood that an appeal would need to be filed quickly.

"The 10 days we have to make an appeal coincide with the holiday and, according to Russian law, the first working day after the holiday is the last day we have to make an appeal," Moskalenko said. " I believe that filing an appeal in such an important case on the final day is, if not risky, then at least something best avoided. I'll tell you a secret, which is that we prepared several versions of the appeals in advance in order to be prepared for just this outcome."

Moskalenko also said Khodorkovsky's conviction on charges of stealing almost $30 billion worth of oil from his company and laundering the proceeds was marred by procedural violations. "The verdict has nothing to do with justice," she said.

It is the second conviction for both Khodorkovsky and Lebedev, and the additional 14-year sentences, although back-dated to coincide with the date of their original arrests, means both men will remain behind bars until 2017.

Contentious Process

Critics of the trial say Khodorkovsky and his allies are being punished for challenging the authority of Russian Prime Minister Vladimir Putin when he was president and Khodorkovsky, as head of the Yukos oil giant, was Russia's wealthiest man and an outspoken Kremlin critic.

Some observers suggest that as Putin considers a return to the presidency in 2012, he appears unwilling to risk the possibility that a freed Khodorkovsky could help lead his political foes.

The sentence dampens hopes that President Dmitry Medvedev, Putin's protege who succeeded him as president in 2008, has sufficient will or power to keep his promises to liberalize society, reform state institutions, and strengthen the rule of law.

Nikolai Petrov, an analyst at the Moscow-based Carnegie Center, told Reuters that the outcome of the Khodorkovsky trial reinforces Putin's role as Russia's paramount authority, even though as prime minister he is officially subordinate to Medvedev.

"The verdict clearly shows that the system is absolutely the same as the one constructed by Putin and it hasn't changed essentially under Medvedev," Petrov said. "So to my mind, it shows that all those hopes connected with Medvedev's good liberal sayings are groundless, or at least the system is not ready to evolve, is not ready to change itself, is not ready to make the judiciary more independent."

The verdict and the sentence, which was pronounced on December 30, were widely condemned in the West by both governments and human rights groups.

The U.S. State Department and the European Union have led a chorus of international condemnation. The U.S. State Department said it was concerned by what it called "allegations of serious due process violations, and what appears to be an abusive use of the legal system for improper ends."

Chancellor Angela Merkel of Germany, one's of Russia's biggest trading partners, said she was disappointed in the trial, saying she had the impression that "political motives" may have played a role in the verdict.

The U.S.-based group Human Rights Watch said in a statement that the sentence is a "blow to the rule of law in Russia."

Russian Foreign Minister Sergey Lavrov rejected the Western criticism as unfounded.

"The opinions expressed there [in the West] should not and absolutely do not affect the decisions taken by the judicial authorities of the Russian Federation," news agencies quoted him as saying. "Russian courts are independent from both Russian and foreign governments."

But there are signs not everyone in Russia agrees. A Moscow resident who identified himself only by his last name, Karsev, said Khodorkovsky's trial demonstrated the absence of rule of law in Russia.

"There isn't [rule of law] in Russia, you know there isn't," the man said. "Everybody understands that perfectly."