There are nearly 850,000 men and women living behind bars in Russia. The vast majority live silent lives, with little connection to the outside world and little sense that anyone, anywhere, is interested in their stories.
But Russia's most famous prisoner is trying to change all that. Mikhail Khodorkovsky, the jailed former chief of the Yukos energy giant, has begun publishing
a regular column
that looks not at his case or personal travails but at the lives of ordinary prisoners.
Khodorkovsky's column comes as other high-profile prisoners have also sought to spread their message beyond the confines of their cells.
Former Ukrainian Prime Minister Yulia Tymoshenko, currently serving time in a Kyiv prison for contempt of court during an ongoing trial for abuse of office, last week co-authored
a commentary
for "The Wall Street Journal Europe."
And elsewhere across the former Soviet Union, political prisoners are likewise seeking to maintain a lifeline to like-minded supporters outside through letters, poetry, and even songs.
The debut of Khodorkovsky's column in Russia's "New Times" independent news magazine last week begins with a chilling portrait of a fellow inmate he calls Kolya, who speaks to Khodorkovsky with a freshly stitched wound on his stomach.
Asked what happened, Kolya says he cut open his own stomach and threw his intestines at prison guards to protest being charged with a crime he says he didn't commit.
Suffering For Their Principles
"After so many years in prison, I'm far from idealizing the people I meet," writes Khodorkovsky, who was detained on tax-evasion charges in 2003 and may spend a total of 13 years behind bars. "But many of these inmates have principles… principles for which they're prepared to suffer. And for real."
Khodorkovsky's column, entitled "Prison Folk," is part of a long-standing tradition of prison writing in Russia and the former Soviet Union. Writers like Fyodor Dostoyevsky, Yevgeniya Ginzburg, and Aleksandr Solzhenitsyn all famously documented their time as inmates in Russian prisons and Gulag prison camps.
Their writings, however, were often published years after their release. Khodorkovsky, by contrast, has published steadily throughout his imprisonment, first in Moscow, then in Siberia's Chita region and, since June, in a prison colony in Karelia near the border with Finland.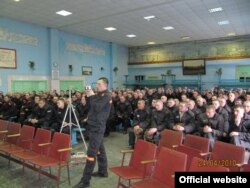 Inmates at the prison colony in the Karelia region, where Mikhail Khodorkovsky is currently incarcerated.
Khodorkovsky -- a sharp Kremlin critic whose stiff prison sentence is seen by supporters as politically motivated -- used his earlier articles to criticize Russia's corrupt political system.
But "Prison Folk" is the first time the former billionaire is writing specifically about life behind bars -- a topic that may prove equally uncomfortable for the ruling elite at a time when public anger is mounting over brutal prison conditions.
Khodorkovsky's lawyers have defended their client's right to publish, and Western news media including the BBC have cited unnamed prison officials as saying Khodorkovsky is not breaking the law by publishing a regular column.
Gulag-Era Practices Far From Over
But lawyers for the former magnate have also acknowledged that Khodorkovsky has been rebuked by prison officials in the past for earlier publications. Reprimands included being placed in a special punishment cell.
Ilya Barabanov, the deputy editor of "New Times," has declined to reveal how Khodorkovsky's writings are transmitted to the magazine. Nor is he sure whether his column will eventually broaden to include other topics. "It's not like we get the opportunity to sit down and have an editorial meeting with him," he says.
According to Barabanov, even though "the communication process is difficult," the column is due to come out every two or three weeks. He maintains that it will inevitably be interesting to the public for its glimpse into Khodorkovsky's life in prison.
"We hope that in addition to stories from the prison and his own experiences in that environment, our new columnist will also share some of his thoughts regarding the political situation in the country and what might await the country with the start of the new [presidential] election campaign," he says.
The "New Times" became a platform for prison writings following the death of Sergei Magnitsky, the Russian attorney who died in prison custody in 2009 after suffering profound abuse and medical neglect at the hands of penal officials.
Magnitsky, who was jailed after accusing Interior Ministry officials of involvement in a massive corruption scandal, wrote a series of handwritten letters and petitions describing his dismal treatment over nearly a year's incarceration.
His lawyers publicized the writings, but few took note of Magnitsky's case while he was still alive.
Since then, his death has become a rallying cry for critics of Russia's human rights record and prompted the United States to impose sanctions against Russian officials involved in the case. "New Times" editors said the Magnitsky case made them realize that Gulag-era practices were far from over.
The Cruelty Of Prison Life
While Khodorkovsky's column may shed a glaring light on the cruel insufficiencies of life in Russia's prison system, few prison writings focus directly on the conditions suffered by the writer himself.
Some prisoners use more abstract language to convey their experience rather than penning an open description of their situation -- particularly in post-Soviet countries notorious for their abuse of inmates.
Khayrulla Hamidov, a popular radio journalist currently serving a protracted prison sentence in Uzbekistan on charges of involvement in an Islamic extremist group, has focused on poetry and even songwriting while behind bars, many of which have been transmitted to outside media organizations, including RFE/RL's Uzbek Service.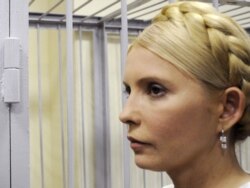 Jailed Ukrainian ex-Prime Minister Yulia Tymoshenko
Meanwhile, Tymoshenko, in her "WSJE" commentary, launches a steely attack on her arch-rival, President Viktor Yanukovych, that belies none of the physical distress a month in prison might induce. Instead, in a blow-by-blow assault, she assails Yanukovych as a failure on virtually all fronts -- in terms of the economy, foreign policy, and particularly human rights.
"Our nation can ill afford TV images, such as those seen at last week's Independence Day rally, of heavy-handed riot police spraying tear gas in the faces of peaceful protesters," the commentary reads.
In Azerbaijan, which under President Ilham Aliyev has seen some of the worst crackdowns on regime opponents in the former Soviet space, many political prisoners have been effectively muzzled during their detention.
This includes the so-called "donkey bloggers," Emin Milli and Adnan Hajizade, who served more than a year in jail on hooliganism charges that supporters said were connected to a satirical antigovernment video the young activists had produced.
But more recently, newspaper editor Eynulla Fatullayev began his own
prison writings through a blog
on the
website of RFE/RL's Azerbaijani Service
.
'They'll Crush You Like A Bug'
Fatullayev was named an Amnesty International prisoner of conscience after years of harassment and a four-year prison sentence after being convicted of defamation of government officials.
He was recently released. But while still in prison, he used his lawyers to transmit his essays to RFE/RL's Azerbaijani Service. The latest entry, which begins with a quote from Solzhenitsyn's "Gulag Archipelago," recounts a moment of defiance in a prison re-education class:
I stood up and asked to interrupt this educational program, this awful nonsense, pouring forth in the primitive speech of the sergeant, a man who had difficulty communicating in complex sentences.

The poor guy's attempts even aroused some sympathy, as his speech was composed mainly of pronouns, interjections and some phrases. Finally, he lost control. His face suddenly lit up. And with a meaningful look, shamelessly staring at me, he said openly.

"You, you poor fool, who did you want to fight? Ilham Aliyev? You're just a bug, and they will simply crush you. Don't you understand that?"
Back in Karelia, Khodorkovsky is unlikely to give such an unsparing account of his own treatment -- at least, until he is released from prison.
Since the debut of his first column, prison officials have revealed that Khodorkovsky has been charged with two minor infractions of prison rules since July.
Both are unrelated to his writing but could harm his bid for early release and be used as pressure to keep his stronger sentiments under wraps.
Khodorkovsky's lawyer, Yuri Schmidt, is careful to emphasize that his client has no complaints about unfair treatment or undue pressure, and is not looking to use his column to rock the boat.
"Everything is being done officially. No one is carrying secret messages out from the prison colony," the attorney says.
"And so it's a normal option. It makes no difference whether he's writing for an opposition publication or not, because if they were going to punish him, it would be for writing illegally. There's nothing illegal about what he's doing."
Lyubov Chizhova of RFE/RL's Russian Service and RFE/RL's Azerbaijani Service contributed to this report