The United States and Germany have led world condemnation over the new conviction in a Moscow court of Kremlin critic and former Yukos oil tycoon Mikhail Khodorkovsky.
In a written statement, the White House said it was troubled by allegations of due process violations and what appears to be "an abusive use" of the Russian legal system.
The White House statement added that the ruling undermines Russia's commitment to deepening the rule of law and hurts Moscow's ability to strengthen ties with the United States.
Germany has delivered strong European criticism of the conviction, with Foreign Minister Guido Westerwelle saying the way the trial has been conducted was highly questionable and marks a "step backward" on Russia's path to modernization.
Officials in Britain and France also called on Russia to uphold its commitment to the rule of law.
German Human Rights Commissioner Markus Loening offered a more pointed reaction, saying he was "outraged" at the guilty verdict, which he described as "an example of arbitrary political justice."
Amnesty International and other rights watchdog groups have called on Russian courts to overturn Khodorkovsky's conviction. Nicola Duckworth, Amnesty's director for Europe and Central Asia, said the Russian authorities' "disregard for due process" strengthened the impression that this second round of convictions was politically motivated.
'Show Trial' Accusations
Already imprisoned since 2003 for fraud and tax evasion, Khodorkovsky and his business partner Platon Lebedev were found guilty on December 27 of stealing oil from Yukos and laundering billions of dollars in funds.
Prosecutors are seeking an additional six years in prison -- which would keep the defendants in jail until 2017.
Reports say it may still take judge Viktor Danilkin days more to read the full verdict and announce a sentence.
Supporters of Khodorkovsky say the charges have no merit and accuse the authorities of conducting a political show trial aimed at keeping Khodorkovsky, a prominent critic of Prime Minister Vladimir Putin, behind bars as Russia's 2012 presidential election approaches.
As the verdict was read, hundreds of people gathered outside the central Moscow court, chanting "freedom" and "shame." Police arrested at least 20 people.
Inside, Khodorkovsky and Lebedev sat impassively in a glass cage as the verdict was being read. Khodorkovsky's elderly father, Boris, held his head in despair.
The judge said Khodorkovsky and Lebedev carried out a series of false deals to enable themselves to steal oil from Yukos's subsidiaries.
WATCH: Protesters outside the courtroom where Khodorkovsky and Lebedev were on trial call for "freedom" and "Russia without Putin."Appeal Planned
One of Khodorkovsky's lawyers, Vadim Klyuvgant, said his client would appeal the verdict because the decision was made under political pressure.
"If the court was free and independent to make this decision, it couldn't have been able to make any decision but an acquittal," Klyuvgant said. "What we are hearing is not a direct, but certainly an indirect, confirmation of this fact. The court wasn't free to make the decision. We will certainly appeal the verdict after it is announced in full."
Yury Shmidt, another lawyer for Khodorkovsky, told RFE/RL that the pressure on Judge Danilkin was "unprecedented," to the point that he "simply decided to rewrite the indictment as a verdict."
Khodorkovsky's verdict was due to be read earlier this month but was postponed in a move Kremlin critics believe was meant to minimize publicity by taking place during the winter holidays.
Speaking before the verdict's first scheduled start, Maksim Dbar, spokesman for Khodorkovsky's defense team, called the accusations against their client "absurd," saying they contradicted the outcome of his first trial.
"The main thing the charges are missing is an actual crime," Dbar said. "Even after 20 months of trial, no one understands what Khodorkovsky is actually accused of."

PHOTO GALLERY: Supporters rally for Khodorkovsky
:
Political expert Kirill Rogov told RFE/RL's Russian Service that today's decision represents an important development in Russian history because it shows the authorities in Russia don't rule on a legal basis.
"The contract [between the authorities and the people] is becoming increasingly tattered," Rogov said. "It's happening slowly, but today's verdict is a signal that will play an important role in that process."
In his final statement during the trial, Khodorkovsky said the process showed the officials running Russia's "bureaucratic and law enforcement machine" are free to do whatever they want.
"There is no right of private property," he said. "No person who conflicts with the 'system' has any rights whatsoever."
Controlled From Above
Khodorkovsky's supporters say a recent statement by Putin shows Russia's court system is controlled from above. Speaking during a television call-in show before the verdict, Putin said Khodorkovsky's crimes had already been "proven in court," and evoked a line from a popular Soviet-era film.
"Just like the well-known character played by Vladimir Vysotsky, I believe that 'a thief should be in jail,'" Putin said.
Khodorkovsky's lawyers accused Putin -- who most Russians believe remains Russia's supreme leader -- of openly interfering in the court proceedings.
Putin's handpicked successor, President Dmitry Medvedev -- who's frequently promised to clean up Russia's legal system -- appeared to play down charges that Khodorkovsky's verdict was decided in the Kremlin during a televised interview on December 24.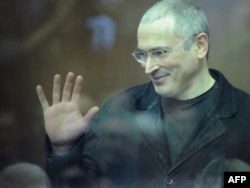 Khodorkovsky gestures while standing behind a glass wall in the Moscow courtroom today.
"Neither the president, nor any other official employed by the state," he said, "has the right to express his or her position on this case or any other case before the verdict is announced -- whether guilty or not guilty."
One of Medvedev's top advisers has said Khodorkovsky should be freed. But many believe that was never likely because his real crime was to have posed a political threat to Putin by funding opposition parties and using his vast influence to lobby against Putin's aim of building an oil-fueled authoritarian regime.
Andrei Semyonov, one of the protesters outside the courthouse today, echoed the views of other demonstrators.
"This isn't a court trial from the point of view of the law," he said, "but an act of personal vengeance from Vladimir Putin for insults Khodorkovsky made him in the past."
'Criminal State'
Putin has claimed to have imposed order in Russia by cracking down against the corruption that enabled Khodorkovsky and other oligarchs to plunder the country for their own benefit. But Khodorkovsky's supporters say today's decision is a barometer for what's really happening in Russia, saying he put the Kremlin at the top of a corrupt bureaucratic system.
Khodorkovsky's 77-year-old mother, Marina Khodorkovskaya, said before the verdict that a guilty decision would show the authorities are frightened of political threats "more than anything else."
"[What's happening in Russia] is terrible for people inside the country," she said, "and probably not pleasant for European countries because right next to them is an authoritarian, criminal state."
written by Gregory Feifer, based on reporting from RFE/RL's Russian Service and news agencies