The European Union and the United States have called for calm in Kosovo following a spike in tensions after Kosovo's ethnic Albanian-led government ordered forces to seize control of two contested border crossings with Serbia.

The controversial action has left one Kosovo ethnic Albanian police officer dead. Kosovo officials say the officer died after being hit in the head when his unit came under fire in a Serb-dominated area.

NATO has announced that its peacekeepers in the territory have increased patrols and raised their alert level to deal with any escalation of the unrest.

No clear, confirmed word was available on who now controls the border crossings.

EU foreign policy chief Catherine Ashton has demanded immediate action from Serbian President Boris Tadic and Kosovo Prime Minister Hashim Thaci to ease the tensions.

The United States has also called for calm, with the State Department joining the EU in saying it regrets that the border action by Kosovo authorities was not coordinated with the international community.

Kosovo Prime Minister Thaci has defended the decision to take control of the border crossings, calling it a "concrete step" toward "establishing the rule of law" in Kosovo's north, which is inhabited by many Serbs.

"The action that we undertook last night under no circumstances should be considered as a hasty move and with the intention of provocation -- in fact, the only objective was and is to establish law and order," Thaci told reporters in Pristina on June 26.

Serbian President Tadic, meanwhile, accused Kosovo authorities of acting unilaterally.

"Just when we were working toward mutually agreed solutions, Serbia is ambushed by those who believe that the unilateral imposition of new realities by violence is the best way to conduct diplomacy and politics," Tadic said.

The order to take control of the border checkpoints came after Kosovo's authorities last week banned imports of Serbian goods after Serbia refused to lift an embargo on Kosovo that was imposed after the 2008 declaration of independence by Kosovo's ethnic-Albanian majority leadership.

Serbia rejects Kosovo independence, saying the Kosovo territory is still part of Serbia.

Serbia: 'Consistent Plan'

Serbia's minister for Kosovo, Goran Bogdanovic, said earlier that NATO troops should evacuate the Kosovar police to prevent a further escalation of violence.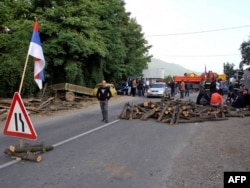 Ethnic Serbs set up a blockade on the Leposavic-Mitrovica road on July 26.
Serbia's state secretary for Kosovo, Oliver Ivanovic, accused Pristina and the international community of planning a campaign to try to eventually gain control over ethnic Serbian enclaves in the north.
"This is clearly a part of a consistent plan aimed at placing the north and Serbs in the north under full control. What is worse, I don't think the Albanians made that plan alone," Ivanovic said.
"This, after all, appears to be part of some agreement with the international community, which supports Kosovo's independence and sees the north as the main obstacle for full implementation of that independence."
To be sure, the police deployment is the latest move by Kosovo's ethnic Albanian government in Pristina against Serbian communities in the north.
Last week, Pristina banned all imports from Serbia, after Belgrade refused to lift an embargo on Kosovo that was imposed after its 2008 declaration of independence.
EU: 'Return To Dialogue'
But Maja Kocijancic, a spokeswoman for EU foreign-policy chief Catherine Ashton, told RFE/RL that Kosovar police did not consult the EU or other international officials before trying to take control of the border crossings overnight.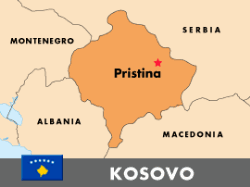 "We believe that the operation carried out last night by the Kosovo authorities was not helpful. It was not done in consultation with the international community, and the EU does not agree with it," Kocijancic said.
"It is, in our view, essential that we now calm the situation and return to where we were."
Kocijancic said Serbs and ethnic Albanians needed to sit down together for negotiations in order to calm tensions in northern Kosovo.
"The underlying issue, the issue of trade, needs to be, in our view, resolved through dialogue," she said. "We believe that dialogue is the only way forward to solve the issue of customs stamps and reestablish free trade in both directions."
In a statement, the U.S. State Department said it "regrets" that the Kosovar attempt "to take control of customs border crossings in northern Kosovo was not coordinated with the international community."
The statement added that Washington called upon Pristina and Belgrade "to continue to work urgently toward a de-escalation of the current situation."
Stalemate Continues
Belgrade lost control of Kosovo in 1999 when NATO waged a bombing campaign to halt the killings of ethnic Albanians in a counterinsurgency campaign.
In fact, ethnic tensions have remained high in the north since NATO deployments in June 1999 and the de facto partition of northern Kosovo through the city of Mitrovica.
There are some 60,000 Kosovar Serbs who still live in the north. Most do not recognize Kosovo's independence from Serbia and still consider Belgrade their capital.
Pristina declared Kosovo's independence three years ago but has suffered through continued poverty, high unemployment, corruption, and crime despite strong support from most European Union countries and the United States.
written by Ron Synovitz, with reporting from Pristina by RFE/RL Kosovo subunit correspondent Albana Isufi and news agencies