BISHKEK -- About a dozen Kyrgyz activists have protested in front of the Turkish and Kazakh embassies in Bishkek to demand the extradition of a Turkish man wanted for assault, RFE/RL's Kyrgyz Service reports.
Gunes Yilmaz, a former employee of the Beta Stores hypermarket in Bishkek, fled Kyrgyzstan after assault charges were brought against him by his former colleague, Cholpon Oruzbaeva.
Yilmaz was arrested by Kazakh border guards in June while crossing the Kyrgyz-Kazakh border.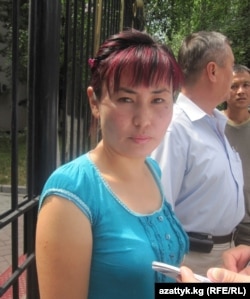 Cholpon Oruzbaeva
Kyrgyz Youth Council Chairman Ulan Esenkojoev told RFE/RL that the activists' main demands were financial compensation for Oruzbaeva, the extradition of Yilmaz from Kazakhstan to Kyrgyzstan, and the prosecution of the Kyrgyz judges who allowed him to be released from detention.
Yilmaz was accused in April of assaulting Oruzbaeva. A Bishkek court ruled he should be jailed for two months, but the Bishkek City Court annulled that ruling and released Yilmaz on bail on the condition he not leave the country.
Read more in Kyrgyz here