* Correction amended
Kyrgyzstan has approved a new government, ending more than two months of political uncertainty following parliamentary elections and effectively initiating Central Asia's first parliamentary democracy.
Deputies in the Kyrgyz parliament were confirming the majority coalition formed on December 15 that joins the Respublika Party with the Social Democratic Party and the Ata-Jurt Party. The coalition controls 77 seats in the 120-member legislature.
Later the same evening, deputies elected the leader of the Social Democratic Party, Russia-leaning politician Almazbek Atambaev, to be the country's prime minister. He won the support of 92 lawmakers.
Atambaev's Social Democratic Party placed second in October 10 parliamentary elections aimed at creating Central Asia's first parliamentary democracy. The party was one of the architects of the power-sharing constitution approved in late June.
Appearing before parliament for the confirmation vote, Atambaev told deputies that "the nation must not be run by one family" -- a reference to the nepotism-plagued government of deposed former President Kurmanbek Bakiev, who was ousted after protest violence in early April.
Atambaev also said that his first foreign visit as Kyrgyzstan's new prime minister would be to Russia, "because Russia is and always has been our strategic partner."
Roza Otunbaeva, Kyrgyzstan's interim president since Bakiev's ouster, congratulated Atambaev on becoming the new government's head.
"Dear Almaz[bek] Sharshenovich [Atambaev], I also give you my heartfelt congratulations for getting the high consent of the people's representatives, for being elected as the head of the government in these difficult times, and I wish you and the government you will lead a lot of successes," she said.
Government Takes Shape

The head of the Ata-Jurt (Fatherland) party, Akhmatbek Keldibekov, was chosen speaker of the parliament in a 101-to-14 vote.
The party had won a narrow but surprising plurality of votes in October's parliamentary elections and is led by former officials in the government of Bakiev. Its support base is among ethnic Kyrgyz in the country's volatile south, many of whom remain loyal to the deposed former president.
Tensions still run high in the south, after more than 400 people were killed in June clashes between ethnic Kyrgyz and Uzbeks there. Some estimates put the death toll as high as 2,000.
Kyrgyz deputies stand around a ballot box during the election of speaker of parliament today.
Ata-Jurt has voiced strong opposition to efforts -- apparently completed after today's government formation -- aimed at transforming the country from a president-dominated government with a suppressed opposition to a parliamentary democracy.
Along with prime minister and speaker of parliament positions, deputies also confirmed a cabinet with the support of 88 lawmakers.
The decision makes Respublika party founder and wealthy oil businessman Omurbek Babanov first deputy prime minister.
His party, which supports a parliamentary model for the country, had come in fourth in the October elections. It had failed earlier this month in an initial attempt to form a governing coalition.
The new government will have 18 ministries and three state committees.
Ruslan Kazakbaev was named foreign minister, Zarylbek Rysaliev was named minister of the interior, and Chorobek Imashev was named minister of finance.
The Start Of 'Real Life'

After the new government was approved, Otunbaeva told the parliament that the country is now entering a new stage of development, saying, "We are learning how to live a real life."
But not everyone is pleased with the developments.
Ravshan Jeenbekov, a lawmaker from the opposition Ata Meken (Fatherland) party, told RFE/RL's Kyrgyz Service that she doesn't understand why there are no women in the government.
"I have raised the issue, asking them why no woman was included, and I could not get any reasoned answer to that," said Jeenbekov. "Maybe the coalition formed by the factions of these three parties does not have any educated, experienced, and reputable woman among them."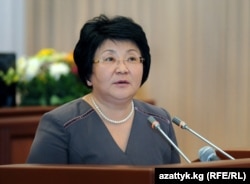 Kyrgyz President Roza Otunbaeva
Otunbaeva also said that the two-month delay in forming the government, which had sparked fears of an intractable stalemate, was a "sign of democracy, when true democratic processes take place."
Many influential political figures had warned during that time that the country was in crisis and needed a functioning government to start tackling its many problems.
The country suffers from chronic energy shortages, especially acute in winter, a lagging economy, and does not yet have a budget for 2011.
There is also an ongoing strike by teachers demanding higher wages and warnings from administrative and security officials in the south of the country that the danger from armed militants is growing.
The United States had supported Kyrgyzstan's parliamentary experiment, while Russia has remained skeptical.
Kyrgyzstan is the only country that hosts both U.S. and Russian military bases.
Atambaev has hinted to parliament that the Manas transit center, which supports U.S. operations in Afghanistan, will close in four years.
Atambaev said on December 17 that one year of a five-year agreement with the United States had passed and said he had informed "the leaders of several countries that we could not violate an obligation we have taken on ourselves."
The parliament is expected to convene again on December 23.
written by Richard Solash with RFE/RL's Kyrgyz Service and agency reports


* Ata-Jurt won a plurality of votes in the October election, not a majority.