The Kyrgyz parliament's efforts to form a coalition are moving at a snail's pace, leading to rumblings that the country is on the brink of another political crisis.
"The unproductive work of the Jogorku Kenesh could lead to manifestations of the population's dissatisfaction and protests," the Council of Rights Defenders, which falls under the Kyrgyz ombudsman's office, bluntly warned on December 7.
The ombudsman himself, Tursunbek Akun, said the same day that "personal ambitions of party leaders" were to blame.
The warnings came as Respublika, created only last June, took over responsibility for forming a coalition. The first attempt, by the Social Democratic Party, showed promise when three of the five parties elected to parliament agreed on November 30 to form a coalition -- the Social Democrats, the Ata-Meken party, and Respublika.
But the deal fell apart on December 2 when the would-be coalition's nominee for parliamentary speaker -- Ata-Meken leader Omurbek Tekebaev -- was voted down. The outcome also effectively eliminated Ata-Meken, President Roza Otunbaeva's second choice for cobbling together a coalition, because the Tekebaev vote made clear it would not be able to garner the support needed to form a government.
Now Respublika, led by 40-year-old businessman Omurbek Babanov, faces the same challenge of getting at least two of the four other parties to join with them to achieve the necessary minimum of 61 seats out of the 120 in parliament. And it gets 15 working days to do so, meaning it faces a deadline of December 24.
Respublika parliamentarian Dosaly Esenaliev tells RFE/RL the party is seeking a broad coalition.
"Our faction is conducting consultations and negotiations with all the parties that are in parliament," he says.
This is what the Social Democratic Party tried to do, and it didn't work. But Esenaliev says Respublika is already finding it has "identical" views with other parties and predicted his party's attempt at forming a coalition will be successful.
Settle For Two
Erica Marat is a Central Asian specialist and the author of Freedom House's annual report on Kyrgyzstan. She says Respublika will likely settle on just two parties to be its partners in a coalition.
"As it looks now, Respublika is going to collaborate with the Ata-Jurt Party and with Ar-Namys Party," Marat says. "Respublika might not be able to include into the ranks of a coalition the Ata-Meken Party and maybe even the Social Democrats.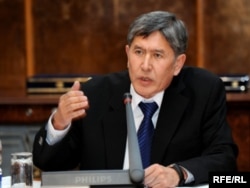 Almazbek Atambaev
"Why not the Ata-Meken Party? Because Ata-Jurt is strictly against Ata-Meken and some of Ata-Jurt's leaders don't hide their disdain of Ata-Meken's leaders. Why not the Social Democrats? Because of [leader Almazbek] Atambaev. He might think that he will increase his chances of getting the position of prime minister if he doesn't collaborate with this coalition."
Ata-Jurt, with 28 seats, and Ar-Namys, with 25, would provide enough seats to form a ruling coalition with Respublika, which holds 23 seats.
But Marat's comments on the personal animosities at work bring up ombudsman Akun's point, that "personal ambitions of party leaders" are responsible for the impasse. Atambaev and Ar-Namys leader Feliks Kulov were both prime ministers under the previous president, Kurmanbek Bakiev.
Bakiev was ousted in April and in June a new constitution was approved by national referendum, changing the form of government from a presidential to a parliamentary system. Prime minister is now the nation's top post and both men want it, as does Respublika's Babanov.
Sacrifice The Coalition
Again, Respublika faces the same challenge the Social Democrats faced last month.
"One the reasons why Tekebaev was not able to win the position of parliament speaker was because some members of Respublika party were strictly against his candidacy," Marat says, "and they were ready to sacrifice a coalition and the earlier agreements between parties on how they were going to vote. So, yes, it's all about personal interests. It's all about individual leaders using their parties, using their influence in the parliament to obtain positions they like."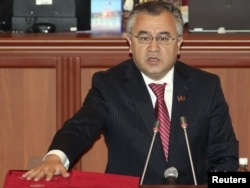 Omurbek Tekebaev
It is not the most favorable soil for Central Asia's first parliamentary system to take root.
But Respublika may have a better chance than the Social Democratic Party of getting sufficient support for a coalition. Ata-Jurt -- created at roughly the same time as Respublika by mainly former officials from the Bakiev government -- was always unlikely to cooperate with the Social Democratic Party. Atambaev and Ata-Meken leader Tekebaev were among the architects of the new constitution and the parliamentary system. Ata-Jurt pledged to reverse the political system back to a presidential form of government.
But Marat says Ata-Jurt might rethink a return to the old system if the party gets what it wants.
"Ata-Jurt is quite opportunistic. The reason they were propagating a return to a presidential system is because they were afraid that they were not going to get any major positions in the government and they would be excluded from the ruling coalition," Marat says. "Now that their chances are increasing to get key positions in the government, and even the position of the parliament speaker, they might not be as much advocating a presidential system because they will be holding power de facto anyway, so why bother anymore?"
Ar-Namys, the other likely candidate in a coalition with Respublika, also favored bringing back the presidential system of government. But its leader, Kulov, is a pragmatic and seasoned politician and a survivor in Kyrgyzstan's political scene.
Government Attention
So the parliamentary system may be safe for now.
Far less certain is the problem the Council of Rights Defenders broached.
As some in Kyrgyzstan are pointing out, there are important issues that require the attention of a government. The annual winter energy crisis is starting, the food situation this year is tenuous since fires caused Kyrgyzstan's main grain suppliers -- Kazakhstan and Russia -- to cut back on exports this year, and the country has no budget for 2011.
Otunbaeva reminded in Moscow on December 9 that if Respublika fails in its efforts to form a coalition, the task falls to parliament in general. And if that fails, then after 15 working days Otunbaeva will be forced to dissolve parliament and call for new elections.
And for many in Kyrgyzstan, where patience with political upheaval is running thin, the prospect of having to return to the polls is an unwelcome one.