Azamat was abandoned by his mother at a Bishkek maternity ward the day he was born with a severe cleft lip and palate three years ago.
He has since been living in an orphanage in the Kyrgyz capital and, unlike other children of his age, Azamat cannot speak properly, and has difficulty feeding because of his medical condition.
There has always been hope for Azamat. Gabrielle and Frank Shimkus, potential adoptive parents from the United States, were eager to welcome the Kyrgyz toddler into their home. But there has also been despair, courtesy of a moratorium on international adoptions imposed by the Kyrgyz government in February 2009.
Gabrielle and Frank have been awaiting the day when Kyrgyzstan would amend its Family Code, paving the way for international adoption to resume. That day came on May 6, when Kyrgyz President Roza Otunbaeva signed into law a bill unanimously approved by parliament last month.
The new law opens the door for prospective foreign parents to adopt Kyrgyz children, but it also stipulates strict controls for the adoption process to ensure that children do not fall victim to trafficking, exploitation, or abuse.
The moratorium was imposed amid concerns that the Family Code insufficiently dealt with specifics regarding the oversight of the adoption process. This had led to widespread criticisms that loopholes in the law could put Kyrgyz children at risk once they were outside the country.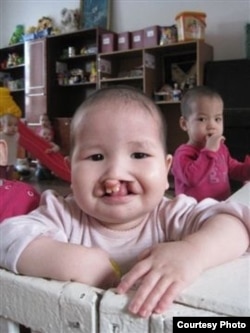 Azamat has suffered from a severe cleft lip and palate since birth. Adoptive parents in Kyrgyzstan almost never choose a disabled or sick child.
In addition, the lack of supervision was seen as a gateway for adoption agencies, officials, and others to take advantage of the situation by giving children away for adoption without proper background checks on adoptive parents. There were also allegations of corruption on the part of officials who would speed up adoption processes in return for bribes.
Strict Control Of Adoption
Kyrgyz lawmaker Damira Niyazalieva says "we needed to put a specific, state body in charge of international adoption, to control the whole process from the very beginning."
According to the amended version of the Family Code, Kyrgyzstan's Social Welfare Ministry will now oversee all adoption cases. This, Niyazalieva says, ensures strict government control.
"For instance, in the past, random adoption agencies would go inside orphanages to pick a child for adoption," Niyazalieva says. "They would take photos of children to send to the U.S. It's against the law -- now the law bans such activities. No one from outside will have access to orphanages."
"There will be a so-called bank with the list of all children available for adoption. Only the Social Welfare Ministry will decide which child can be placed for adoption and to which family."
Niyazalieva and other lawmakers have also proposed that Kyrgyzstan sign the Hague Adoption Convention, which strengthens protection for adoptive children. Ratified by 83 countries, the treaty provides a framework for signatory states to work together to ensure that adoptions take place in the best interests of a child.
The draft of the new Kyrgyz Family Code was reportedly prepared a year ago but the 2010 political upheaval in the country delayed its endorsement.
"Kyrgyz 65"
Kyrgyzstan's decision to lift its adoption moratorium has been eagerly awaited by a group known as "Kyrgyz 65." The group was set up by 65 prospective adoptive families from the United States, who began an adoption procedure in Kyrgyzstan two to three years ago, before the process was halted by Kyrgyz authorities.
Gabrielle Shimkus is among the Kyrgyz 65 who have undergone thorough background checks and provided all the necessary documents, including confirmation of their health and financial situation, which are required of potential adoptive families.
Shimkus says she first visited Azamat in November 2008 when he was a frail five-month-old baby referred for adoption by the Kyrgyz authorities.
After spending two weeks with Azamat in Bishkek, the Shimkus family was told to return to Kyrgyzstan after one month to get the final court decision and take Azamat home as their legally adopted child.
Gabrielle Shimkus says the family was weeks away from bringing home a son, but it didn't happen.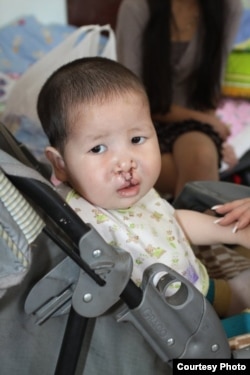 Frank and Gabrielle Shimkus have already paid for surgery on Azamat's lip and palate. They hope to continue his treatment in the U.S.
Sixty-four other prospective parents were left in a similar situation. They have since involved the U.S. State Department and have contacted a number of U.S. lawmakers in their bid to convince the Kyrgyz authorities to allow adoptions. The group also appealed to Kyrgyz President Otunbaeva.
"We've organized efforts to talk to people in the Kyrgyz government, and we've organized efforts to talk to our own government," Shimkus says. "And we have conference calls all the time just trying to do everything possible to get our kids home with us."
"Unfortunately, a lot of the kids have severe medical problems that are treatable and fixable here in the United States. Two of the children of the Kyrgyz 65 passed away and that is such a tragedy in our minds because had the adoptions been able to get through in a timely manner those deaths were preventable."
Some 11,000 orphans and children abandoned by families reside in Kyrgyzstan's 120 orphanages and children's homes. Most of the abandoned babies were born with birth defects or severe disabilities.
"Of the 65 children set to be adopted by American parents, 36 are in urgent need of complicated surgical procedures," the office of Kyrgyz ombudsman told Kyrgyz media. "Their physical conditions are getting worse by every passing day."
Between 2006 and February 2009 -- before the moratorium was put in place -- 235 Kyrgyz children were adopted by families from the United States, Israel, Italy, Germany, and Australia.
The new Family Code gives priority to Kyrgyz families in all adoption cases. But Niyazalieva says adoptive parents in Kyrgyzstan almost never choose a disabled or sick child, while it is not an issue for foreigners, including the Kyrgyz 65.
Cash-Strapped Orphanages
Niyazalieva and the office of the ombudsman are among those who support the idea of reinstating international adoptions, saying it would ensure a much better future for many disabled children who live in underfunded orphanages run by underpaid staff.
Most children's homes in Kyrgyzstan largely depend on cash-strapped state funds and donations by international charity organizations. Conditions are especially dire in state-run orphanages in rural areas, where employees complain about a lack of running water and sewerage systems in children's homes, and a shortage of proper clothes and shoes for kids.
Dr. Gulzhan Ashimova works at a Bishkek care home, which houses 94 sick and disabled children under the age of four.
They need medical attention, including surgeries, speech therapy, and psychological treatments, the doctor says.
"We help them as much as we can, but the orphanage doesn't have enough money for all the treatment we require," Ashimova says. "Some of the required treatments are simply not available in Kyrgyzstan."
Ashimova says that children in orphanages are usually much less developed both physically and psychologically than those who live with families. "The best therapy for them is to live with families," the doctor adds.
While waiting for the Kyrgyz authorities' decision to lift the moratorium, the Shimkus family paid for a German surgeon to begin treatment of Azamat's cleft lip and palate. The doctor visited Bishkek and performed initial medical surgery on Azamat's lip. The toddler needs several more such operations to fully heal his condition.
The family hopes they will be able to continue with the medical treatment in the United States.
"We have already prepared a bedroom full of toys for Azamat in our home, and we all are waiting for our son to finally join us," Gabrielle Shimkus says. "We love him very much. After all, he has been through so many hardships already in his life."