BISHKEK -- A Kyrgyz public commission has started investigating a deadly shooting on the border with Uzbekistan last week, RFE/RL's Kyrgyz Service reports.
Kyrgyz Ombudsman Tursunbek Akun told RFE/RL that his office was investigating the death on May 28 of Pazyljan Jalalov, an ethnic Uzbek Kyrgyz citizen.
Uzbek border guards say they opened fire at Jalalov after he illegally crossed the border into Uzbekistan on May 27 and tried to steal a horse.
Jalalov died in a hospital the following day and his body was returned to relatives on the Kyrgyz side for burial.
Akun said he had sent letters to the Kyrgyz president, parliament speaker, and prime minister requesting a special parliamentary discussion of the shooting.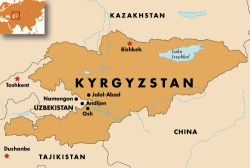 Akun said his opposite number in Uzbekistan, Saiera Rashidova, supported his initiative and had urged Uzbek officials to investigate the incident.
Twenty years after the collapse of the Soviet Union, the borders between Central Asian states have still not been fully delimitated, and shootings, sometimes involving border guards, are a common occurrence.
Read more in Kyrgyz here and here