Certain attacks against local Uzbeks during the ethnic violence in southern Kyrgyzstan last year could amount to "crimes against humanity" if proven in a court of law.
That is among the findings of a
long-awaited report
released today by an independent, international commission tasked with investigating the deadly clashes that left some 470 people dead in June 2010 in the southern regions of Osh and Jalal-Abad.
The report by the Kyrgyzstan Inquiry Commission (KIC), led by Finnish politician Kimmo Kiljunen, says the June violence does not qualify as war crimes or genocide, and it says it found no acts of violence in Jalal-Abad that would qualify as crimes against humanity.
But it says certain attacks on Uzbeks in the city of Osh would amount to crimes against humanity "if proven beyond reasonable doubt." It lists them as "murder, rape, other forms of sexual violence, physical violence (as another inhumane act), and persecution against an identifiable group on ethnic grounds."
The Kyrgyz government swiftly rejected the report as unacceptable and one-sided, saying it displays an "overwhelming tendency that only one ethnic group has committed crimes, ignoring the victims and deaths of this very group."
A government statement said the report unfairly portrays ethnic Uzbeks as "defenseless victims."
'Disproportionately High'
According to the report, a total of about 470 people were killed during the violence and the majority of victims were ethnic Uzbeks. It says over 410,000 people were displaced during the violence.
"There was also significant property damage, again to a disproportionately high number of ethnic Uzbek owned properties" says the report. But it adds that Kyrgyz communities also suffered "very significant losses, in terms of life, health and property."
The KIC criticizes Kyrgyz government forces for failing to prevent or stop the violence, as well as for allegedly surrendering their weapons to attackers.
Nilifar, an ethnic Uzbek, cries over the blood-stained clothing of her sister, Mukharam Simayeva, killed by a sniper in Jalal-Abad on June 16, 2010.
"In many instances crowds of attackers seized firearms and ammunition from the military and police in circumstances largely unopposed by troops or officers. Armored Personnel Carriers were also surrendered," the report says.
It says the failure of members of the security forces to protect their equipment "raises questions of complicity in the events, either directly or indirectly."
"Further, some members of the military were involved in some of the attacks on the mahallas" or Uzbek neighborhoods.
The KIC also criticizes security forces' operations in Uzbek neighborhoods that -- according to the report -- have involved ill-treatment and arbitrary arrests and detentions.
'Very Serious Matter'
During a press conference in Bishkek today, commission chairman Kiljunen -- the OSCE Parliamentary Assembly's special representative for Central Asia -- said that trials and prosecutions following the June events have disproportionately targeted ethnic Uzbeks.
"Eighty percent of prosecutions that have been made after June events here in Kyrgyzstan have been focused on Uzbeks," Kiljunen said, "although 74 percent of those killed were Uzbeks, so there is imbalance. Unfortunately, there is also evidence which indicates that acts of torture have been committed in detention centers by authorities. This is a very, very serious matter."
The commission says its report is based upon extensive analysis and interviews of 750 witnesses, 700 documents, videos, and thousands of photographs.
The seven-member commission was accepted and mandated by the Kyrgyz government to probe the ethnic violence and qualify the crimes under international law.
The mandate of the commission -- largely composed of legal experts and academics from countries including Australia, Russia, and Turkey -- was not to conduct a criminal investigation, which remains the responsibility of the Kyrgyz authorities.
The clashes in southern Kyrgyzstan broke out two months after President Kurmanbek Bakiev was ousted in a popular uprising.
A Kyrgyz investigation into the violence in January blamed local Uzbek leaders and relatives of the former president for instigating the violence -- but also chastised the interim government for failing to avert the unrest.
written by Farangis Najibullah, with contributions from RFE/RL's Kyrgyz Service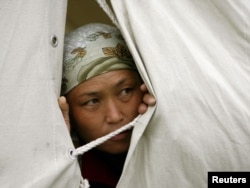 An ethnic Kyrgyz woman peers out of a tent at a refugee camp near the city of Osh on June 24, 2010.