Kyrgyzstan's Prime Minister Almazbek Atambaev is urging his country's citizen to support the government's decision to seek entry into the CIS Customs Union.
Speaking earlier this month, Atambaev said joining the union with Russia, Kazakhstan, and Belarus would "strengthen the external borders of the republic and improve the living and working conditions of the nearly half a million citizerns of Kyrgyzstan who work in Russian and Kazakhstan."
But as the Kyrgyz government forges ahead, opposition supporters say the disadvantages of joining the union will outweigh any gains. And two interested parties -- Ukraine and Tajikistan -- are watching closely as they ponder their own entry into the Customs Union.
Kyrgyzstan's main international obstacle to joining the CIS Customs Union is the country's membership in the World Trade Organization. Kyrgyzstan was the first former Soviet republic to be admitted into the WTO, in 1998.
Kyrgyz Prime Minister Almazbek Atambaev: "Improve the living and working conditions"
Don't Forget The Merchants
Esengul Omuraliev led Kyrgyzstan's entry negotiations with the world body. He told RFE/RL's Kyrgyz Service that, in his opinion, joining the Customs Union does not make good economic sense.
"Joining the Customs Union is a political question first, then an economic question," Omuraliev says. "If we look at Kyrgyzstan's trade system, Russia accounts for 32 percent of foreign trade and other countries the remaining 68 percent. If we accept the [CU's] conditions, then what happens to the 60 percent of trade with other countries? We have economic interests also and one should not forget our merchants."
The remaining 68 percent of foreign trade is one of the major obstacles. Nearly 70 percent of Kyrgyzstan's foreign trade is imports. Currently, according to a report posted on the UN Development Program's website, Kyrgyzstan has an average customs tariff of 5.1 percent as opposed to the Customs Union's average tariff of 10.1 percent. Kyrgyzstan's WTO partners would be entitled to compensation from Kyrgyzstan for the difference. By some estimates, that would be $1.5 billion or more annually.
The 24.kg website on April 11 cited a report from USAID and independent economists on the impact of Kyrgyzstan's entry into the Customs Union. The report forecast that if Kyrgyzstan joined the union, reduced import deliveries from foreign countries would lead to "significant reduction in state budget revenues."
Tens of thousands of Kyrgyz merchants are involved in purchasing low cost Chinese goods and reselling them in neighboring countries. A hike in the import tariff would drastically cut their profit margins.
But Talaibek Koichumanov, head of the Kyrgyz government's Secretariat of Business Development and Investments Council, notes that "Kyrgyz producers would obtain preferential access to the large regional market of the custom union countries, providing advantages of scale for local companies." Koichumanov also said joining the union would "also make Kyrgyzstan more attractive for foreign investments, from Russia and Kazakhstan."
'We Have To Be Careful'
And there are reports Russia is prepared to extend $1.5 billion to Kyrgyzstan to offset any compensatory payments Kyrgyzstan might face if the country joins the Customs Union.
Jumakadyr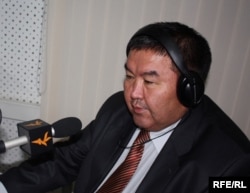 Jumakadyr Akeneev: "It's not about politics. It's about the future of Kyrgyzstan's economy."
, an economist and head of Kyrgyzstan's association of oil traders, argues in favor of the union.
"For instance, Russia's one single step can destroy Kyrgyzstan's economy. That's why we have to be careful when we talk about Russia's ambitions, etc.," Akeveev says. "t's not about politics. It's about the future of Kyrgyzstan's economy. If we think about the future of Kyrgyzstan's economy, then we must join the Custom Union."
And part of Kyrgyzstan's foreseeable future will be the continued remittances sent home by hundreds of thousands of migrant laborers working in Russia and Kazakhstan. Last year those remittances came to some $1.2 billion. These migrant laborers face numerous problems registering and obtaining work permits.
Minister of Labor, Employment, and Migration Almazbek Abytov said earlier this month that joining the Customs Union would "immediately solve all the problems of Kyrgyzstan's labor migrants."
Tajikistan has the same problem and would likewise see the lives of its hundreds of thousands of migrant laborers in Russia and Kazakhstan improve somewhat. Tajikistan's government has also expressed a desire to join, and Russia has noticed. But Tajikistan needs Kyrgyzstan to become a member so the union remains a contiguous entity.
Ukraine is watching Kyrgyzstan's progress with the Customs Union for another reason. Kyrgyzstan's main international complication with entry into the union, as mentioned, is the country's current pledge to abide by WTO trade rules and practices.
Ukraine has expressed interest in some kind of deal with the Customs Union and the European Union free-trade zone at the same time.
Russia is offering sweet incentives. Gazprom Deputy Chief Executive Valery Golubev said on April 7 that Ukraine could save some $8 billion in gas imports by joining the union.
That same day, EU Trade Commission spokesman John Clancy said that if Ukraine joins the union, the country would not be able to holds talks with the EU on creating a free-trade zone.
Ulan Eshmatov of RFE/RL's Kyrgyz Service contributed to this report