Lack of trust is emerging as the No. 1 problem as Afghan President Hamid Karzai pushes for a national reconciliation with the Taliban.
Faced with increased international military operations, Taliban elements appear to be extremely skeptical of the peace overtures that Afghan and international officials have made to entice the insurgents into negotiations.
While Western media have periodically reported on secret talks, there have been no formal negotiations.
Abdul Hakim Mujahid is prominent among the 70-member High Peace Council, which was established by Kabul last year to start a dialogue with the Taliban. A former Taliban envoy to the United Nations, he abandoned the movement in 2001 and reconciled with Karzai in 2005.
Mujahid says there might be some informal contacts with the Taliban but nothing more so far.
Building Confidence?
Afghan sources close to the Taliban confirm that the insurgents do maintain contacts with the Karzai administration and the peace council but say that acknowledging such links publicly might weaken their unity and undermine their public posture. Neither side sees any immediate breakthrough.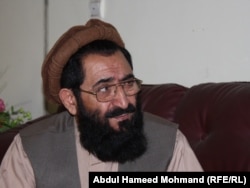 Abdul Hakeem Mujahid is a former Taliban representive to the United Nations.
These sources add that Taliban leaders are deeply skeptical of Afghan government claims that scores of former Taliban fighters are "reintegrating" with the government in return for jobs, money, and security guarantees. The Taliban, they suggest, considers it as evidence of Kabul's lack of sincerity in reaching a negotiated settlement.
Mujahid recently accompanied fellow peace-council members to Ankara, where Turkish leaders offered to facilitate the opening of a Taliban political office in Turkey. "We are trying to establish an address for them so they are able to come out of hiding and interact with the international community," he says.
But Mujahid says that confidence building on all sides to the conflict is the single biggest hurdle to overcome on the path to peace.
"The biggest problem and challenge we have in Afghanistan is an atmosphere of mistrust," Mujahid says. "A sea of distrust and suspicion still separates the armed opposition and the international community in Afghanistan. The same level of mistrust exists between the Afghan government and the opposition [the Taliban]."
Maulvi Qayamuddin Kashaf (left) with members of the conservative Afghan Ulema Council, a national clerics' body (file photo)
Maulvi Qayamuddin Kashaf, another member of the High Peace Council, says that contacts with the Taliban have so far been limited to some correspondence. Speaking to RFE/RL from Kabul, he says the council is trying hard to reach out to the armed opposition and is also engaged with the international community.
Kashaf, a senior cleric and former leader of the conservative Afghan Ulema Council, a national clerics' body, says the council's office is trying to take concrete confidence-building measures to demonstrate to the Taliban that they are serious in pursuing a negotiated solution. But there are political and logistical problems.
"We need to provide them with a safe location and need to be able to ensure their security," Kashaf says. "It is evident that they have problems and challenges [to overcome before joining negotiations]. So far we have not been able to solve any of these."
'A Lot Of Effort'
Such a cautious assessment is in line with the pronouncements of Mohammad Masoom Stanekzai, administrative head of the peace council and a key architect of the Taliban reconciliation plan. Speaking to journalists in Kabul last week, Stanekzai highlighted the challenges they are grappling with. "If you think that we can end a 31-year-old tragedy in six months, you have a faulty understanding [of the challenges]," he said.
Stanekzai, a senior adviser to Afghan President Hamid Karzai, sought to put a positive spin on the initiative.
"Contacts are going on [with the Taliban]," Stanekzai said. "We have put a lot of effort into it. Many of our delegations have visited them and they have visited us through various channels. Discussions and debates are going on, but we will only make these public when we achieve a formal framework for negotiations. Only then we will announce our achievements."
But the Taliban has repeatedly rejected such pronouncements. One of its recent statements called Karzai's peace overtures "staged" performances. "The peace council is a means for people to fill their pockets," a Taliban statement last month said.
In written replies to questions posed to it through an Afghan source, the Taliban reiterated its demand for international forces to leave the country as a precondition for talks with Kabul. But it did not reject the idea of establishing a contact office abroad. "The Islamic Emirate has not asked for such an office, it has been raised by certain other quarters," Taliban spokesman Qari Yousaf Ahamdi wrote. In interviews with RFE/RL late last year, former senior Taliban leaders, now living peacefully in Kabul, called for the establishment of such an office.
Former Taliban leaders say that without concrete confidence-building steps, the insurgents are unlikely to buy into peace overtures. They say that such measures include dealing directly with the Mullah Mohammad Omar-led leadership council and refraining from attempting to buy foot soldiers. In addition, they say the United Nations has to play a truly neutral role centered on ending the international military presence in Afghanistan. In addition, key insurgent leaders have to be removed from sanctions lists before being invited to negotiations.
None of those measures appears to be happening in Afghanistan. Violent attacks are visibly on the rise, as are reports of Taliban foot soldiers surrendering across Afghanistan. Recent media reports from the northern Afghan city of Mazar-e Sharif, however, suggest that most Taliban fighters recently surrendering to the local chapter of the Afghan peace council were members of militias that once fought the Taliban in the 1990s -- an ominous sign.
RFE/RL Radio Mashaal correspondent Abdul Hai contributed to this report