In the biggest foreign intervention in the Arab world since the 2003 U.S.-led invasion of Iraq, Western forces have carried out attacks from air and sea in a bid to force Libyan ruler Muammar Qaddafi's troops to halt assaults on civilians and opposition forces.

Qaddafi's regime says at least 48 people have been killed and 150 injured since forces from the United States, Britain, and France on March 19 began carrying out strikes on targets in the north African country.

The Qaddafi regime's claims could not immediately be independently verified.

Western officials say the operation, which has been dubbed Odyssey Dawn, is aimed at knocking out Libyan defenses and establishing a United Nations-mandated no-fly zone across the country.

Officials said French and British warplanes had carried out bombing raids. The Pentagon said 110 Tomahawk cruise missiles fired from both U.S. and British ships and submarines in the Mediterranean had struck 20 air-defense sites around the cities of Tripoli and Misurata.

In an audio message broadcast on Libyan television, Qaddafi vowed to defend Libya against what he called "colonial aggression," and said arms depots were being opened so Libyans can defend the country.

"It is now necessary to open the stores and arm all the masses with all types of weapons to defend the independence, unity and honor of Libya," Qaddafi said.

President Barack Obama said he had authorized U.S. forces to take part in what he called a "limited action" in support of an international effort to protect Libyan civilians.

"We cannot stand idly by when a tyrant tells his people that there will be no mercy, and his forces step up their assaults on cities like Benghazi and Misurata, where innocent men and women face brutality and death at the hands of their own government," said Obama, speaking during a visit to Brazil. "So we must be clear: Actions have consequences, and the writ of the international community must be enforced. That is the cause of this coalition."

Russian, Chinese Hand-Wringing

The UN Security Council on March 17 approved a resolution calling for the use of "all necessary means" to protect Libyan civilians and enforce a cease-fire and no-fly zone against Qaddafi's forces.

The resolution was agreed after Qaddafi's air force bombed civilian areas and his Libyan ground forces advanced against opposition fighters who have been trying to overthrow Qaddafi's rule.

Russia and China, both veto-holding permanent members of the UN Security Council, were among five states that abstained in the March 17 vote. The resolution was passed with 10 Security Council members in favor, and none against.

Russia and China on March 20 said they "regret" the armed international intervention in Libya and were calling for a cease-fire as soon as possible.

Russia's Foreign Ministry said in a statement that Moscow now believes that the Security Council resolution was "adopted in haste."

China's Foreign Ministry, in a separate statement, said the Chinese government "disagrees with the use of force in international relations."

U.S. Defense Secretary Robert Gates has meanwhile postponed a trip to Russia to "monitor developments in Libya." Gates was scheduled to depart on March 19 for a three-day visit to St. Petersburg and Moscow, but Pentagon press secretary Geoff Morrell told reporters that the trip had been delayed for at least 24 hours.

'Murderous Madness'

Reports said hundreds of Qaddafi supporters rallied outside the longtime leader's residence in a Tripoli suburb in an apparent bid to protect it from the international air strikes.

Hundreds of kilometers to the east, bombardment by artillery, rockets, and air strikes targeted the rebel city of Benghazi, with Tripoli saying its forces were acting only in self-defense against rebel attacks.

On March 19, French President Nicolas Sarkozy said allied air forces had gone into action over Libya to prevent Qaddafi's forces from attacking Benghazi.

Speaking after European, U.S., and Arab leaders met in Paris to discuss arrangements for military action against Libya, Sarkozy said the international community was intervening to stop Qaddafi's "murderous madness."

In a joint declaration, the participants demanded that Qaddafi halt all military action and allow humanitarian aid into the country.

France's partners such as Canada, Denmark, and the United States have reportedly started to deploy aircraft at air bases in the region, including Italy.

Meanwhile, thousands of people were reported to be fleeing eastward from Benghazi as government troops attacked the city's western suburbs.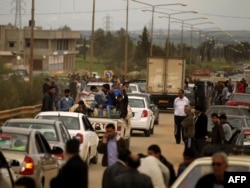 Residents of Benghazi arrive in the town Al-Marj, about 100 kilometers east, after fleeing air strikes there on March 19.
A rebel spokesman said forces loyal to Qaddafi had advanced into the suburbs from the west amid sustained shelling on March 19.
The Libyan government says its forces are acting only in self-defense against rebel attacks and denied breaking the unilateral cease-fire.

Qaddafi To World: 'You Have No Right'
In letters read out by government spokesman Mussa Ibrahim, Qaddafi warned the international community against intervention.
"Libya is not yours. Libya is for the Libyans. The Secretary Council resolution is invalid," he said in a letter addressed to French and British leaders and UN chief Ban.
"This is injustice, it's a clear aggression, and it's uncalculated risk for its consequences on the Mediterranean and Europe," the letter continued.
"You have no right never, you have no right ever to intervene in our internal affairs, who gave you the right to intervene in our internal affairs? You will regret it if you take the step towards intervening in our internal affairs."
Qaddafi's letter to U.S. President Barack Obama, however, had a slightly more conciliatory tone. He said Libya was fighting against Al-Qaeda forces.
"What would you do if you find them controlling American cities with the power of weapons? Tell me how would you behave so I follow your example," that letter said.
On March 18, U.S. officials accused Qaddafi's forces of already violating the new UN Security Council resolution that calls for an immediate cease-fire in the Libyan conflict.
President Obama
warned that Qaddafi faces international military action
if he fails to comply with the UN resolution and pull back his forces from Benghazi and other cities.
"Let me be clear: these terms are not negotiable. These terms are not subject to negotiation," Obama said. "If Qaddafi does not comply with the resolution, the international community will impose consequences, and the resolution will be enforced through military action."
Obama said the United States would not deploy ground forces in Libya, and added that Washington was also "not going to use force to go beyond a well-defined goal -- specifically, the protection of civilians in Libya."
compiled from agency reports