The Libyan Army has told residents in the opposition stronghold of Benghazi to leave rebel-held positions and arms storage areas.
A text on Al-Libya television said the army was coming "to cleanse your city from armed gangs."
A midnight ultimate passed with no reports of fighting. Residents in Benghazi said the city remains quiet.
Libyan leader Muammar Qaddafi told Lebanese TV that he did not expect a battle in Benghazi.
Fearing violence, the International Committee of the Red Cross has withdrawn its aid workers from the town.
Some 150 kilometers south in Ajdabiya, rebels say they have pushed back Qaddafi's forces moving toward Benghazi.
At the UN, the Security Council could vote as soon as today on a resolution to impose a no-fly zone over Libya.
Council ambassadors met behind closed doors to debate the text for more than eight hours on March 16.
UN Secretary-General Ban Ki-moon has called for an immediate cease-fire by all parties.
compiled from agency reports
Liveblog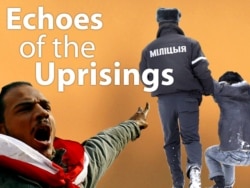 Tracking events and ideas convulsing the Arab world and with ripples around the globe, including RFE/RL's broadcast region.
Click here