WATCH: Libyan rebels outside the town of Brega fire rockets and exchange gunfire with troops loyal to Muammar Qaddafi in an attempt to retake the eastern town, captured by the government forces days earlier (video by Reuters).
As forces loyal to Libyan strongman Muammar Qaddafi continue to make advances against rebels, Qaddafi's government suffered an unexpected blow with the apparent defection of its foreign minister.
Moussa Koussa turned up at an airport outside London on March 30 on his way from Tunisia.
Foreign Secretary William Hague said Koussa, a senior figure in Qaddafi's government who is credited with bringing Libya back to the international community after years of sanctions, was resigning from his post.
Hague said the Libyan minister -- who has been linked to the 1998 Lockerbie bombing of a U.S. passenger plane over Scotland -- would not be offered immunity from prosecution.
But he encouraged others to abandon Qaddafi -- saying Koussa's resignation showed the regime is "crumbling from within."
Authorities in Tripoli denied Koussa had defected, saying he was in London on a "diplomatic mission."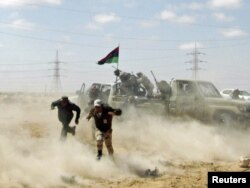 Rebels run for cover after a shell fired by pro-government forces explodes in a direct hit on a vehicle near Brega on March 31.
Libya's justice and interior ministers resigned early in the conflict to protest Qaddafi's harsh response to the revolt against his four-decade rule. Koussa's resignation would be the first high-profile defection since the international air strikes on Libyan forces began on March 19.
It could turn around the fortunes of Libya's anti-Qaddafi rebels, who have beaten a rapid retreat from former strongholds along the eastern coast after a lightning strike by Qaddafi's forces.
The Western-educated Libyan foreign minister, who once headed the country's secret services, could share precious intelligence on how to bring down Qaddafi.

NATO Control
NATO today reaffirmed its commitment to protect Libyan civilians as it took over control of all operations in the country from a coalition led by the United States, France, and Britain.
Lieutenant General Charles Bouchard, a Canadian national who now heads the international campaign in Libya, issued a stern warning to Qaddafi and his forces.
"I'd like to offer closing thoughts for those who are acting against the civilian population in the civilian centers," he said. "You would be ill-advised to continue such activities."
Bouchard said the alliance had "very strict" rules of engagement and would do its utmost to avoid civilian casualties. He said NATO took seriously a report from the top Vatican official in Tripoli claiming at least 40 civilians were killed in a Western air strike on the capital.
Additional hope for Libya's beleaguered insurgency came in the form of reports that U.S. President Barack Obama had authorized covert support for the rebels.
Media reports said Obama signed an order to authorize secret operations by the Central Intelligence Agency (CIA).
"The New York Times," citing unnamed U.S. officials, said the CIA had sent operatives to Libya to gather intelligence that could assist the opposition after the agency's station in Tripoli was forced to close.
U.S. Defense Secretary Robert Gates today declined to comment on the CIA reports.
This week's battlefield defeats against Libyan forces are reinforcing the belief that the revolt will be crushed if the West fails to take more decisive action.
To Arm Or Not To Arm?
The United States, France, and Britain have raised the possibility of arming the rebels, although they stress that no decision has been taken.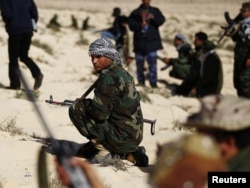 A rebel on front line between Ajdabiyah and Brega on March 31.
That idea has met resistance from a number of NATO countries and from NATO Secretary-General Anders Fogh Rasmussen himself, who has said the alliance's goal is "to protect people, not to arm people."
China, Russia, and Germany have firmly opposed supplying weapons to the insurgents, whose make-up and goals are still shadowy.
But experts say individual nations could easily bypass NATO should they decide to provide the rebels with weapons.
Fawaz Gerges, a professor of Middle Eastern Politics at the London School of Economics, said it's already happening.
"The rebels are being armed, and the arms are flowing through a third party -- obviously from either Egypt or other countries -- and are being paid for by some of the frozen assets of the Libyan government," he said. "So make no mistake, the arming of the rebels has been taking place."
Although the CIA's precise role in Libya is still unclear, its operatives in the ground are expected to evaluate the rebels' needs in the event Obama decides to formally arm them.

written by Claire Bigg, with reports from agencies
Liveblog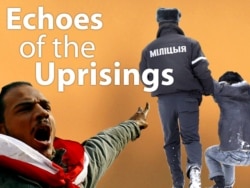 Tracking events and ideas convulsing the Arab world and with ripples around the globe, including RFE/RL's broadcast region.
Click here