NATO allies have vowed to stay in Libya "for as long as necessary" and to commit the "necessary means" to the campaign against Muammar Qaddafi.

Defense ministers from NATO's 28 member states said in a statement at a meeting in Brussels that Qaddafi "needs to step down."

The ministers, who opened a two-day meeting about Libya on June 8, said they were "determined to continue" the operation to protect the Libyan people for as the length of time that was needed.

However, NATO chief Anders Fogh Rasmussen said the alliance won't put troops on the ground in Libya to keep order once the conflict ends.

"We do not foresee a leading NATO role in the post-Qaddafi or postconflict scenario," he said. "On the contrary, we would expect the United Nations to take the lead."

He also urged more NATO countries to contribute to the military effort to protect civilians in Libya.

Meanwhile, rebels say that thousands of troops loyal to Qaddafi launched an offensive on the rebel-held western city of Misurata today, killing at least 12 rebels.

There was no immediate comment from Qaddafi's government.

Libya Bombing Continues As Qaddafi Remains Defiant

The Brussels meeting comes as NATO has hit the Libyan capital, Tripoli, with some of the heaviest bombardments since air strikes against Qaddafi's regime began in March.

Reports say air strikes occurred throughout the night of June 7 and into the morning, with warplanes hitting Tripoli targets several times an hour.

It was not immediately clear what has been hit.

The Qaddafi regime said said 31 people, including civilians, had been killed in the latest NATO bombardment. No independent confirmation was available.

In an audio address broadcast on state-run television, Qaddafi denounced NATO and the Libyan rebels fighting to end his more than 30-year rule, and vowed never to surrender.

In Washington, U.S. President Barack Obama said there had been significant progress in the NATO operation and it was "just a matter of time" before Qaddafi would leave power.
"To the gutless [cowards]: you will not frighten the Libyan people," Qaddafi said in his address. "Tripoli has been attacked many times throughout history by the Byzantines, Spanish, Romans, Italians, and Maltese -- even though Tripoli has been attacked many times, it is still resisting. Victory to Libyans!"

Government spokesman Moussa Ibrahim said June 7 was the heaviest day of shelling since the NATO mission to protect civilians from pro-government forces began just more than two months ago. He said 31 people had been killed in 60 strikes on Tripoli.

A spokesman for the British Defense Ministry said NATO's targets included a secret police headquarters in the heart of Tripoli and a major military installation on the outskirts.

Defense staff spokesman Major General Nick Pope said the missions "were flown as part of a coordinated series of precision attacks throughout the day and night by NATO aircraft targeting intelligence and military facilities in the Libyan capital."

Ending The Stalemate

Journalists taken on an escorted tour of the Qaddafi's bomb damaged compound were shown a dead body draped in a green Libyan flag, which Ibrahim said was one of several casualties from the air strikes.

He also said NATO would not succeed in toppling the regime. "We believe that NATO understands very well that its military campaign against the Libyan nation is failing miserably. As the Libyan nation proves day after day, it's rallying behind its leadership and the unity of the country," Ibrahim said.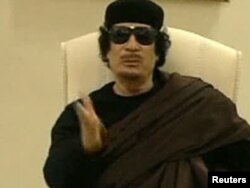 A television screen grab shows Muammar Qaddafi speaking at a Tripoli hotel on May 11
With the sound of low-flying fighter aircraft in the background, Qaddafi's phone call to state television -- which listeners said seemed to catch the station by surprise -- was an angry denunciation of the rebels who first rose up against him in mid-February as "bastards."

Before hanging up abruptly, the isolated ruler shouted, "We will not kneel! We will not surrender! We only have one choice - to the end! Death, victory, it does not matter, we are not surrendering!"

Qaddafi's troops and the rebels have been in a stand-off for weeks -- neither side able to hold territory on a road between Ajdabiyah and the government-held oil town of Brega further west.

Rebels control the country's east, the western city of Misurata, and mountains near Tunisian border. They have been unable to advance on the capital against Qaddafi's better-equipped forces, despite NATO air strikes.

NATO officials have recently been warning that they planned to increase the scope and intensity of their efforts to end the stalemate.

Qaddafi has been in hiding for weeks but was seen briefly in public late last month during failed peace negotiation talks with visiting South African President Jacob Zuma.

One of his sons and three of his grandchildren were killed during a NATO strike in April on one of his homes.

China's Rebel Overtures

The intense daytime raid on Qaddafi's compound came as U.S. President Barack Obama said in Washington that it is "only a matter of time' before he is forced to leave.

At a news conference following a White House meeting with German Chancellor Angela Merkel, Obama described "significant" progress in the NATO mission.

"What you are seeing across [Libya] is an inexorable trend of the regime forces being pushed back, being incapacitated, you are seeing defections, often times of some very high-profile members of the Qaddafi government as well as the military, and I think it is just a matter of time before Qaddafi goes," he said.

Obama also said he told Merkel that he expects Germany to play a significant role in Libya's reconstruction once the fighting ends. Germany has refused to engage its military directly to support the NATO mission.

written by Heather Maher, with agency material