U.S. President Barack Obama has called on Libya's Muammar Qaddafi to halt all military attacks against civilians and stop his troops from advancing on Benghazi and other opposition-held contested cities, or face the wrath of an international military air force.
In an brief appearance before reporters at the White House, Obama said the whole North African and Middle East region could be destabilized if Qaddafi is allowed to commit what Obama said would be "atrocities against his people."
Late on March 17, the UN Security Council passed a resolution authorizing a no-fly zone over Libya in an attempt to stop Tripoli from bombing opposition forces and civilians.
"Muammar Qaddafi has a choice. The resolution that passed lays out very clear conditions that must be met," Obama said.
"The United States, the United Kingdom, France, and Arab states agree that cease-fire must be implemented immediately. That means all attacks against civilians must stop."
In a brief appearance at the White House, Obama warned the Libyan leader that if he did not back down, he would face military action.
"Let me be clear: these terms are not negotiable. These terms are not subject to negotiation," he said. "If Qaddafi does not comply with the resolution, the international community will impose consequences, and the resolution will be enforced through military action."
Obama said the United States would not deploy ground forces in Libya, and added that Washington was also "not going to use force to go beyond a well-defined goal -- specifically, the protection of civilians in Libya."
Cease-Fire Declared
Earlier today, the Qaddafi regime announced a unilateral cease-fire in its war with rebels. Libyan Foreign Minister Moussa Koussa said in Tripoli that the government decided to halt all military operations to protect civilians in line with the UN resolution passed on March 17.
He also questioned the fact that the UN had authorized the use of force against Libya.
"Libya also finds that it is very strange and unreasonable that the Security Council allowed in its resolution the use of military power and there are signs that this might, indeed, take place," he said.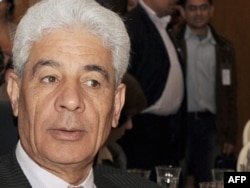 Libyan Foreign Minister Moussa Koussa
In rebel-held Benghazi, the Libyan announcement was rejected as a "bluff."
Despite the Libyan cease-fire announcement, news agencies citing opposition members reported that forces loyal to Qaddafi were continuing their attacks on rebel positions.
In the town of Misurata, doctors said heavy bombardment by Qaddafi forces today killed at least 25 people, including several children.
The cities of Benghazi and Tobruk in eastern Libya and the town of Misurata in western Libya are the only major centers still in opposition hands, as Qaddafi's forces have rolled back the rebels' early gains.
Preparing To Act
Meanwhile, NATO members met today in Brussels to discuss how to immediately implement the resolution, which authorizes the use of "all necessary measures" -- except ground troops -- to stop Tripoli from attacking rebel-held towns and killing civilians.
It is not immediately clear what impact the unilateral Libyan declaration of a cease-fire will have on NATO's plans.
But U.S. Secretary of State Hillary Clinton said that it was not at all clear if the cease-fire announcement was being matched by Tripoli's actions on the ground and that Washington and its allies were still considering what would be "the most effective measures" to end the crisis in Libya.
Clinton also said the "final result" of the UN resolution must be Qaddafi's departure.
"The overwhelming vote by the Security Council I think reflects a broad understanding that, No. 1, stop the violence, and No. 2, we do believe that a final result of any negotiation would have to be the decision by Colonel Qaddafi to leave," she said. "But let's take this one step at a time."
Obama said Clinton would travel to Paris to attend an emergency summit on Libya on March 19, which will include the leaders of France, Britain, and Germany, as well as Arab allies.
France said earlier today that military action against Libya could come "within hours."
"The strikes will take place rapidly," French government spokesman Francois Baroin told RTL radio in Paris. "There is no question, you will understand, of saying this morning when, how, which target, and in what shape. But what happened overnight is a very important stage in the management of this war in Libya and the massacre by Qaddafi of his people."
British Prime Minister David Cameron told the House of Commons today that U.K. fighter aircraft would be moved to air bases in the region "in the coming hours."
France is the only country to have diplomatically recognized the Libyan rebels' provisional government. Along with Britain and Lebanon, France sponsored the UN resolution and even sent its foreign minister, Alain Juppe, to speak to the Security Council immediately before the vote on March 17.
More Countries Joining In
Multiple countries have stepped forward to vow their support for the UN-approved intervention.
British Prime Minister David Cameron told Parliament today that Britain would deploy Tornado and Typhoon fighter jets to bases near Libya.
Italy said it was ready to offer use of its air bases.
Qatar, Norway, and Poland have all promised to contribute to the multinational effort. Warsaw said it was "ready to help with our transport plans," while Oslo also said it would contribute "by means of air [power]." Meanwhile, Denmark said it will await parliamentary approval before joining the action by contributing warplanes.
The proposal to intervene initially was opposed by Russia and China over fears it might lead to "excessive" use of outside military force in Libya. But in the end neither Russia nor China used their veto power to block the vote and instead joined Germany, India, and Brazil in merely abstaining.
Today, Germany reiterated its reservations about the UN resolution even as it joins NATO discussions over how to implement the measures.
"We understand those who, out of honorable motives, decided for an international military intervention in Libya," Foreign Minister Guido Westerwelle said. "However, after evaluating the risks we came to the conclusion that we will not participate in a military mission in Libya with German soldiers, and that's why Germany abstained in the vote."
Serious Concerns
China, too, said it still had serious concerns. Foreign Ministry spokeswoman Jiang Yu said in a statement today, "We oppose the use of military force in international relations and have serious reservations about some of the content of the resolution." He did not elaborate.
Arab League chief Amr Musa said he backed the resolution as a way of protecting civilians but cautioned he did not want any side "to go too far."
Rebel fighters celebrate the UN Security Council's resolution to impose a no-fly zone over Libya.
The Turkish government called for an immediate cease-fire in Libya and a peaceful solution to the conflict.
'We Will Not Be Afraid'
Earlier, Libya appeared to take a defiant position with respect to the UN resolution. Saif al-Islam Qaddafi, the Libyan leader's son, dared foreign forces to take action.
"We will not be afraid. Come on! We will not be afraid," he told ABC News's "Nightline" program overnight from Tripoli.
He warned that foreign action would only unite people behind the government, saying: "You are not helping the people if you are going to bomb Libya, to kill Libyans. You destroy our country. Nobody is happy with that."
compiled from agency reports
Liveblog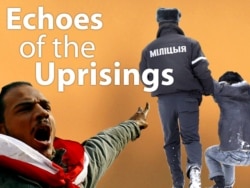 Tracking events and ideas convulsing the Arab world and with ripples around the globe, including RFE/RL's broadcast region.
Click here