Embattled Libyan strongman Muammar Qaddafi has vowed to remain in power despite growing popular protests against his repressive four-decade rule.
Shaking his fists in anger in a rambling speech broadcast February 22 on state television, he pledged to "fight to the last drop of blood."
"I cannot leave the honorable remains of my grandfather in Murgub," he told viewers, referencing a city in Libya. "I will die as a martyr in the end."
In the address, he called himself the "leader of the revolution until the end of time."
Qaddafi depicted antigovernment protesters as misguided youths who had been given drugs and money to attack police and state buildings, and he called on his supporters to take to the streets and to counter-attack.
"Let us show them what the popular revolution is like," he said. "Go out from your homes starting now."

Eight Days Of Protests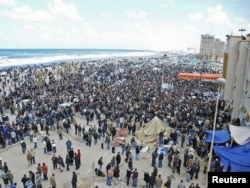 Demonstrators gather in the streets in Benghazi.
As unrest in Libya entered its eighth day, citizens decried the lack of freedoms and rampant unemployment.
Witnesses and opposition groups said forces loyal to Qaddafi as well as alleged foreign mercenaries have killed hundreds of people in several cities, including the capital, Tripoli, by firing indiscriminately into crowds.
They said bodies of scores of slain protesters lay scattered on the streets early in the day on February 22 after a night of violence.
New York-based Human Rights Watch cited hospital sources as saying at least 62 people had been killed in the capital alone since February 20, along with more than 200 people killed elsewhere in the country. Opposition groups say the death toll may exceed 400.
In his speech, Qaddafi said he had "not yet" ordered the use of force, but said, "when I do, everything will burn."
Emergency Meeting

International criticism of Qaddafi's regime continueds to mount, including condemnation from United Nations Secretary-General Ban Ki-moon, who said Libyan authorities had been firing at demonstrators from warplanes and helicopters. "This is unacceptable," he said. "This must stop immediately."
The UN Security Council is holding an emergency meeting today on the situation amid calls by diplomats to impose a no-fly zone in the North African country to prevent its air force from attacking demonstrators.
Diplomats say all the evidence needed to justify a no-fly zone over Libya is available from two fighter pilots who defected to Malta on February 21. The pilots said they had been ordered to bomb demonstrators in the eastern city of Benghazi, where the protests began a week ago.
Libyan state television dismissed reports that security forces and government aircraft massacred protesters.
UN High Commissioner for Human Rights Navi Pillay called for an international investigation into the government's use of violence. She warned that "systematic attacks against the civilian population may amount to crimes against humanity."
Meanwhile, majority Muslim countries Jordan, Qatar, and Maldives joined a call to hold an emergency session of the UN Human Rights Council on the situation later this week in Geneva.
The Arab League held its own emergency meeting in Cairo today and said it had barred Tripoli from attending its meetings "until the Libyan authorities respond to demands, guaranteeing the security and stability of its people."
Losing His Grip
Despite Qaddafi's defiant speech, his grip on power looked increasingly fragile as Libyan diplomats around the world resigned in protest against the crackdown. The resignations include Tripoli's ambassadors to the United States, China, India, Bangladesh, and Indonesia.
Today, one of Qaddafi's closest associates, Interior Minister Abdel Fattah Younis, announced in the now opposition-controlled city of Benghazi that he was defecting. He called on the country's armed forces to join the revolt.
Backed by defecting army units, protesters say they have control of almost the entire eastern half of Libya's 1,000-mile Mediterranean coast.
Libya's deputy ambassador to the United Nations, Ibrahim al-Dabashi, warned that if Qaddafi does not resign, "the Libyan people will get rid of him."
He condemned what he called "the massive criminal killings" of protesters. "After we have seen what is happening in Libya … we find it impossible to stay silent and we have to [convey] the voice of the Libyan people to the world," he said.
International condemnation of Libya's violent crackdown has come from the EU, United States, Iran, India, China, and Indonesia.
EU foreign policy chief Catherine Ashton called for an end to the violence and told reporters that the bloc was suspending a framework trade agreement it had been negotiating with Tripoli.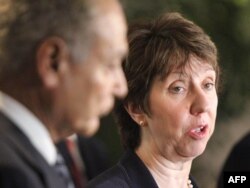 EU foreign policy Chief Catherine Ashton was in Cairo today for talks that addressed the upheaval in Libya.
In Washington, Secretary of State Hillary Clinton said the United States was watching events in Libya "with alarm."
"This bloodshed is completely unacceptable," said the top U.S. diplomat. It is the responsibility of the government of Libya to respect the universal rights of their own people, including their right to free expression and assembly."
U.S. Senate Foreign Relations Committee chairman John Kerry urged U.S. and international oil companies to suspend their Libyan operations immediately until attacks on civilians stop.
He also urged the Obama administration to consider re-imposing sanctions against Tripoli that were lifted by President George W. Bush.
German Chancellor Angela Merkel called Qaddafi's televised speech "very, very appalling" and said it "amounted to him declaring war on his own people."
Under My Umbrella
Qaddafi had appeared briefly on state television on the night of February 21 amid rumors he had fled to Venezuela. He was shown in a strange pose, sitting in a military vehicle with the door open and holding an umbrella over his head.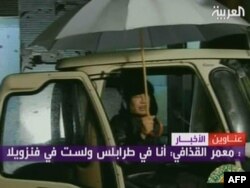 Muammar Qaddafi addresses the nation on TV while holding an umbrella.
He told viewers he wanted to show them that he was in Tripoli and not in Venezuela "Do not believe the channels belonging to stray dogs," he said in a reference to foreign broadcasters showing the violence.
Oil prices have soared as a result of the continuing violence in Libya. Today, two oil companies suspended production in the country, including Italy's Eni, Libya's biggest energy producer.
Libya is the first major oil exporter to be hit with the political turmoil that has spread across the Arab world in recent weeks.
Meanwhile, a refugee crisis was developing as tens of thousands of Libyans and foreign workers attempted to flee the country.
Egyptian officials say they are having trouble bringing home as many as 1.5 million Egyptians who live and work in Libya.
The military council running Egypt since former President Hosni Mubarak resigned in the face of massive protests there has opened a new border crossing to help its citizens get out of Libya. Egypt's army also has bolstered troop numbers along the border.
European governments have also stepped up efforts to evacuate their citizens by plane and ship.
written by Ron Synovitz and Richard Solash with agency reports