World leaders meeting in London to discuss the situation in Libya have agreed that they will continue to keep the pressure on leader Muammar Qaddafi until he agrees to step down.
British Foreign Minister William Hague said the 48 leaders of NATO and Arab states attending the conference were determined to keep the military pressure on Qaddafi until civilians were no longer in danger.
"We are united in our aims," Hague said. "We're united in seeking a Libya that does not pose a threat to its own citizens, or to the region, or more widely, and in working with the people of Libya as they choose their own way forward to a peaceful and stable future."
British Prime Minister David Cameron told the conference that Libyan troops were committing "murderous attacks" in "flagrant breach" of a United Nations resolution that calls for an immediate cease-fire.
But he also had words of encouragement for the Libyan people. "As this broad range of countries gathers here today in London, there are people suffering terribly under Qaddafi's rule," he said. "Our message to them is this: There are better days ahead for Libya."
Fighting Continues In Libya
New outbreaks of fighting in Libya were reported as leaders discussed the best way to help oust Qaddafi, who has led the North African country for more than 40 years.
Opposition fighters have made significant gains since the UN Security Council on March 17 authorized a no-fly zone and military action to protect civilians.
But today the better armed and organized pro-Qaddafi troops reversed the westward charge of the fighters and launched a counterassault on Misurata, a key city under opposition control.
Rebels were also forced to retreat from the town of Nawfaliyah, 150 kilometers from Sirte, to the coastal town of Bin Jawad further east.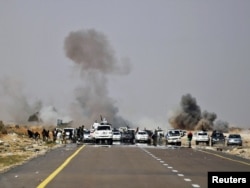 Shells explode near a column of rebel vehicles near Bin Jawad on March 29.
U.S. Secretary of State Hillary Clinton said coalition military strikes would continue until Qaddafi fully complied with UN demands to cease violence against civilians and pull forces out of occupied cities.
"All of us have to continue the pressure on and deepen the isolation of the Qaddafi regime," Clinton said. "This includes a unified front of political and diplomatic pressure that makes clear to Qaddafi he must go."
But she also said the allies must assist Libyans in other ways: "first, delivering desperately needed humanitarian assistance; second, pressuring and isolating the Qaddafi regime through robust sanctions and other measures; third, supporting efforts by Libyans to achieve their aspirations through political change."
UN Secretary-General Ban Ki-Moon offered the full resources of the world body.
"The transition to a democratic government and society will take time and the support of us all," Ban said. "The United Nations is ready and willing to assist the people of Libya in this transition."
NATO Takes Over
Clinton also said the United States would hand over lead command of the mission to NATO on March 30, which President Barack Obama first announced in a nationally televised speech on March 28.
The United States will assume a supporting role in operations but air strikes by U.S., French, and British planes remain key to smashing Qaddafi's armor and facilitating rebel advances.
Leaders at the conference did not make any decision about arming the opposition fighters or providing arms transfers, Clinton said.
But they did agree to set up a contact group, including Arab states, to give political guidance for the response to the war and coordinate long-term support to Libya. Qatar said it would convene the first such meeting shortly.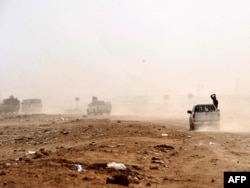 Rebels flee from the battlefield near Nofilia on March 29.
Shamsiddin Abdulmolah, a spokesman for the opposition interim National Council, based in the rebel stronghold of Benghazi, said Qaddafi should be put on trial for crimes against humanity and should not be offered exile. Abdulmolah said the issue was "nonnegotiable."
The National Council has said it would hold free and fair elections to ensure a transition to democracy if Qaddafi were forced from power.
Qaddafi Digs In
Meanwhile, Libya's official news agency quoted a letter Qaddafi reportedly sent to world leaders asking them to "Stop [their] brutal and unjust attack."
Qaddafi wrote: "Hundreds of Libyans are being killed because of this bombardment. Massacres are being mercilessly committed against the Libyan people."
Both Britain and Italy suggested Qaddafi might be allowed to go into exile to bring a quick end to the six-week civil war, but U.S. Ambassador to the United Nations Susan Rice said there was no evidence the Libyan leader was prepared to leave.
In Washington, officials with the U.S. Defense Department said the tab for just 10 days of U.S. military involvement in Libya has already hit $550 million.
A Pentagon spokeswoman, Commander Kathleen Kesler, said the majority of the cost was for munitions, including bombs and missiles. As of March 28, the United States had launched 192 long-range Tomahawk cruise missiles from naval positions in the Mediterranean Sea and flown 983 sorties.
With the United States already stretching to pay for the wars in Iraq and Afghanistan amid difficult financial times, the operation has been criticized by lawmakers, including one who estimated last week that Libya could cost $1 billion before it's over.

compiled from agency reports