WATCH: Amateur video, which claims to show rebels engaged in fighting at Tripoli's Abu Salim district, where a fierce street battle between Libyan rebels and fighters loyal to Muammar Qaddafi took place in the district on August 25. (AP video)
The streets of the Libyan capital, Tripoli, are the calmest they have been since opposition rebels stormed the city overnight on August 21.
An eerie sense of calm now pervades much of the city -- which the rebels say is now 95 percent under their control -- even as they battle remaining pockets of fighters loyal to embattled ruler Muammar Qaddafi.
"The fighting here is mostly concluded. It's isolated mostly to one [loyalist stronghold] neighborhood called Abu Salim," said RFE/RL's correspondent in Tripoli, James Kirchick.
"Driving through the streets of Tripoli this morning, however, it's a complete ghost town, there is hardly anyone on the streets save for those manning the checkpoints which are on practically every other block. These are mostly young men in their late teens or early twenties carrying heavy assault rifles, pistols, and they control now most of the city," he said.
Kirchick also observed the first Friday Prayers to be held in the city since most of it came under rebel control.
"It [is] the first time that Friday Prayers have been celebrated in this country in 42 years where Qaddafi has not been in power. We spoke to several religious leaders today and they were very happy. It's a completely new experience for them. They've been closely monitored by the government, their sermons, their activities. And now they feel a new breath of freedom, really, in being able to practice their religion," he said.
After the day's prayers, a number of residents emerged cautiously from mosques and homes to celebrate in the streets, chanting: "Hold your head high! You are a free Libyan."
Reports from Tripoli spoke of scores of dead bodies, on the streets and in hospitals. Reports say it is not clear who many of the dead are, or how they were killed.

The rebel forces say they are continuing to hunt for Qaddafi, whose whereabouts remains unknown since rebel forces overran his compound in Tripoli.

Rebel fighters and NATO aircraft are reported intensifying their focus on Qaddafi's hometown of Sirte, located 450 kilometers east of Tripoli and considered Qaddafi's last major region of support.

Rebel forces were reported facing stiff resistance from loyalist fighters as they attempted to advance on Sirte, while British warplanes on August 26 were reported to have struck a bunker in Sirte.

In the west, rebels forces are reported to have taken control of the Ras Jdir border crossing with Tunisia after a battle with Qaddafi regime soldiers, and raised the flag of their rebellion.

And the top rebel commander in Tripoli said a move was under way to bring the disparate rebel fighter groups, who sometimes come from different regions and tribes, under a single military command.

At the United Nations, Secretary-General Ban Ki-moon said Libya was "awash" with small arms, and that an international police force may have to be sent to the North African nation to help maintain order.

Ban spoke August 26 after holding video-conference talks with top officials of the African Union, the Arab League, the European Union and the Organization of the Islamic Conference.

"Clearly, the challenges ahead are enormous," said Ban. "Fighting goes on in many parts of the country. There is an urgent need to put an end to the conflict and restore order and stability."

The UN chief added: "If the Libyan authorities request, we should be prepared to help develop a police capacity, bearing in mind that the country is awash with small arms."

Ban gave no further details about a possible international police force for Libya.
He said, however, that there appear to be widespread shortages of fuel, food and medical supplies, and water supplies to Tripoli may also be under threat.

The UN chief added that members of the UN Security Council have assured him of their support for the rapid deployment of a UN mission to examine conditions in Libya.

Ban described as a welcome step the Security Council's decision to release $1.5 million of Qaddafi regime assets that had been frozen under UN sanctions to Libya's Transitional National Council.

On August 25, the head of the rebel council, Mustafa Abdel Jalil, said some 20,000 people had been killed in the six-month drive to oust Qaddafi, who ruled the country with an iron fist for more than 4 decades.

Much of Tripoli also remains without electricity and water and piles of garbage were accumulating around the city.

The Associated Press reports that food is becoming scarce, with some of the city's residents scavenging in the notorious Abu Salim prison, where many political prisoners were held until it was emptied earlier this week.
Meanwhile, the International Red Cross is expressing concern about treatment of detainees on both sides of the fight for Libya, amid fresh reports of killed pro-Qaddafi and rebel prisoners.
Amnesty International has also accused both sides of mistreating prisoners.
Meanwhile, much of the battle for Libya now appears to be focused on the loyalist-held city of Sirte, which lies 360 kilometers east of Tripoli and is Qaddafi's birthplace.
British warplanes bombed a large bunker in the city on August 26.
NATO, which has backed the rebels with an air campaign meant to protect civilians, said its planes had hit 29 armed vehicles and a "command and control node" near the city.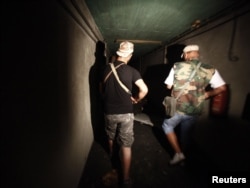 Rebel fighters walk through a tunnel in Muammar Qaddafi's ransacked Bab al-Aziziya compound in Tripoli on August 26
Qaddafi himself remains at large despite a rebel-led manhunt and a $1.7 million bounty on his head.
The 69-year-old strongman, who is wanted by the International Criminal Court for crimes against humanity, has repeatedly pledged to fight to the end.
On the diplomatic front, opposition Prime Minister Mahmud Jibril renewed his call for world governments to unfreeze Libyan assets.
Speaking after meetings in Istanbul, he said the National Transitional Council has "dire needs," including paying salaries for state workers, providing humanitarian assistance, and reconstruction.
"We will be forming an interim government in the coming period and this government will [need to] have sufficient assets to provide all sorts of services to meet the people's needs, which must be met especially after such a long period of suffering that has lasted more than six months," he said.
Dozens have countries have in recent weeks recognized the TNC as the legitimate representative of the Libyan people.
written by Richard Solash in Washington with reporting by James Kirchick in Tripoli and agency material