The commander of Libya's rebel army has criticized NATO for being too slow to launch air attacks on Muammar Qaddafi's forces, who are battling the rebels.

The commander has also threatened to report NATO to the United Nations Security Council over the alliance's alleged inaction.

Abdel Fattah Younes, a former interior minister in Qaddafi's regime who defected to the rebels, said that NATO's alleged slowness in taking action has allowed Qaddafi's forces to advance and kill civilians in the besieged city of Misrata.

"If NATO waited for another week, Misrata would have been finished and there would be no civilians, its people would die and the international community would bear the responsibility of such a crime," Younes told a news conference in the rebel city of Benghazi on April 5.

"Who is NATO? What are they doing? The United Nations have imposed NATO over our heads, but they haven't done anything," he added.

Younes threatened to report NATO to the UN Security Council unless NATO improves its performance.

The Security Council last month authorized the use of foreign air power to stop Qaddafi's forces from eliminating supporters of the anti-Qaddafi uprising that began in Libya in February.

In response to Younes' claims, NATO has said that it is fulfulling its mandate, in line with the Security Council's resolution.

A Liberian-registered oil tanker has meanwhile docked at the rebel-held east Libyan port of Marsa el-Hariga to pick up the port's first oil cargo export since an uprising broke out weeks ago against Libyan ruler Muammar Qaddafi.

Reports from shipping sources said the "Equator" tanker appeared to have no cargo, allowing it to load up to 1 million of barrels of oil.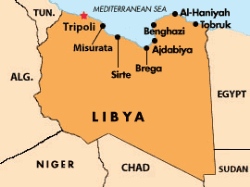 The move comes after the opposition Transitional National Council in eastern Libya concluded a deal with Qatar to market crude oil and after opposition diplomats discussed plans with a United Nations envoy to exempt rebel oil exports from sanctions imposed on Qaddafi's ruling elite.

Oil revenues are seen as a way to significantly boost the efforts of the opposition to obtain heavy weapons for their fight against Qaddafi's better-equipped troops.

Obtaining better weaponry from abroad, and keeping the pressure on Qaddafi's forces with NATO-led air strikes under a UN no-fly zone resolution, has become a key strategic and diplomatic goal of the opposition.

Ali Suleiman Aujali, an official representative from the opposition's Transitional National Council, was in Washington on April 4 lobbying for more military support to help the opposition oust Qaddafi from power.

"The air strikes are important. We have to keep the [no-fly] zone and keep the coalition united to finish this business," he said. "The Libyan [people] who find themselves fighting the regime, they, of course, need training, they need ammunition, they need weapons. They need all of this to march."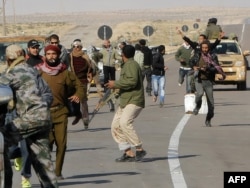 Rebels run for cover from artillery shells fired by pro-government forces outside Brega on April 5.
Still, Aujali said, the opposition fighters did not want to be supported by foreign troops on Libyan soil, preferring to oust Qaddafi from power themselves.
"It is time for us now to get rid of this man. It is time for us now to give the Libyan people a chance and hope to rule themselves," he said. "I want you to be sure that the Libyans who have [risen up] against Qaddafi are ordinary Libyans: they are teachers, they are professors, they are students. They are exhausted people who have been suffering under this regime. They need help and they need support."
Early on April 5, Libya's opposition fighters were trying to push back into the disputed oil town of Brega, seizing positions in part of the town and pledging to drive out Qaddafi's forces. But fighters in the rebel advance were later scattered under a barrage of artillery shelling on the eastern edge of the town as a military standoff appeared to continue.
Meanwhile, a NATO air strike was launched on a convoy of Libyan government military vehicles as it approached rebel forces outside of Brega -- preventing the opposition fighters from being routed and giving the rebels time to regroup outside of the city.
The battle is the latest in a civil war that has reached a stalemate, with a series of towns along the stretch of Libya's Mediterranean coast passing back and forth multiple times between the two sides.
Opposition fighters have surged into and beyond Brega several times in recent weeks from their strongholds in eastern Libya, only to be driven out by Qaddafi's troops, who have exploited the rebels' inability to hold territory.
Although the regime's forces are more powerful and plentiful, they also have been unable to decisively defeat the poorly equipped and badly organized opposition fighters since a UN Security Council resolution last month authorized air strikes that have kept the Qaddafi's forces in check.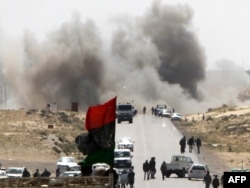 Loyalist forces battle rebels near the eastern oil town of Brega on April 5.
Despite the apparent military stalemate at Brega, the rebel side has received a diplomatic boost in Europe with Italy offering recognition to the Transitional National Council -- the third country to do so after France and Qatar.
But the Qaddafi regime remains defiant. In Tripoli, a spokesman for Qaddafi said the Libyan ruler would not step down from power but was open to the idea of conducting elections and reforming Libya's political system.
Spokesman Mussa Ibrahim said Qaddafi's regime would not accept conditions being imposed from abroad -- including demands by the international community for him to step down from power.
"[Qaddafi] has this symbolic significance for the Libyan people. How Libya is governed is a different matter," Ibrahim said. "What kind of political system is implemented in the country is a different matter. This is negotiable. We can talk about it. We can have anything -- elections, referenda, anything."
Meanwhile, Qaddafi's son, Saif al-Islam, told the BBC in an interview that the former Libyan foreign minister who fled to London, Moussa Koussa, was being "pressured" by British officials into making allegations against Qaddafi's government.
Saif al-Islam said on April 5 that Koussa had "permission" to leave Libya for health reasons and had not "betrayed" his country. Koussa, the most high-profile defector from Qaddafi's inner circle so far, arrived in Britain via Tunisia on March 30.
Koussa has not appeared in public and was expected to be interviewed during the next few days by investigators and prosecutors in Scotland over the bombing of a U.S. airliner over Lockerbie in 1988.
compiled from agency reports