In what appears to be the beginnings of a civil war, forces loyal to Libyan leader Muammar Qaddafi and an armed opposition made conflicting claims about controlling strategic towns.
The two sides are fighting along the country's Mediterranean coast between the government-controlled west and the rebel-run east of the vast country.
Residents of the Libyan capital, Tripoli, awoke to heavy gunfire this morning.
Officials say the shooting came from supporters of the Libyan leader who were celebrating claims made by the government that it had retaken key towns such as Zawiya and Misurata in the west and the strategic oil port city of Ras Lanouf in central Libya.

'Time Of Victory'
Hussain Karim, a teacher at Tripoli University, was among hundreds of Libyans who descended on Tripoli's Green Square in a show of support for the country's embattled leader.
"This is the time of victory in Libya, and as you can see today, last night, and this morning, is the time of victory of the people of Libya," Karim said. "These people you see are the true people of Libya. There is nobody in this state or this city against Qaddafi. Today, we tell the people in the United Nations that today the Libyan people have the power and they are willing to represent themselves."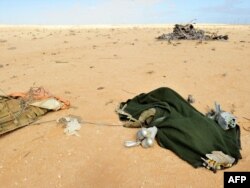 The body, presumably of a loyalist pilot, is covered with a blanket among the debris of a jet the rebels say they shot down near Ras Lanouf.
But the rebels deny losing any ground. They say Ras Lanouf remains under their control.
"In a statement to the Libyan people, the revolutionary forces confirm that they are still in control of the areas that have been liberated and what has been broadcast on the [pro-Qaddafi] channels is incorrect and is not true on the ground," rebel spokesman Wanif Bou Hanada told Reuters.
"And you journalists have confirmed yourselves that we are in full control of the areas we have liberated. So these rumors are false and nobody has moved toward us or taken control of territory [belonging to the opposition forces]."
Warplane Shot Down?
Independent media reports maintain that Ras Lanouf remains in opposition control. Anti-Qaddafi rebels today drove a group of Western journalists to the scene of what they said was a warplane they had shot down on March 5 near Ras Lanouf.
Journalists were taken to the scene of the wreckage and were shown two bodies thought to be pilots loyal to Qaddafi.
"Qaddafi is using planes to bomb us...See what weapons we have...Kalashnikovs against planes," said Adel, a rebel fighter who drove journalists to the scene.
According to the rebels, the warplane was shot down by an antiaircraft machine gun.
"It's the first time I ever used an antiaircraft machine gun. I have never been in the army. I'm a civilian," said a rebel who is thought to have hit the plane.
There have been reports that warships launched two rocket strikes near Ras Lanouf's oil compound. Most of Libya's oil is processed in the refineries around Ras Lanouf.
A television crew from The Associated Press reported witnessing Libyan warplanes launching air strikes on a rebel force advancing toward Qaddafi's stronghold of Sirte, west of Ras Lanouf.
Earlier, Libyan state television claimed that forces loyal to Qaddafi had also recaptured the coastal cities of Zawiya and Misrata in western Libya and were advancing on the eastern city of Benghazi, the center of the ongoing uprising against Qaddafi's 41-year rule.
Hundreds have been killed since violence broke out two weeks ago. Concerns are mounting that the battle could escalate into a civil war that could last weeks or months.
In an interview with a French newspaper, Qaddafi said Libya would become a haven for terrorist groups like Al-Qaeda if he is ousted.
U.K. Hostages
Meanwhile, Britain is reportedly engaged in negotiations to secure the release of a special forces unit believed to have been captured by Libyan rebels in the eastern city of Benghazi.
The Geneva-based group Human Rights Solidarity, which employs a number of Libyan exiles, told Reuters that eight special forces personnel had been seized by the rebels.
An activist with the group said today the soldiers were under arrest but that British authorities were negotiating with Libya's new opposition council to secure their release.
It was not clear whether any British officials had been arrested alongside the soldiers, who had been escorting a British diplomat through Libya's rebel-held east in order to meet with opponents of Qaddafi.
compiled from agency reports
Liveblog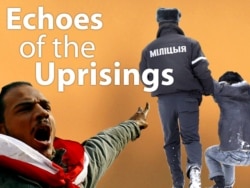 Tracking events and ideas convulsing the Arab world and with ripples around the globe, including RFE/RL's broadcast region.
Click here