With fighting continuing in Libya, U.S. President Barack Obama has spoken with the leaders of France, Britain and Italy to discuss options for responding to the crisis in the oil-producing north African nation.

The White House said the leaders discussed a "range of options that both the United States and European countries are preparing to hold the Libyan government accountable for its actions," as well as for providing humanitarian assistance to Libyans affected by the violence.

In a joint statement released after their telephone call, Obama and French President Nicolas Sarkozy demanded an end to what they described as the "continuing brutal and bloody repression" of protesters by forces loyal to Libyan leader Muammar Qaddafi.

In another development, the United Nations Security Council was expected to meet on February 25 to discuss possibly imposing sanctions or other measures following Qaddafi's failure to heed a demand by the Security Council earlier this week to halt violence.

Qaddafi has blamed the revolt against his more than 40-year rule on young people whom he said were inspired by Al-Qaeda leader Osama bin Laden and under the influence of hallucinogenic drugs.

Reports said foreign mercenaries and Libyan militiamen loyal to Qaddafi have been battling to roll back the gains of anti-regime supporters by striking at rebels in a number of towns. But rebels are reported to remain in control of most of eastern Libya.

The United States has also called for Libya to be expelled from the United Nations Human Rights Council for the abuses that have taken place during the uprising against Qaddafi's rule.

The Geneva-based Human Rights Council was scheduled to meet to discuss Libya on February 25, and U.S. Secretary of State Hillary Clinton is scheduled to attend the February 28 session of the council.

U.S. State Department spokesman Philip Crowley said the Libyan government has violated the rights of its people in attempting to crush the uprising, and that expelling Libya from the UN rights council would increase the international isolation of Qaddafi's regime.

Libya's election last year to the 47-nation UN Human Rights Council was considered controversial because of the country's weak rights record.

Qaddafi on February 24 called on the people of the city of Zawiya to stop fighting -- saying violence in the city was caused by youths who are "stoned on drugs" and taking orders from Al-Qaeda leader Osama bin Laden.

Qaddafi's speech, made by telephone and broadcast live on state television, came as fierce fighting raged between government forces and antigovernment protesters in the oil-producing city, located about 50 kilometers west of Tripoli.

Earlier reports from Zawiya described a Libyan Army unit loyal to Qaddafi firing antiaircraft missiles and automatic weapons at a mosque after scores of antigovernment demonstrators refused to leave the area.

AP quoted witnesses in the town of Zawiya, about 50 kilometers west of Tripoli, who said a minaret of the mosque was destroyed and there were heavy casualties to demonstrators who had been camped inside and outside the mosque.

Gunned Down

Correspondents say about 350 government troops were deployed in 35 military vehicles after dawn on Fevruary 24 and opened fire on crowds of protesters with heavy machine guns, while some armed demonstrators fought back with small-caliber hunting rifles and handguns.
Libya's "Quryna" newspaper reported that at least 10 people were killed in fighting in Zawiya. It did not specify if those deaths were from the attack on the mosque or from subsequent fighting.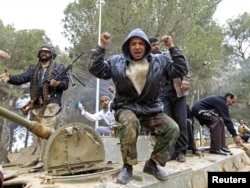 People celebrate on an army armored vehicle in the eastern Libyan town of Shahat on February 24.
The fighting came a day after an aide to Qaddafi identified as Abdullah Megrahi came to the city and warned demonstrators at the mosque, "Leave, or you will see a massacre."
Libya's ambassador to Malta, Saadun Suayeh, painted a different picture of recent events when speaking to journalists.
"It looks like the western part of [Libya] is very quiet, very stable. I called a member of the family today and Tripoli is very peaceful. In the western parts, even in cities like Zawiya and Sabratha, people are going about their business," Suayeh said. "The eastern part of Libya, yes, nobody can -- I think it's officially recognized now that most of these parts are not fully under the control of the central government."
Pro-Qaddafi forces have been fighting back fiercely as the regime's control of the country has been whittled away in recent days.
Security forces loyal to Qaddafi reportedly attacked antigovernment militias controlling the town of Misrata, Libya's third-largest city, some 200 kilometers east of the capital.
The fighting was said to be taking place near the city airport, but antigovernment forces were said to remain in control of the city center.
Antigovernment militias reportedly took control of the town of Zuara, some 120 kilometers west of Tripoli.
Eastern Libya has now essentially broken away from Tripoli's control along with defecting members of the army.
Tribal leaders have called a meeting in the town of Al-Bayda to discuss the political vacuum in eastern Libya.
PHOTO GALLERY: The Street Art of Muammar Qaddafi
Army tanks with uniformed soldiers, no longer proclaiming loyalty to Qaddafi, also could be seen across large swathes of eastern Libya -- flying the red, black, and green flag of the Libyan monarch that Qaddafi overthrew in the September 1969 coup d'etat that brought him to power.
Seraj Bensriti, an unemployed protester in the eastern city of Benghazi, said of the embattled leader, "He is trying to divide us, but we are one nation. After 42 years of slavery, this is over."
The latest reports suggest protesters are now trying to take control in towns and cities to the west of Tripoli amid plans for a push on Tripoli itself after Friday Prayers on February 25.
The protesters who were killed at the mosque in Zawiya today were mostly youths who were armed with hunting rifles. Witnesses stressed that the attack in Zawiya was carried out by Libyan soldiers, and not foreign mercenaries.
The town is located near a key oil port and refineries on the Mediterranean coast. With no sign of police on the streets there, residents have formed committees to guard their homes and other buildings.
Survivors of the violence in Zawiya said they did not intend to respond to calls by the opposition for a nationwide protest march to Tripoli on February 25.
Meanwhile, government troops -- as well as foreign mercenaries bankrolled by Qaddafi's regime -- reportedly were continuing violent crackdowns in other parts of the west and in Tripoli.
Qaddafi himself was reported to be holed up in Tripoli with a force of militia fighters who roam the streets and with tanks guarding the outskirts of the capital. Qaddafi loyalists also remain in control of Tripoli's airport.
Human rights groups say that more than 600 people have been killed during more than a week of protests. Some estimates put the number of dead at over 1,000 -- a figure deemed credible by Italian and French officials.
Today, France's human rights ambassador, Francois Zimeray, told French news agency AFP, "There is precise and corroborating evidence for an enquiry into crimes against humanity."
Both the EU and the United States are considering imposing sanctions against the Qaddafi regime.

Foreigners Used As 'Hostages'
Harrowing tales of the violence during the past week are emerging as foreign nationals are being evacuated.
A man who gave his name as Raymond, a British employee of the Spanish oil company Repsol, said on February 23 after being evacuated to Madrid that the shortage of supplies such as food and gasoline was reaching a critical point.
"Lying in bed every night listening to bombs and the firing of guns and everything until about 5 o'clock. You just can't sleep," he said.
"It is incredible the amount of tension there is there. And then you are just stuck in your house. You can't do anything because you can't go out."
Turkey and the United States also have been evacuating their citizens from Libya on specially chartered ferries amid a flood of people trying to flee the country.
Turkish worker Ahmet Yucel said after arriving safely in Marmaris, Turkey, today that many foreign workers in Libya were being treated as hostages by government forces.
"Soldiers were using us as hostages. They did not give us any food," Yucel said. "They even confiscated the food that the consulate provided to us."
Journalists, however, are trying to enter Libya, and are also facing challenges. According to a U.S. State Department press release, senior Libyan officials told U.S. diplomats that some reporters had entered the country illegally and that the Libyan government now considers them Al-Qaeda collaborators.
Egyptian and Tunisian workers, meanwhile, are complaining that they are being intentionally targeted by government loyalists and mercenaries, who blame Egypt and Tunisia for encouraging the uprising.
More than 20,000 Egyptians have already crossed Libya's eastern border back into Egypt in recent days.
Italy is worried about a possible flood of Libyan refugees on its shores -- with the Foreign Ministry in Rome warning about an influx of up to 300,000 refugees in the country if Qaddafi's regime collapses.
written by Ron Synovitz from agency reports