BRUSSELS -- European Union foreign ministers have roundly condemned the killing of antigovernment protesters in Libya as they gathered in Brussels to map out a strategy to handle the fallout from the unrest sweeping the Middle East.
The ministers are also due to discuss ways of handling the wave of migrants escaping the unrest, thousand of whom have already arrived in Italy; potential aid to the region as it undergoes a dizzying transformation; and potential sanctions against the regime of Libyan leader Muammar Qaddafi.
A draft of a statement to be agreed by ministers from the EU's 27 member states cited by Reuters said the EU "deplores the violence and the death of civilians," and that "freedom of expression and the right to assemble peacefully are fundamental rights of every human being which must be respected and protected."
Finnish Foreign Minister Alexander Stubb suggested that Brussels impose sanctions against Qaddafi, his family, and government officials after an estimated 200 people were killed in a crackdown on demonstrators.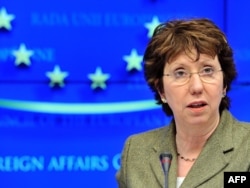 Catherine Ashton is set to visit Egypt.
EU foreign-policy chief Catherine Ashton said that while there was no consensus on sanctions, discussions were ongoing.
"The member states have been asked about that [sanctions] and they are discussing that currently, because that is, of course, for them to actually do," Ashton said. "So we will look at that very carefully."

Italy Against Sanctions, For 'Marshall Plan'
Among the most outspoken opponents of sanctions is Italy, which has long enjoyed close relations with Qaddafi. Italian Foreign Minister Franco Frattini, meanwhile, warned that the EU should be cautious about trying to impose its values in the region.
"Europe shouldn't export democracy. We want to support ownership and democratic processes in all the countries. We shouldn't say, 'This is our European model and you should get it,'" Frattini said. "This would be not respecting the ownership and not respecting the independence of people."
Instead of threatening sanctions, Frattini suggested a "European Marshall Plan" for the region, modeled on the U.S. aid program to Europe after World War II.
Frattini said his proposed plan "should include political, economic, and social support. We should mobilize funds. We should help, for example, peaceful, democratic transition by sending experts."
Reaching Out To The South
Ashton, meanwhile, is due to travel to Egypt, where longtime leader Hosni Mubarak was overthrown by peaceful protests on February 11. Ashton says she plans to meet with "a large number of political actors."
Swedish Foreign Minister Carl Bildt is also due to travel to Egypt tonight.
Upon returning from Egypt, Ashton will continue her focus on North Africa and the Middle East.
On February 23, she plans to meet in Brussels with senior officials from the EU, the United States, Japan, and international financial institutions like the World Bank to develop a coordinated global response to the changes in the region.
That session is likely to kick-start a flurry of similar meeting in the coming weeks.
Sweden's Bildt was wary of the comparisons with the Marshal Plan, noting that for such an initiative to work, the North African countries would also need to do their part as well.
"The Marshall Plan had two components. First it was an element of American money, that was important enough. But then it was the liberalization and opening up [of] trade relationship[s] of all of the European countries. That was a key thing," Bildt said.
"That is what we have been aiming at achieving with North African countries for the last 15 years, a free trade area. But they have not been able to reform their economies sufficiently."
Fears Of Migrants
The ministers are also due to discuss the issue of migrants crossing the Mediterranean Sea to escape the upheaval. An estimated 6,000 refugees, most of them Tunisian, have already reached the small Italian island Lampedusa in the past week.
Frattini voiced concerns that more migrants could make their way to Italy following the upheaval in Libya.
"Italy is, as you know, the closest neighbor of both Tunisia and Libya," Frattini said. "So we are extremely concerned about the repercussions on the migratory situation in [the] southern Mediterranean."
Italy has requested assistance from Brussels in strengthening surveillance on its southern border and the EU border agency Frontex is due to launch a joint operation with Italy on February 22.
The mission, dubbed Joint Operation Hermes 2011, will consist of an aircraft and a few boats, as well as 30 screening experts from nine other EU member states.
EU justice ministers will discuss the issue of migration further when they meet in Brussels on February 24. For the past two years, Italy has engaged in a controversial "push-back agreement" with Libya in which Italian border guards can send African migrants caught at sea back to Libya, the typical point of departure.