The battle for control of Libya has shifted to the city of Zawiya, near Tripoli, amid fierce fighting in which both rebels and forces loyal to Muammar Qaddafi claimed to have prevailed.
But the most recent reports said forces loyal to Qaddafi had encircled the city in a new bid to seize it after being repelled by rebels earlier in the day.
Rebel fighters holding the city center have vowed to fight to the death.
Meanwhile, rebels in eastern Libya said they were ready to push further west toward the capital after driving forces loyal to Qaddafi from the oil town of Ras Lanuf on March 4.
Focus On Zawiya
Various reports said government forces had subjected Zawiya, about 50 kilometers from Tripoli, to a fierce barrage of artillery and antiaircraft guns early on March 5 as they attempted to take the main square.
Reports said at least 18 people had been killed, though local residents, including a doctor, put the figure at 30. It was unclear whether that death toll was for the most recent day of the current offensive or a cumulative figure from several days of
intense fighting
.
"They entered Zawiya at six in the morning with heavy forces, hundreds of soldiers with tanks. Our people fought back. We have won for now and civilians are gathering in the square," Youssef Shagan, a rebel force spokesman in Zawiya, told Reuters after the morning government offensive was initially fended off.
He claimed the rebels had captured three armored personnel carries and two tanks after an hour-and-a-half of fighting. He said there were still government snipers in the town.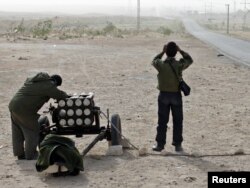 A rebel aimed a multiple rocket launcher as a fellow rebel kept a lookout in Brega on March 4.
The rebels' claims contrasted with the confidence expressed earlier by government officials. Libya's deputy foreign minister, Khaled Kaim, speaking on March 4, played down pictures posted on social media of brutal scenes in the city and told reporters that they would "see Zawiya tomorrow."
"Zawiya now is calm and it is under control by locals and by the army and everything is OK," Kaim said. "There are a few terrorists, they escaped with some Kalashnikov and some revolvers and now they are chasing them."
He also claimed there had only been a single casualty, in contrast to other reports of multiple deaths. Shagan, the rebels' spokesman, said many residents had fled their homes to escape the fighting.
More Deaths
An escalating death toll was reported elsewhere in the country, including rebel-held Benghazi on March 4, where 27 people where reported to have been killed in an explosion at an arms dump. The causes are still unknown.
At least eight people were reported killed and more than 20 wounded on March 4 in clashes on Ras Lanuf, a key oil town on the Mediterranean coast. Rebels were said to be in control of the town, 600 kilometers east of Tripoli.
In Brega, another oil town a further 200 kilometers to the east, at least four were reported dead and 24 were injured in fighting between pro-Qaddafi forces and rebels, according to a doctor at Brega Hospital.
"Four people were killed -- I mean the documented cases are four -- and 24 people are injured," the doctor said. "We're still waiting for people, those people killed away from our field, I mean in Raslanuf petrol field."
In the hospital, the father of one injured man voiced the bitterness that some Libyans now harbor against Qaddafi.
"I am praying my god will blow him away," the man said. "I wish to gloat over his grief and I hope all patients get better soon."
Away from the battlefield, Qaddafi launched a fresh diplomatic offensive by appointing a new ambassador to the United Nations to replace the envoys who have abandoned their support for him.
It was not clear whether the United States would grant his new envoy, Ali Abdussalam Treki, a visa to allow him to take up his post.
Fleeing Danger
The United Nations says more than 191,000 people have fled the bloodshed in Libya.
The UN's Office for the Coordination of Humanitarian Affairs (OCHA) says most are immigrant workers. It added that forces loyal to Qaddafi are in control of the Tunisia-Libyan border and are slowing the passage of more refugees.
According to the International Organization for Migration, there were some 2.5 million immigrants in Libya before the unrest began.
compiled from agency reports
Liveblog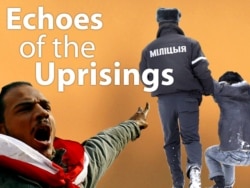 Tracking events and ideas convulsing the Arab world and with ripples around the globe, including RFE/RL's broadcast region.
Click here