WATCH: Amateur videos posted on YouTube show demonstrators across Libya protesting against longtime ruler Muammar Qaddafi. In Benghazi, residents are seen raising a flag of independence, while in the capital, Tripoli, protesters set fire to a police station (video by Reuters).
Protests in Libya against leader Muammar Qaddafi's 42-year rule are spreading to new cities as the number of officials defecting from Qaddafi's government continues to grow.
Reports said the eastern city of Benghazi is under the control of opposition forces. Souhayr Belhassen, the head of the Paris-based International Federation for Human Rights, said protesters had also taken control of the cities of Sirte, Tobruk, Misrata, Khoms, Tarhounah, Zenten, Al-Zawiya, and Zoura.
Reports indicated fierce fighting continues in Tripoli, where some witnesses reported military aircraft as well as foreign mercenaries were attacking protesters.
Earlier today, two Libyan fighter planes landed in Malta where the pilots asked for asylum, saying they fled after refusing to carry out orders to bomb protesters in Benghazi.
Human Rights Watch says at least 233 people have already died in the uprising since February 17, and other estimates put the toll even higher. This figure does not include the reported 61 dead from the latest protests in Tripoli.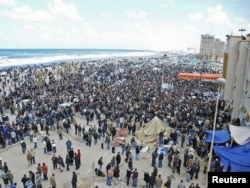 Demonstrators gather in the streets in Benghazi.
Cracks Appear In Regime
Witnesses say troops have fired at demonstrators with machine guns and snipers have also shot at people from rooftops. A doctor in Benghazi said one protester was killed by a rocket-propelled grenade.
Government restrictions, including a ban on foreign reporters from entering the country, make the reports difficult to verify.
As casualties mount, support for Qaddafi across the country appears to be waning.
Libyan Justice Minister Muhammad Abud al-Jeleil reportedly resigned today, citing the excessive violence against protesters as the reason.
Libyan diplomats have also been announcing their resignations at diplomatic posts, including Libya's deputy ambassador the United Nations, Ibrahim al-Dabashi.
"After we have seen what is happening in Libya and after the kind of declaration of war against the Libyan people which has been declared by the son of Qaddafi yesterday, we find that it is impossible to stay silent and we have to [convey] the voice of the Libyan people to the world," Dabashi said.
Some army units have reportedly defected to the opposition and tribal leaders once loyal to Qaddafi, the son of a herdsman who seized power in 1969, are siding with protesters.
The leader of the eastern Al-Zuwayya tribe has threatened to cut oil exports if authorities continue repressing protesters. Libya is Africa's fourth-biggest oil exporter.
Akram al-Warfalli, a leading figure in the populous Al-Warfalla tribe, told Al-Jazeera that Qaddafi was "no longer a brother" and urged him to leave Libya.
A coalition of Libyan Muslim leaders issued a declaration today saying all Muslims had the duty to rebel against the Libyan leadership, which the clerics said had "demonstrated total arrogant impunity" and "demonstrated total infidelity to the guidance of God."
Cracks seem to be appearing even within Libya's ruling elite. Mohamed Bayou, who until a month ago was chief government spokesman, today criticized the authorities for threatening violence against dissidents and called on Qaddafi's son to immediately start talks with the opposition.
Al-Arabiyah TV showed a Libyan man allegedly injured during clashes receiving first aid.

'Until The Last Bullet'
Qaddafi's son, Saif al-Islam Qaddafi, speaking on state television overnight, vowed that his father and security forces would fight "until the last bullet," and warned of "rivers of blood" and civil war.
He offered political reforms and admitted that the police and the army had made "mistakes." But he rejected Human Rights Watch's death toll and denied reports that his father had fled the country. He said the elder Qaddafi was "leading the battle" in Tripoli.
Even as Qaddafi's son was speaking, clashes broke out in and around Tripoli's central Green Square, lasting until dawn today.
Witnesses spoke of snipers opening fire on crowds, and Qaddafi supporters speeding through in vehicles, shooting and running over protesters.
Al-Jazeera television quoted medical sources as saying 61 people had been killed overnight in the capital.
In the eastern town of Benghazi, protesters were reportedly in control of the streets, after bloody clashes on February 20 that killed dozens of people.
Libya's privately owned "Qurnya" newspaper reported that Justice Minister Muhammad Abud al-Jeleil had resigned over what it called "the excessive use of violence against protesters."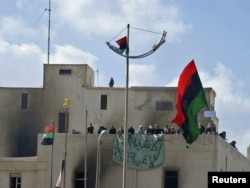 Demonstrators wave flags and hold banners on the roof of a burnt building in this undated picture made available on Facebook in Benghazi.
International Concern
The international community has strongly condemned the violence in Libya. The U.S. State Department said it was "gravely concerned" by the army's use of force to disperse protesters.
UN Secretary-General Ban Ki-moon spoke with Qaddafi earlier today, urging the Libyan leader to refrain from using violence on demonstrators.
The European Union called for "an immediate end to the use of force against protesters and for all parties to show restraint."
British Foreign Secretary William Hague told journalists as he arrived for an EU foreign ministers meeting in Brussels that he was gravely concerned about the situation. He said he had called Qaddafi's son to express strong disapproval of the use of force against protesters.
Qaddafi's whereabouts are unknown. Hague told journalists there was information Qaddafi had fled and was headed to Venezuela.
Venezuelan officials and Libyan Deputy Foreign Minister Khalid Kayem denied that information was true.
Fearing more violence, the European Union said it was preparing for the possible evacuation of EU citizens from Libya, particularly from violence-stricken Benghazi.
The British Foreign Office said family members of British Embassy staff in Libya would soon be flown home.
Meanwhile, oil prices jumped to a 2 1/2-year high amid investor concern over the Libyan turmoil. A number of companies are preparing to evacuate their foreign staff from Libya in coming days, including oil giant BP, Norwegian energy firm Statoil and Russian Railways.
compiled from agency reports