Algeria's Foreign Ministry said in a statement that longtime Libyan leader Muammar Qaddafi's wife and three of their children -- his daughter Aisha and sons Hannibal and Mohammed -- arrived in Algeria by car on August 29.
Mustafa Abdel Jalil, the chairman of Libya's National Transitional Council (NTC), called on the Algerian government to cooperate with it and hand over any of Qaddafi's sons who is on its wanted list.
Mahmoud Shammam, information minister and NTC spokesman, said Algeria's sheltering of Qaddafi's wife and children amounted to an "act of aggression against the Libyan people."
"This is an act of aggression against the Libyan people and their wishes and aspirations," he said. "We will use all legal measures to extradite these criminals and put them on trial, regardless of anything else. We warn anyone who attempts to harbor Qaddafi or his family that in doing so, they will become an enemy of the Libyan people and the Libyan people will pursue them all over the world."
France 24 reports that one of the children, Aicha, is close to giving birth.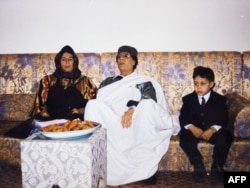 An undated photo shows Muammar Qaddafi during a family visit. The photo was found in a family album at his wrecked former headquarters at Tripoli's Bab al-Aziziya compound on August 28.
The rebels also said one of Qaddafi's sons -- Khamis, who led a feared elite brigade -- had been killed in battle. There has been no independent confirmation of his death.
Meanwhile, the chiefs of staff of countries militarily involved in the Libyan conflict have agreed that the war in the North African country was "yet to end."
A statement from their meeting in the Gulf state of Qatar on August 29 said that there was a need "to continue the joint action until the Libyan people achieve their goal by eliminating the remnants" of Qaddafi's regime.
At the meeting, NTC chairman Jalil said Qaddafi still poses a danger both inside and outside Libya.
In The Hague, the prosecutor for the International Criminal Court (ICC), Luis Moreno-Ocampo, said he may apply for an arrest warrant for Qaddafi's son Khamis.
The move comes after Human Rights Watch said members of the Khamis Brigade, a force commanded by him, appeared to have carried out summary executions of detainees in Tripoli.
In a new report, the U.S.-based rights group Physicians for Human Rights also said forces loyal to Qaddafi committed possible war crimes while battling rebels in Misurata, including using children as human shields.
The group said local residents gave accounts of "murder, torture, rape, forced internment, and disappearance." The report says Qaddafi troops perched children on tanks to deter NATO attacks. The report also cites a copy of a government order for troops to prevent fuel and supplies reaching the city of some 400,000 to 500,000 people.
Richard Sollom, deputy director of Physicians for Human Rights, said the abuses in Misurata "are some of the most egregious war crimes and crimes against humanity" yet documented in Libya.
Fierce Fighting
Elsewhere in Libya, rebel commanders say their forces were closing in on Sirte, Qaddafi's hometown, 360 kilometers east of the capital of Tripoli.
Sirte has become one of the last bastions of pro-Qaddafi forces since rebel fighters last week defeated regime troops in Tripoli and seized control of Qaddafi's Bab al-Aziziya headquarters.
Fierce fighting also has been raging in the west of the country as rebels trying to take control of the region from Qaddafi's forces said they had fallen into an ambush in a town southwest of Zuwarah.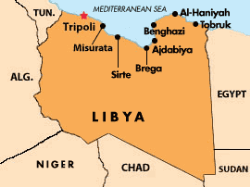 Muhammad al-Fortiya, a rebel commander from Misurata, said his forces moved to within 30 kilometers of Sirte from the west while other opposition fighters captured Bin Jawad about 100 kilometers to the east.
Rebels trying to advance westward from the oil hub of Ras Lanuf had been stuck for four days outside Bin Jawad, a key town on the coast road of the Gulf of Sirte, as Qaddafi's forces kept up a defiant resistance.
Qaddafi's whereabouts remain unknown. But there is widespread speculation that he has sought refuge among tribal supporters in Sirte.
A substantial number of Qaddafi's troops were seen retreating to Sirte last week when the Bab al-Aziziya complex in the Libyan capital fell to opposition fighters.
Fortiya, the rebel commander, said rebel envoys were negotiating with tribal leaders in Sirte for a "peaceful surrender." But those negotiations appeared to be faltering.
Mahmud Shammam, a spokesman for the National Transitional Council, said rebels would like to unify Libya very quickly. But Shammam warned that negotiations would not go on forever.
Meanwhile, NATO warplanes have been targeting Sirte in recent days, destroying more than 50 military vehicles, two military shelters, a military observation point, and a facility for military engineers.
In Tripoli, the departure of pro-Qaddafi troops has allowed journalists and international human rights activists to uncover what they say is evidence of horrific crimes against political opponents of the regime during the uprising that started six months ago.
Human Rights Watch says it has collected evidence in Libya that "strongly suggests" Qaddafi's government forces carried out a spate of arbitrary killings as Tripoli was falling to rebel fighters last week.
Convicted Lockerbie bomber Abdel Basset al-Megrahi attending a pro-government rally in Tripoli on July 26.
In the rebel stronghold of Benghazi, opposition military spokesman Colonel Ahmed Omar Bani said more than 10,000 captives have been freed from Qaddafi's jails since the fall of Tripoli but that almost 50,000 others are still missing. He said there are fears that the missing captives have either been executed or are imprisoned in underground fortifications where they are unable to escape and may soon die.
The justice minister in the rebels' interim government, Mohammed al-Alagi, said the allegations would be investigated by Libyans and leaders of Qaddafi's military units put on trial.
Alagi also said the council would not extradite the man convicted of the 1988 Lockerbie airline bombing.
Abdelbaset al-Megrahi, who had been diagnosed with cancer, served eight years in a Scottish prison for masterminding the Lockerbie bombing, which killed 270 people.
He was released in 2009 on compassionate grounds after doctors gave him only months to live. There have been calls now for him to be sent to the United States for trial.
But Alagi ruled that out, saying "Abdelbaset al-Megrahi has already been judged once and will not be judged again. And with this American demand, [coming] from national organizations and not governmental ones, it is a demand that has no meaning. We will not hand over any Libyan nationals. It's Qaddafi who hands over Libyan nationals.''
A CNN television crew says they located Megrahi in a hospital in Tripoli over the weekend in a comatose state and near death, hooked up to a life-support machine.
As the National Transitional Council scrambled to try to restore basic services in Tripoli and appealed for funds, the Arab League on August 28 urged the UN Security Council to unlock billions of dollars in Libyan assets and property.
National Transitional Council officials in Tripoli say about 70 percent of homes in central Tripoli have no running water because of damage to the network, but potable water was being distributed from mosques.
Abed al-Obeidi, deputy chief of the transitional council in Tripoli, said the water shortages in the capital are the result of technical faults rather than sabotage by Qaddafi loyalists.
compiled from agency reports