U.S. Senator Lauds Role Of Free Media In Democracy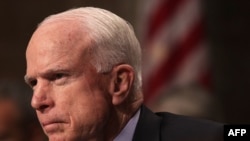 A key Republican U.S. senator pushed back against President Donald Trump's criticism of the media, saying the post-World War II global order was built in part on a free press.

John McCain's comments February 19 followed a Twitter posting by U.S. President Donald Trump, who accused the media of being an "enemy of the American people."
Trump later repeated that criticism in a campaign-rally speech in Florida.

"If you want to preserve democracy as we know it, you have to have a free -- and many times adversarial -- press," McCain said in an interview with NBC TV from the sidelines of the Munich Security Conference.
He added that "the first thing that dictators do is shut down the press."

"I'm not saying that President Trump is trying to be a dictator," McCain said. "I'm just saying we need to learn the lessons of history."

Speaking to the Munich conference on February 18, German Chancellor Angela Merkel also noted the importance of a free press.

"I have high respect for journalists" and that freedom of the press is "a very significant pillar of democracy," she said.

Meanwhile, Trump's defense secretary distanced himself from Trump's remarks saying he had no problem with the media.

"I've had some rather contentious times with the press. But no, the press, as far as I'm concerned, are a constituency that we deal with," Jim Mattis said, speaking in Abu Dhabi, during his first trip to the Middle East since becoming the Pentagon's chief.

"And I don't have any issues with the press, myself," he said.
With reporting by NBC, Reuters, and dpa